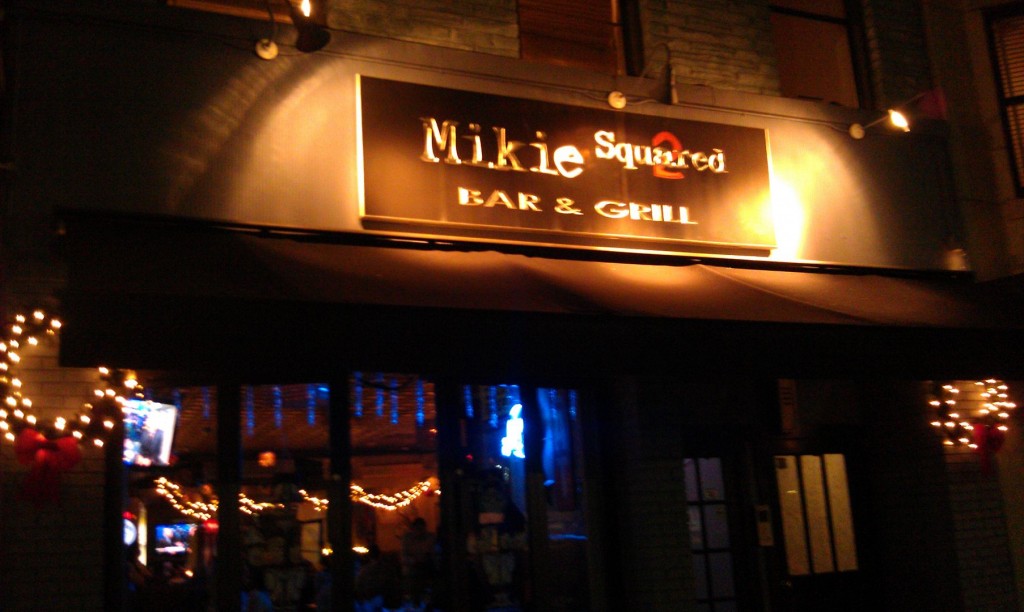 LocalBozo.com has sent one of our correspondents out for some field research, as our own Link Cromwell attempts to bar crawl his way through Hoboken, New Jersey- just a stones throw away from Manhattan. Check back for his adventures and travels every single Friday as LocalBozo.com attempts to do the unimaginable. And yes, it involves drinking.
So as the calendar turns this column keeps chugging along. More news will be coming soon regarding the eventual transformation from the column but let's talk about my latest bar visit…Mikie Squared. Mikie Squared is located on Washington Street between 6th and 7th Streets. It's strategically located right near pizza and falafel joints which makes for a great situation. I ducked into Mikie's to get out of the frigid cold that we had recently. Outside of the bar they display a bunch of their specials which is great because you know what to get even before you step in. Of course as I said earlier with the weather being so cold I really didn't have time to study the sign, but they advertised happy hour specials from 5 until 8 and plenty of other drink specials from $5 Martinis to $4 Blue Moons.
So when walking inside you notice the typical Hoboken bar room setup- bar along one wall, some tables to the front and the back of the physical bar. The place always seems to have a good crowd, whether its for brunch, football, or any regular night of the week. This was no exception, with the bar being busy enough that you didn't feel awkward, but still easy enough to find a seat. There are plenty of TVs along the walls and behind the bar and they had all of the typical events on. Extra points for showing hockey without me having to ask! I had myself a Sam Adams which definitely hits the spot in wintertime.
Besides having a steady list of specials, Mikie Squared keeps things fresh by having theme days throughout the year. Mostly they celebrate the typical bar holidays (Cinco De Mayo, St. Patty's. Halloween, etc) but it does make the night feel more special. Also it's known for their Trivia Nights on Tuesdays if you are into that sort of thing.
I know that this column isn't normally about the food, but don't worry about heading to Mikie Squared hungry because they have a steady menu that basically falls into the gourmet sports bar category. Lots of wraps, sandwiches, salads makes it perfect for almost anyone and any occasion.
I remembered when Mikie Squared opened up a few years ago and besides going with the number theme that was going rampant in Hoboken at the time (4 L's opened up around the same time) I wondered how a midtown location would last. I can definitely say that this place really established itself as a comfortable and consistently steady bar.
So here's the rundown…
Preconceived notion –I've been to Mikie before, always has been a good time. Never anything that stands out about it, just a solid watering hole.
Bar Type – Sports Bar/ Neighborhood bar
Crowd stereotype – Basically everyone in their 20s. Some couples having dinner as well
Music – None of note.
Value – They definitely offer a lot of specials. None of them are crazy cheap, but there is usually something for you to get under normal list price.
Good for a….
Date – Not a bad place for a comfortable date as long as you aren't looking to show off with something over the top.
Hookup – Possibly on Friday and Saturday nights when it gets crowded.
Dance – Not that I know of.
Catch up with a friend – Perfect
First or last drink of the night – Definitely first
Overall – It's an anytime bar, meaning you can have a good time there anytime. Like I said earlier, nothing is over the top about this place, but it's always very steady. Good for the Martini crowd, the Sangria crowd (especially on Sundays when they are $10), the brunch crowd, the beer crowd, and the sports crowd. Most weekdays there will be a nice crowd and still have some open seats and some games on the TV, so don't be a stranger … I'll give it an 8.5.
 -Link Cromwell
Completed Bars
Introduction
Halfway
Marathon Recap
Northern Soul – 9.3/10
The Clinton Social – 9.1/10
Havana Cafe – 9.0/10
The Turtle Club – 9.0/10
Bin 14 – 8.9/10
Court Street – 8.9/10
Hudson Tavern – 8.9/10
10th & Willow – 8.8/10
Elysian Cafe – 8.8/10
Grimaldi's – 8.8/10
Madison Bar & Grill – 8.8/10
Cork City – 8.7/10
Onieals – 8.7/10
Village Pourhouse – 8.7/10
1 Republik – 8.6/10
Wicked Wolf Tavern – 8.5/10
Zack's Oak Bar – 8.5/10
Black Bear Bar & Grill – 8.4/10
Moran's – 8.4/10
Arthur's Tavern – 8.3/10
Oddfellows – 8.1/10
Cucharamama – 8.0/10
The Shannon – 7.9/10
Carpe Diem – 7.9/10
Helmers' – 7.9/10
Teak – 7.8/10
Mulligan's – 7.7/10
Karma Kafe – 7.7/10
DC's Tavern – 7.7/10
Louise & Jerry's – 7.7/10
Brass Rail – 7.6/10
Hoboken Bar and Grill – 7.5/10
Four L's – 7.5/10
Liberty Bar – 7.5/10
McSwiggans – 7.4/10
Nag's Head – 7.4/10
Eight Street Tavern – 7.3/10
Maggie's Place – 7.3/10
Three A's – 7.3/10
The Tilted Kilt – 7.3/10
<The Quays – 7.2/10
Willow Billiard Club & Lounge – 7.1/10
S. Sullivan's – 7.1/10
Farside – 7.1/10
Hobson's Choice – 7.0/10
Rogo's – 6.7/10
Related Articles
Share
About Author
(15) Readers Comments