Spirits In the Sixth Borough: Karma Kafe
LocalBozo.com has sent one of our correspondents out for some field research, as our own Link Cromwell attempts to bar crawl his way through Hoboken, New Jersey- just a stones throw away from Manhattan. Check back for his adventures and travels every single Friday as LocalBozo.com attempts to do the unimaginable. And yes, it involves drinking.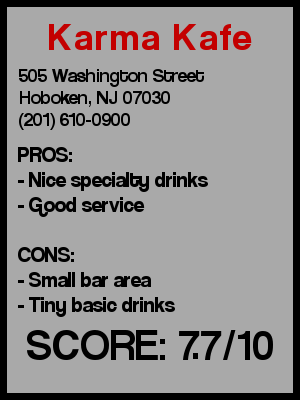 So as all of you know, half of my 2011 resolution was going to grab a drink at every bar in Hoboken. So far if you have been keeping track I am about a quarter of the way done with resolution. But my other resolution was to run the NYC Marathon.  Consider that one halfway accomplished as I just finished my first half marathon.  To celebrate our joint first half marathons, my date and I decided to celebrate with a few drinks at the next bar on my crawl… Karma Kafe.
Karma Kafe isn't like most of the bars on this crawl.  It is primarily thought of as a pretty good Indian restaurant.  However, it does have a standalone bar and a liquor license so according to the rules laid out in my introduction, it certainly qualifies as a bar that I needed to visit.  Walking in, the heavy aroma of curry was all around, but all I could think of was having some drinks and quenching the thirst built up from my morning run. There is a small standalone bar but not a ton of seats and we were planning on eating dinner anyway, so we grabbed a table near the front windows.
My date ordered a simple vodka soda and I took a look at the drink menu and tried to pick out a specialty drink. I went with the Nirvana…not just because they were one of the best bands of the 90s but because the drink sounded refreshing.  The Nirvana is made with St. Germain Liqueur and Champagne mixed with some club soda. The drink was served in a large v-shaped glass and was as light and refreshing as advertised.  I would recommend it for a nice outdoor brunch in the summer.  My date's drink was tiny, so after she gulped it down with little to no problem she ordered a second one and asked the waiter to make it a little stiffer.  When the waiter came back with her next drink, it was served in a glass about 3 times the size (and when we got the bill it was still the same price!! Thanks!!).
My second drink was a Kingfisher beer, which I see is advertised as the world's #1 selling Indian beer…however, it is brewed in Saratoga Springs, NY.  Now don't get me wrong, I actually love Saratoga, but I was thinking that when I ordered this Indian beer that it was actually from the subcontinent of India and not closer to the Iroquois Indian Nation.
After nearly burning my mouth off from some incredibly tasty but spicy Indian food, it was time to head home to rest my tired calves.  But another bar done…
So now the breakdown…
Preconceived notion – I've never been into this place before, but I really didn't think it would be anything special. I figured it was mainly known for its food and would have a pretty limited drink menu.
Bar Type – Restaurant  bar.
Crowd stereotype – Mainly people eating dinner and having a few drinks with dinner. Most were in their 20s or young 30s, and not surprisingly there were a few Indian Americans eating there.
Music – Didn't really notice any
Value – The waiter we had was very friendly so maybe that's why he didn't charge us more for the large drinks compared to the small drinks.
Good for a….
Date – They had really good food, so if your plan is to get a couple drinks and some food, this would be great
Hookup – No
Dance – No
Catch up with a friend – Very good
First or last drink of the night – Good place to start your night, but not to end it.
Overall -  This place is primarily a restaurant so it obviously doesn't have the same atmosphere as a lot of the places I've been. No TVs, not a huge bar area, but the drinks were good. They had a nice variety of drinks and beers, ones you definitely don't see around town.  A lot of their specialty drinks are pretty light or fruity which makes it great for the brunch crowd. I can't say this Karma Kafe ranks as high was an "Instant Karma", but it's certainly better than a "Karma Chameleon."  More like a "Karma Police."   On a scale of 1-10, I'll go with a 7.7.
- Link Cromwell
Completed Bars
Introduction
Northern Soul – 9.3/10
The Clinton Social – 9.1/10
Grimaldi's – 8.8/10
1 Republik – 8.6/10
Oddfellows – 8.1/10
The Shannon – 7.9/10
Karma Kafe – 7.7/10
Louise & Jerry's – 7.7/10
Mulligans – 7.7/10
Village Pourhouse – 7.7/10
Brass Rail – 7.6/10
Four L's – 7.5/10
Liberty Bar – 7.5/10
Nag's Head – 7.4/10
Eight Street Tavern – 7.3/10
Maggie's Place – 7.3/10
Three A's – 7.3/10
The Quays – 7.2/10
S. Sullivan's – 7.1/10
Farside – 7.1/10
Rogo's – 6.7/10
Related Articles
Share
About Author
(3) Readers Comments