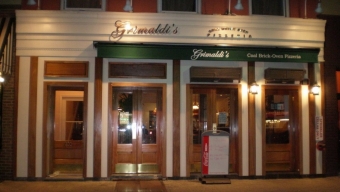 Spirits In the Sixth Borough: Grimaldi's
LocalBozo.com has sent one of our correspondents out for some field research, as our own Link Cromwell attempts to bar crawl his way through Hoboken, New Jersey- just a stones throw away from Manhattan. Check back for his adventures and travels every single Friday as LocalBozo.com attempts to do the unimaginable. And yes, it involves drinking.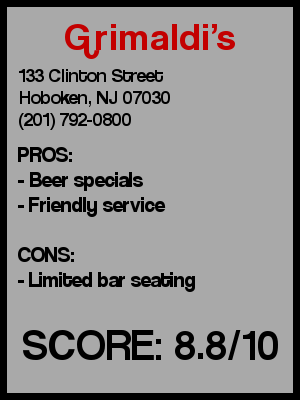 There are plenty of bars that serve good food in Hoboken but there are also plenty of restaurants that serve a good drink.  Grimaldi's(on Washington Street) is one of the latter.  In Hoboken, it's tough for a restaurant to be a true draw as a bar, but Grimaldi's on Washington Street definitely creates a great drinking atmosphere.
Grimaldi's, one of the most famous names in New York pizza has had a location on Clinton Street in Hoboken for the past 15 years. In the last few months they expanded to a second Hoboken location on Washington Street between 4th and 5th Streets.  I stepped into their new place on a Thursday evening exhausted from a long unproductive search for a parking spot that eventually led me into the municipal garage for the first time.  Annoyed from the stepping into huge slush/ice puddles I walked into the coal-oven pizzeria ready to drink my week away.  The bar seats about 12 patrons with additional red and white checkerboard table clothed tables spilling over from the bar area into the remainder of the restaurant.  There was a couple of HD TVs behind the bar showing ESPN and some basketball but no sound on, letting the patrons focus on the conversations.  Most of the seats were filled when I got there but only after a few minutes there were two available seats next to one another for my date and me.  There were a few couples enjoying a pie and beer, a couple singles grabbing a drink as they waited for their take-out order to be ready, and probably the best bartender I have had since I started this mission.
You would expect that a pizzeria owned by a direct descendant from the original NYC pizzeria would have all Italians working in the place…but this place has an Irish bartender.  Emmet, I believe was his name, was the perfect mix of being very friendly but not too pushy as a bartender. In addition, as always it was comforting having someone with an Irish accent serving drinks.  He immediately told me of the specials (some beers were marked down to $3 and $4, and there was a wine that was maybe $5 a glass) and gave me a full menu to look at.  I was going to get a Blue Moon Winter Ale, but then the $18 house bottle of wine caught my eye.  It's tough to beat an $18 bottle of wine at a restaurant, even if it isn't the best quality… which this wasn't. But I've never had a palate that required top notch wine, so the house wine certainly hit the spot.  Emmet spent his time chatting it up with us and the other people sitting around the bar.  He was extremely attentive, always pouring more wine for us and keeping an eye on the tables to make sure we had a table to eat at when we wanted to sit down to dinner. (We could have also eaten at the bar).  After finishing off the bottle my date and I grabbed a nice table near the warm coal oven and had some delicious pizza.
So now the breakdown…
Preconceived notion – It was a Thursday night and with the way the winter was going I figured it would be empty.  I really didn't think a restaurant bar would have any sort of crowd.
Bar Type – Restaurant-first bar
Crowd stereotype – Primarily couples, but there were a couple of friends that were grabbing a few drinks to go along with their pizza.  Everyone seemed to be in the 25+ age range.
Music – Just ordinary background music
Value – Good deals. A good amount of beer specials, and cheap house wine.
Good for a….
Date – Very good, its casual enough to not be intimidating.
Hookup – If you play your cards right, but chances are if you don't show up with the person you won't be going home with them.
Dance – Nope
Catch up with a friend – Great!
First or last drink of the night – Definitely should make time before or after getting your pizza.
Overall -  It's rare that I would have a desire to go to restaurant just to drink, but the bartender and the deal definitely made me want to go back. I probably wouldn't plan a whole Friday night of drinking around this place, but I would make sure if I was getting some pizza I would make sure to make time to stop at the bar and grab a few drinks and chat with Emmet.  On a scale of 1-10, I'll go with an 8.8.
- Link Cromwell
Completed Bars
Introduction
Northern Soul – 9.3/10
The Clinton Social – 9.1/10
Grimaldi's – 8.8/10
1 Republik – 8.6/10
Oddfellows – 8.1/10
The Shannon – 7.9/10
Karma Kafe – 7.7/10
Louise & Jerry's – 7.7/10
Mulligans – 7.7/10
Village Pourhouse – 7.7/10
Brass Rail – 7.6/10
Four L's – 7.5/10
Liberty Bar – 7.5/10
Nag's Head – 7.4/10
Eight Street Tavern – 7.3/10
Maggie's Place – 7.3/10
Three A's – 7.3/10
The Quays – 7.2/10
S. Sullivan's – 7.1/10
Farside – 7.1/10
Rogo's – 6.7/10
Related Articles
Share
About Author
(4) Readers Comments