LocalBozo.com has sent one of our correspondents out for some field research, as our own Link Cromwell attempts to bar crawl his way through Hoboken, New Jersey- just a stones throw away from Manhattan. Check back for his adventures and travels every single Friday as LocalBozo.com attempts to do the unimaginable. And yes, it involves drinking.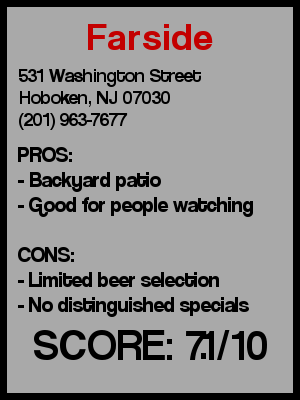 In honor of The Allman Brothers soon to begin a month worth of shows at the Beacon Theater I'll butcher and modify the lyrics to "Melissa", "Freight train, each car bar looks the same…all the same" That's how I feel as we enter the third month of the Hoboken bar crawl.  I still slightly off the necessary pace but that will be made up with a couple of upcoming single day bar crawls.  Today's entry is about what I consider one of the most forgotten about bars on Washington Street. The Farside sits between 5th and 6th Streets on Washington Street.  It's the last bar on the east side of Washington until 10th Street which represents the largest such gap on the main drag.
I walked into the Farside early on a Friday night with a friend of mine and we quickly grabbed a high top stationed right in the window looking out onto Washington Street. Confused about whether we were supposed to wait for a waiter/waitress or go to the bar we sat there for a couple minutes before we uncomfortably both got up to order drink.  That was a mistake and we had our table swiped by another group that was already sitting at another table.  I guess our spot was a premium spot because it was a great people watching spot.  We went to grab a few beers as the bar, and luckily the other window table opened up and we sat down right next to our new found arch enemies.   I was a little underwhelmed with the choices of beer on tap; I picked a Blue Moon for round one and a Yuengling for round two. I can't remember exactly what they had for bottles but it was the normal ones you see everywhere; Amstel, Corona, Bud, Bud Light, Heineken (I think).
The bar had about 10 chairs and there were a handful of other four seat tables.  Most of them were filled with people in their upper 20s and young 30s when we got there.  Up on the wall behind the bar were assorted taps from other beers.  I wish some of them were in service so that I could grab one of the more nontraditional beers.  On the wall across from the bar was a bunch of mirrors giving the place some character.  I got up from my people watching perch to take a walk around the bar.  I noticed a few flyers advertising The Farside's facebook page, and then walked all the way to the back and found what separated this bar from a lot of others on Washington Street.
At the back of the bar is a little open patio/deck.  Blocked on all sides from the surrounding buildings it's like a hidden hideaway far away from the noises from the street.  It had a nice fake fireplace burning, not really giving off any distinguishable heat, but enough to make you feel cozy.  We finished up one last beer in this "secret" refuge and paid our bill and left.
So now the breakdown…
Preconceived notion – Wasn't really sure since I never heard anyone say "I was at The Farside last night".  So I assumed a quiet neighborhood bar.
Bar Type – Neighborhood bar.
Crowd stereotype – High 20's to 30s.  Equal mix of men and women.
Music – Modern. Heard Kings of Leon and Mumford and Sons so it spans modern music.
Value – Didn't see any specials posted.  Beers were priced average.
Good for a….
Date – Not bad for a first or second date if you just want to grab some drinks.
Hookup – Probably not
Dance – No
Catch up with a friend – Great
First or last drink of the night – Ideal
Overall -  Much like the Allman Brothers song at the beginning of this post, I felt like I have been to the Farside before, despite never actually being there.  The Farside has their neighborhood crowd, but nothing about the place is really dragging me to go back there except the backyard patio.  If I would go back again maybe on a Friday night in the summer when a lot of Hoboken crowd is down the shore or fist pumping near the Path. Overall 7.1.
- Link Cromwell
Completed Bars
Introduction
Northern Soul – 9.3/10
The Clinton Social – 9.1/10
Grimaldi's – 8.8/10
1 Republik – 8.6/10
Oddfellows – 8.1/10
The Shannon – 7.9/10
Karma Kafe – 7.7/10
Louise & Jerry's – 7.7/10
Mulligans – 7.7/10
Village Pourhouse – 7.7/10
Brass Rail – 7.6/10
Four L's – 7.5/10
Liberty Bar – 7.5/10
Nag's Head – 7.4/10
Eight Street Tavern – 7.3/10
Maggie's Place – 7.3/10
Three A's – 7.3/10
The Quays – 7.2/10
S. Sullivan's – 7.1/10
Farside – 7.1/10
Rogo's – 6.7/10
Related Articles
Share
About Author
(9) Readers Comments