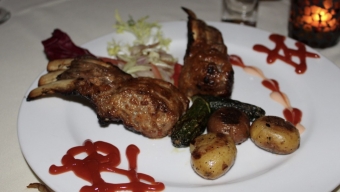 Nirvana
346 Lexington Avenue at 40th Street, Murray Hill
212-983-0000
Getting There: 4,5,6,7,S to 42nd Street – Grand Central
http://www.nirvanany.com/
Restaurant Review: Nirvana
Admittedly, we had walked by the Murray Hill restaurant that boasts 'Indian Culinary Bliss' many times before. The 3D neon red lettering raised above a gray stone backdrop reading 'Nirvana' seemed to open up to a casual Lexington Avenue bar that appeared to also serve some Indian-inspired fare. But as it's often said, looks can be deceiving – and a first time visit would unveil a restaurant that has quite a bit to offer in a neighborhood often derided for its lack of quality dining options.
With our reservation in hand, we were transported from the dimly lit first floor bar and lounge to a nicely decorated upstairs dining area, where flower-embroidered chairs and exposed brick walls were both inviting and eye-catching. Moderate music played in the background as we surveyed our surroundings, outfitted with decorative Indian borders and dark brown hard wood floors, setting a particularly cozy layout for the smorgasbord of tasty eats to follow. Although the vibe here is decisively mellow, the flavors and ingredients used in dish after dish are anything but – a testament to the authenticity of the restaurant.
Boasting a reasonably priced lunch buffet that attracts a slew of guests, Nirvana is actually quite popular during mid-week lunch hours. Our first visit however would take place on a weeknight, where the dining room would be littered with couples and families toasting to the holiday season. Unsurprisingly, the menu at Nirvana is quite vast though not quite overwhelming. For relative novices that prefer to dine in open-minded fashion, it is best to lean on your friendly server for suggestions despite the fact that many of dishes are all traditional – and truthfully, all delicious.
Succulent "Saag Paneer" –fresh spinach and cheese cubes ($15), decadent "Aloo Gobi Mutter" – cauliflower in a fresh ginger spice ($15) and even the mouthwatering "Garlic Naan" – toasted and flavored Indian-style pita bread ($6) proved to be wonderful tableside accompaniments for the main course offerings that quite literally filled us to the brim. Six of the restaurant's roasted "Lamb Chops" ($30) packed particular flavor, marinated in the Chef's special blend of spices. Paired with some hearty roasted potatoes and a smattering of greens, the juicy and tender meat pulled easily off the bone, highlighted by an array of marbled gristle that left our salted lips smacking.
To counteract some of the spice we encountered in the richly sweet "Chicken Vindaloo" (a steal at $14), we doused our plates with some of the aforementioned naan and plucked spoonful after spoonful of tasty rice from the coconut-like hotpot that house the "Shrimp Biryani" ($21). The immensely tasty dish was served piping hot, with decadently sauced bulbous shrimp tails jutting out from atop the container, lacquered in a creamy yellow-tinted coating. The combination of spices and herbs covering the rice and shrimp was otherworldly, with each starch-filled spoonful working to sufficiently satiate our formerly big appetites.
From the interior décor to the wildly flavorful cuisine, Nirvana of Murray Hill left upon us an indelible first impression. The outstanding service would serve to punctuate an otherwise terrific dining experience that won't force you to take out a home equity line of credit to afford. Centrally located near Grand Central Station and equipped with a sea of dishes to satisfy even the choosiest of diners, Nirvana proves that once can reach a transcendent state of contentedness, even when dining out for traditional Indian fare.
Related Articles
Share
About Author
(0) Readers Comments