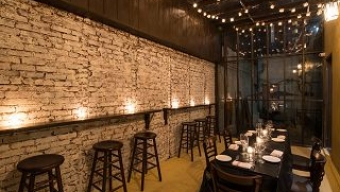 The Atrium at Hendriks
557 Third Avenue near 37th Street, Murray Hill
212-686-8080
Getting There: 6 to 33rd Street
http://www.hendriksnyc.com/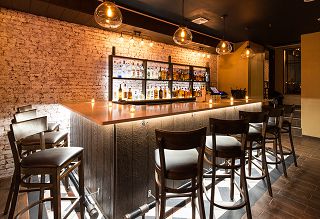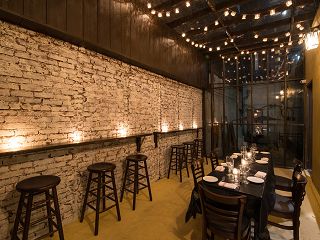 While Murray Hill as a whole has seen a bit of a restaurant renaissance in recent years- with chefs like Morimoto, Bloomfield, Talde and Smillie all piloting successful outposts in the neighborhood- there had previously been a dearth of noteworthy eateries in an area known more for locales featuring 1980's music, fifty flat screen televisions or the places with the name 'Mercury' in its title.  That began to change in 2014 when a contemporary American dining establishment propped up its flag on a busy corner of Third Avenue, an area that had been largely earmarked by the college rank and file ducking in and out of sports bars.  It was there on 37th Street where Hendriks opened up shop, featuring a modern and industrial space that brought a rejuvenated feel to a block of storefronts begging for a contemporary makeover.  Earmarked by craft cocktails and a strong mixology program, the space had always been an ideal one for the Happy Hour crowd, and as we learned after subsequent visits, had also offered up a favorable weekend brunch menu, flexible enough for large groups or for visiting parents from out of town.
Restaurant Review: Hendriks
During our most recent visit however, the jam-packed and dimly lit space offered spillover folks a new experience, tucked just around the outdoor corner into Hendriks' brand new Atrium, equipped with a fully stocked bar of its own and additional seating to accommodate greater guest count in a chic, private-like setting.  Better yet, the comfortable setup would also serve the classic Hendriks' dinner menu, replete with offerings from the "Smoked Pork Belly Risotto" ($21) to the savory "Black Angus Burger" ($17), both of which we've sampled in previous visits.
The just opened space is still seemingly a work in progress but certainly showcases a precursor of things to come.  String lights lay just above the restaurant's cozy cocktail cove where white exposed brick plays as a welcoming sight during the winter months- the lodge like feel here makes delicious drinks like the "Hendricks Old Fashioned ($12) and the Malbec and gin meshed "True Blood ($11) particularly enjoyable.  Just a few steps away from the bustling bartender's hustle sits a relatively nondescript but utterly comfortable dining room- spacious enough for large work parties (like on this night) but also pleasantly quiet to allow dinner conversation to shine.
Although the food at Hendriks might not be transcendent, it is often quite good.  And given the overall options in this part of town, there might not be a finer dining option.  The "Maine Crab Cake" ($13) and "Chickpea Fritters" ($9) are both generously portioned, rich in taste and outfitted with delicious seasonings.   Hunks of lobster meat sit atop shells of nicely cooked ravioli ("Lobster & Ravioli" ($30)) rather than stuffed inside each envelope – but the dish works overall because of that sort of distinctiveness.  It is a serving that delivers far better in practice than it might be interpreted on paper, doused in a buttery sage sauce and surrounded by a smattering of seasonal vegetables.
While other items like "Beef Short Rib Au Jus" ($28) and the "Roasted Double Cut Pork Chop" ($29) might warrant the menu attention of your eyeballs, seafood-focused fare was the showstealer during our most recent trip.  From the "Clams Linguine" ($23) to the "Lobster Risotto" ($32) to the "Seared Branzino" ($29), an evening special that showcased masterful technique – it was clear that despite its attention by locals as a meat-lovers haven, Hendriks also has a fairly refined side to its cooking.  The "Rotisserie Free Range Chicken" ($19) was perhaps our favorite dish of the evening – served alongside baby carrots, whipped potatoes and Brussels sprouts the way any piping hot, home-cooked meal should.  And just writing about it in retrospect as temperatures begin to dip has us longing for a return visit to pour some red wine, grab a seat at The Atrium bar and do it all over again.
Related Articles
Share
About Author
(0) Readers Comments