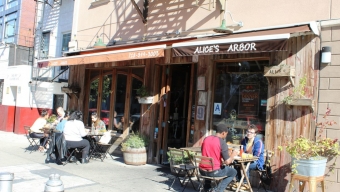 Alice's Arbor
549 Classon Avenue at Fulton Street, Bed-Stuy, Brooklyn
718-399-3003
Getting There: C to Franklin Avenue
http://alicesarborbk.com/
Restaurant Review: Alices Arbor
We'll be the first to admit it: we don't spend a great deal of time in Bed-Stuy.  That's not a judgment call; it's that the travels of our daily lives don't often draw us out toward the Brooklyn neighborhood.  On a recent sunny Saturday however, the sounds of savory brunch sang out to us, whispering 'hey, give this a shot.'  And with our ears ringing, we boarded the C train headed toward Classon Avenue for a mouthwatering breakfast experience well worth the jaunt from Manhattan.
Alice's Arbor is an adorably charming little bistro nestled quietly onto a relatively quiet neighborhood street, across from welcoming Crispus Attucks Playground.  Outfitted with a rustic interior, the energy-laden restaurant feels as if transplanted from a small country town yet is seamlessly transitioned onto a bustling Brooklyn street.  Decoratively, the place's natural lighting illuminates the barn wood covered walls, exposed brick and inventive light fixtures and wooden tables placed around the dining room.  The entire setup feels completely comfortable as the easy-going staff seems equally at ease, despite hustling around to serve the crowded slew of table-sitters.
In between the dedicated service however, is a meal that manages to take the notion of an ordinary brunch and keep it inspired.  With much of the fare sourced from nearby farms, the 'farm-to-table' concept which has been done to death in New York, just feels fresh here.  Armed with your choice of a horseradish-fueled 'Bloody Mary' or a refreshingly crisp 'Mimosa,' the $19 'Prix Fix' feels like a downright steal for some of the selections offered before lunchtime.    Take 'The Jessie' ($11), a simple croissant layered with egg, avocado, arugula and tomato.  But topped with a Cabot white cheddar and the combination works far greater than the sum of its parts might imply.  'The Cubano' ($12) is equally as excellent, meshing warm roasted pork, ham and gruyere with mustard and tangy pickles atop a flauta.
Even a traditional 'Eggs Bendict' ($11) is enhanced when served 'Carolina' style- the 'Carolina Benedict' ($11) tops scrumptious buttermilk biscuits with the traditionally poached eggs – and some rich pulled pork with barbeque sauce to boot.  And the piping hot home fries are well seasoned and just as distinctive.  The creamy lemony hollandaise sauce atop a serving of fresh 'Crab Hash' ($11) and greens also manages to be a big winner, washed down with some of the Arbor's tasty house brewed coffee blend.  By the time the decadent 'Apple Strudel' is served tableside, drenched with a sweet syrupy glaze and topped with fluffy whipped cream – we had admittedly had enough, in a good way.
The service, unexpectedly – was spectacular.  Barely 45 seconds passed before another friendly outstretched arm was filling up our coffee mug, grabbing our plate or asking if we needed any additional condiments.   The food, unexpectedly, despite being reasonable, was equally as satisfying.  Who knew that such quality was available at such an infrequently visited part of Manhattan's sister borough.  The experience overall though was a commendable one- so much so in fact that Alice's Arbor moves to the top of the list for places we can bring folks off-the-beaten path, looking for a high-quality brunch from start to finish.
Rundown of the Meal
Plates
Crab Hash ($11)*
Carolina Benedict ($11)*
Dessert
Apple Strudel*
* Meal Highlight
Related Articles
Share
About Author
(0) Readers Comments