Spirits In the Sixth Borough: Four L's
LocalBozo.com has sent one of our correspondents out for some field research, as our own Link Cromwell attempts to bar crawl his way through Hoboken, New Jersey- just a stones throw away from Manhattan. Check back for his adventures and travels every single Friday as LocalBozo.com attempts to do the unimaginable. And yes, it involves drinking.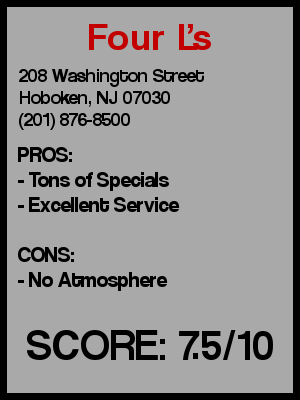 As opposed to Louise & Jerry's which has been on Washington for over 50 years, I have been in Hoboken longer than Four L's. I went to Four L's to watch the Conference Championship games and got there semi-early to get a seat because I knew it would get crowded. Luckily the friend I was with spotted some people he knew at table with extra seats so I was able to enjoy drinking the next 7 hours from a nice comfortable seat.
Four L's is physically narrow but is a relatively deep place, with a bar running along one wall. It has a decent amount of tables set up which allows for patrons to relax while imbibing some of drinks, which always seem to be on special. They have weekday specials, weekend specials, specials when you order pitchers and wings, specials when you order burgers and buckets- so many different specials to choose from. In fact, I find the toughest job is figuring out what special to get, and hoping that the waiter or waitress charges you the right amount for your order. We ended up ordering $2 Miller pints and pitchers for $5, since we ordered chicken fingers (alas, another special). My one big complaint is that I know (because I have been there before, and walked by this place often) they used to offer $1 Miller Light pints Monday – Thursday and Sundays (for football). They had a big sign out front and little menus on the tables that advertised this deal for months. I know for a fact that maybe 10 days prior, this sign was still proudly displayed. However when I got to the bar on this Sunday, those signs were nowhere to be found. They were replaced with $2 Miller Lights. I suppose I don't blame them for understanding that they are going to have a packed house for a Jets game no matter what and deciding that having $1 Millers didn't make smart business sense, but it seemed a little bait-and-switchy to me. Still with the amount of specials here, I didn't feel like my wallet was hurt at all from the day of drinking.
While Four L's excels at providing great specials, they lack a truly authentic atmosphere. Of course I was here for the football games and the crowd was actually fun for it. (I especially liked the schlub who was leading the J-E-T-S chant even when the Steelers were scoring, who later got tossed for getting a little too rowdy/obnoxious) But in general the space doesn't have anything memorable about it. It's your basic bar with a lot of HD TVs (but not an obnoxious amount like 1-Republik). I guess that's why they need the specials to draw people in. Unfortunately they have a single men's room and single women's room which led to lines due to the large crowd and constant flowing cheap beer. And for some reason the little waiting area near the bathroom was cooled to a chilly 45 degrees.
The staff was great, always available if you needed anything. They were able to pull out extra chairs for anyone that needed one, which is a rarity at a bar. The food came out of the kitchen in a scary fast time but when you are hungry I could care less how 2 wraps, 8 sliders, and 2 orders of chicken fingers all were cooked and put together in 4 minutes. So really the management/owners of this place did a great job keeping such a large crowd happy (minus those Jets fans that saw their team lose).
So now the breakdown…
Preconceived notion – I had been there before, but I thought because it was a big football weekend there would be a packed house of 20-30 year olds drinking heavily and watching one of their numerous TVs.
Bar Type – Sports bar.
Crowd stereotype – Seemed mainly people from Hoboken, maybe some people from Jersey City or NYC visiting Hoboken people, but people weren't coming into town just to try the place.
Music – None…they had the sound for the football games on.
Value – Amazing values. If you are looking for a few really cheap drinks this is the place to go.
Good for a….
Date – It won't impress anyone, but it's a nice, clean establishment than anyone will feel comfortable in.
Hookup – Don't think so.
Dance – No
Catch up with a friend – Perfect
First or last drink of the night – Perfect
Overall -  Place doesn't really have any special aura when you walk in. It really doesn't distinguish itself from all of the other bars in town aside from some money saving specials. The staff seems really friendly and accommodating. It's definitely the kind of place I would have no problem going again and again to, but I wouldn't be dragging my friends here as a must try bar. Overall 7.5
- Link Cromwell
Completed Bars
Introduction
Northern Soul – 9.3/10
The Clinton Social – 9.1/10
Grimaldi's – 8.8/10
1 Republik – 8.6/10
Oddfellows – 8.1/10
The Shannon – 7.9/10
Karma Kafe – 7.7/10
Louise & Jerry's – 7.7/10
Mulligans – 7.7/10
Village Pourhouse – 7.7/10
Brass Rail – 7.6/10
Four L's – 7.5/10
Liberty Bar – 7.5/10
Nag's Head – 7.4/10
Eight Street Tavern – 7.3/10
Maggie's Place – 7.3/10
Three A's – 7.3/10
The Quays – 7.2/10
S. Sullivan's – 7.1/10
Farside – 7.1/10
Rogo's – 6.7/10
Related Articles
Share
About Author
(7) Readers Comments