Spirits In the Sixth Borough: Village Pourhouse
LocalBozo.com has sent one of our correspondents out for some field research, as our own Link Cromwell attempts to bar crawl his way through Hoboken, New Jersey- just a stones throw away from Manhattan. Check back for his adventures and travels every single Friday as LocalBozo.com attempts to do the unimaginable. And yes, it involves drinking.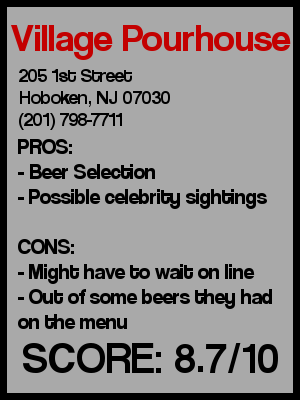 We headed into one of the newest and most popular new bars in Hoboken on this run, The Village Pourhouse.  The New York City staple opened up in Hoboken in the former O'Donoghue's spot this past November. Since that point it has been packed with long lines on the weekends, some famous celebrities (if you call Kim Kardashian of sex-tape and pseudo-reality fame famous), and some rave reviews.
The Village Pourhouse is located on First Street between Garden and Park. Once inside, you enter into a hallway that spills into the bar area.  The first thing I noticed was the huge circular bar in the front of the place.  There was a lot of televisions but unlike 1 Republik there was a tasteful amount, rather than an overload.  There were enough TVs that everyone who wanted to could follow the basketball games, but not so many that you had to worry about having an epileptic seizure.  In the back half of the bar was a couple of Beirut (you call it Beer Pong, I call it Beirut) games going on and a good 20 people were playing and watching on their 2 tables.  Anyone who knows me understands that I am not typically "skilled" on Beirut tables. I am also not active on Foursquare but one of the people I went to the bar with is, and he said there was a few people checking in (whatever that means).
We got to the bar at around 6 o'clock and there were still a good deal of seats around the tremendous bar and a few tables of 4 still open.  However, being that we were a group of 10 or so at that point, we needed more space. Luckily for us, there was a huge pair of low booths with tables right in middle of the restaurant unoccupied except for a reserved sign.  The reservation was for 8 PM so the waitress kindly let us sit there until that party was to arrive.
The waitress brought over a very extensive beer list with countless number of drafts and bottles from all over the world and sorted by variety. Also included was the price (that's nice to know) and the alcoholic content (also nice to know).  Unfortunately the first two beers I selected they were out of. Kinda disappointing since you can't get Grimbergen Blonde and Duvel just anywhere in Hoboken and I was looking forward to it.  Nevertheless even having to downgrade to my third choice was still better than most places in Hoboken.
After a couple of drinks and a few orders of appetizers including wings and garlic fries it was time to head to another bar.  But this Hoboken newbie is a classic act, and deserves the attention. I don't know if I would wait in line for the place (just cause I wouldn't wait outside for a drink anywhere) but its great to have this bar on this side of the river.
So here's the breakdown….
Preconceived notion – I've only heard good things and that it gets packed. Its part of the recent surge of new sports bars that have entered the town.
Bar Type – Big sports/beer bar
Crowd stereotype – Under 30
Music – Rock
Value –  They do run specials and promotions from time to time, but none while we were there.
Good for a….
Date – Gets kinda loud, don't know if I would bring a date here.
Hookup – Probably a decent place to meet someone for the first time later on in the night.
Dance – Not while we were there
Catch up with a friend – During off hours
First or last drink of the night – Probably better for a first drink than a last drink because you aren't going to want to wait in line.
Overall -  Great beer selection, comfortable seating, good lively crowd, what's really not to like about the place? The only negatives is that its nothing too original.  Modern sports bar, with a lot of TVs in a big space…a lot like 1-Republik and a lot of other places in town.  But they basically have to turn away people at the door, so they must be doing something right.  Its just not perfect….  On the 1-10 scale I'll give it a 8.7.
- Link Cromwell
Completed Bars
Introduction
Northern Soul – 9.3/10
The Clinton Social – 9.1/10
Grimaldi's – 8.8/10
1 Republik – 8.6/10
Oddfellows – 8.1/10
The Shannon – 7.9/10
Karma Kafe – 7.7/10
Louise & Jerry's – 7.7/10
Mulligans – 7.7/10
Village Pourhouse – 7.7/10
Brass Rail – 7.6/10
Four L's – 7.5/10
Liberty Bar – 7.5/10
Nag's Head – 7.4/10
Eight Street Tavern – 7.3/10
Maggie's Place – 7.3/10
Three A's – 7.3/10
The Quays – 7.2/10
S. Sullivan's – 7.1/10
Farside – 7.1/10
Rogo's – 6.7/10
Related Articles
Share
About Author
(4) Readers Comments