Spirits In the Sixth Borough: Quay's
LocalBozo.com has sent one of our correspondents out for some field research, as our own Link Cromwell attempts to bar crawl his way through Hoboken, New Jersey- just a stones throw away from Manhattan. Check back for his adventures and travels every single Friday as LocalBozo.com attempts to do the unimaginable. And yes, it involves drinking.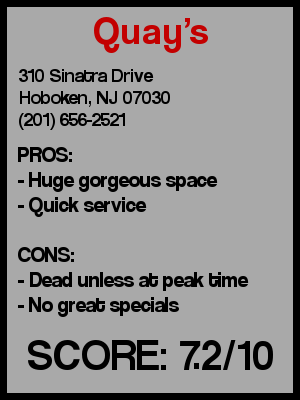 Unfortunately with this challenge, I am forced go to bars when it is convenient for me and not necessarily at the ideal time to experience a bar at its busiest.  This past week I experienced that issue as I went to Quays (Pronounced "Keys") well off their peak time.   Nevertheless, my goal is to get to every bar in 2011 and after this week I can knock another one off the list.
Quays, for those of you who haven't studied your SAT vocabulary words recently, is essentially a synonym for wharf or pier (thanks dictionary.com!). It is a fitting name considering that it sits on Hoboken's beautiful but crumbling Hudson River waterfront.  With the New York City skyline views from its outdoor seating area, the Quays has become a popular place on warm weekends for brunch over the past 6 and a half years.  My visit to the Quays was neither on a warm day, nor brunch, but I got there at around 8 PM on a clear, cold February night.
On this night the New York City views through the huge front windows to the left of the bar were still breathtaking.  You tend to become a little numb of the true beauty of the New York City skyline being so close to it for so long.  The bar itself however was a lot closer to resembling a Des Moines, Iowa bar than a New York City one.  There were about six other people at the bar (and a few couples eating dinner) when I got there with my guest. Apparently getting there at 8PM was no man's land for the Quays.   We missed out on the happy hour (which runs from 4-7) and were there too early for the bar's main event…the DJ and dancing.
The Quays goes all out with its nautical theme.  Behind the bar are two wooden sculpted mermaids that look like a hull of ship.  Likewise the curved architecture makes you feel like you are on an actual ship. And with the way the Hoboken waterfront is slowly falling back into the ocean, maybe this should place should think about also tossing an anchor down.  The bar is fairly long, with seating for about 12 patrons with a long couch that other people can sit at.  Behind the bar are a few HDTVs and a vast amount of alcohol. You could tell that they were anticipating a huge crowd this Friday night.
The bartenders were okay. There were 3 of them during my time there, so they were quick to fill up my beers when they were around. Unfortunately, at one point all three bartenders left simultaneously to smoke a cigarette which was weird to see, and I did manage to get a little parched for a few minutes while holding my empty pint glass.
We stayed at the Quays for until around 11pm, when the DJ started pumping out some music.  The bouncer stationed himself at the door to check IDs and they even had a coat check.  The place was definitely turning classy. The large dining area was cleared out for some dancing and I even noticed another bar at the back of the place that would come in handy to keep the lines for drinks down.  Before the place got really going it was time to go…but another 4 beers and another bar down for the 2011 Hoboken bar crawl.
So now the breakdown…
Preconceived notion – I had never been to the Quays before. Kinda figured the place had a good dance crowd considering it is one of the bigger spaces in Hoboken.
Bar Type – Dance club/lounge. They also have a good dinner menu but there weren't many people eating.
Crowd stereotype – Before 10:30 it seemed to be 30+. After 10:30 it seemed to be in the 21-25 year old crowd.
Music – Background music at the start, but then the DJ kicked in around 10:30.
Value – Really ordinary.  Missed out on happy hour, but didn't seem to have any outrageous deals.
Good for a….
Date – The place is definitely nice enough to bring a date. However once the DJ started playing it was tough to hear people talk so its not great if you are trying to get to know someone.
Hookup – Very good!
Dance – Very good!
Catch up with a friend – Maybe early in the night when there is no one around.
First or last drink of the night – No this place would probably be your main event.
Overall -  For the time I was there, The Quays was just ordinary.  Obviously it wasn't their busy time and with their space and NYC views they certainly have everything needed to make a great night.  However there was nothing spectacular about the crowd or the service.  With soooo many places in Hoboken this one definitely caters to the brunch and dance crowd.  It's tough for me to give it a high score without seeing it in prime time action, but I'm not going to make it walk the plank …I've been trying to find a decent boating pun in here somewhere . On the 1-10 scale I'll give it a 7.2.
- Link Cromwell
Completed Bars
Introduction
Northern Soul – 9.3/10
The Clinton Social – 9.1/10
Grimaldi's – 8.8/10
1 Republik – 8.6/10
Oddfellows – 8.1/10
The Shannon – 7.9/10
Karma Kafe – 7.7/10
Louise & Jerry's – 7.7/10
Mulligans – 7.7/10
Village Pourhouse – 7.7/10
Brass Rail – 7.6/10
Four L's – 7.5/10
Liberty Bar – 7.5/10
Nag's Head – 7.4/10
Eight Street Tavern – 7.3/10
Maggie's Place – 7.3/10
Three A's – 7.3/10
The Quays – 7.2/10
S. Sullivan's – 7.1/10
Farside – 7.1/10
Rogo's – 6.7/10
Related Articles
Share
About Author
(7) Readers Comments