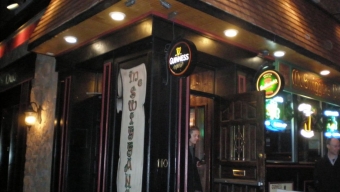 Spirits In the Sixth Borough: McSwiggans
LocalBozo.com has sent one of our correspondents out for some field research, as our own Link Cromwell attempts to bar crawl his way through Hoboken, New Jersey- just a stones throw away from Manhattan. Check back for his adventures and travels every single Friday as LocalBozo.com attempts to do the unimaginable. And yes, it involves drinking.
McSwiggan's is located on the corner of First and Bloomfield and is yet another Irish bar in downtown Hoboken.  The current McSwiggan's literally arose from the ashes of its predecessor.  In 2008, the original McSwiggan's burned down, and the new version would be completely unrecognizable to any of the patrons of the original.  But that's a good thing, because McSwiggan's, especially when we were there, was a really fun place.
It's amazing how much turnover there has been on First Street since I moved to Hoboken six years ago.  Recent "Spirits in the Sixth Borough" stops like Northern Soul was once Quiet Woman, Maggie's Place was El Cuatro, Village Pourhouse was O'Donoghue's, and McSwiggan's was completely destroyed and redone.  Even The Shannon which I will hit up later on this year underwent a renovation.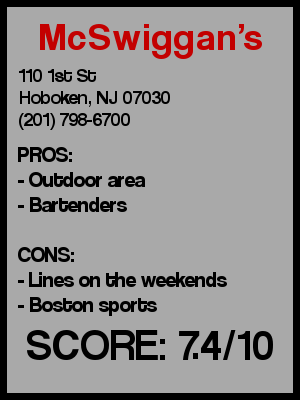 So we walked into McSwiggan's looking for some food and some final drinks for the night. The bar had its standard amount of televisions, allowing for good viewing angles whether you were facing the bar or sitting parallel to the bar. We got into the bar around 9pm and almost immediately, we could tell that the night shift had begun. We were able to grab a couple of their hightop tables which they have a perfect amount of.  The beers were pretty standard- no special drinks, but then again at primetime on a Saturday night, deals in Hoboken are few and far between.
There is a main room and then a back or side room with a pool table. Their DJ was warming up, spinning some tunes but the place was a little too empty at the time to really appreciate the genre.  It was too cold to be outside, but one of my favorite things about the new McSwiggan's is getting one of the few outdoor tables and enjoying a few drinks after work on a warm night.  I did witness a major fight one night while having a few drinks outside, but it was between one of the workers and either the host/manager/owner, and I attribute that to a fluke work problem and not indicative of the crowd that normally frequents this place. It looks like they keep up with their website every once in a while and they welcome bar crawls, so that's a couple of tidbits that might be worthwhile to you.
Now make no mistake- McSwiggan's is a Boston bar.  As you can see, I strategically visited a Philadelphia bar (Mulligan's) and a Boston bar (McSwiggan's) both during a relatively quiet sports period- and it was not coincidental. The regular weekday crowd at McSwiggan's is very fond of their bartenders, but we were there during a busy time, so I couldn't really speak to that.  After a couple of drinks and some food, it was time to take off.  And as we walked out I saw the beginning of a line forming for McSwiggan's and at a few other First Street bars. And that just made me happier that I was able to knock out one of Hoboken's most popular bars without waiting on a pesky line.
So here's the breakdown….
Preconceived notion – I've been there before, and it's always a good time.  I was nervous that it was going to packed since it was getting to be a little bit late on a Saturday night.
Bar Type – Irish Bar/ Boston Bar
Crowd stereotype – 21-30, good mix
Music – DJ was mixing his own tunes
Value –  Didn't notice any particular specials
Good for a….
Date – Maybe in the middle of the week, but not on a Saturday night
Hookup – Pretty good
Dance – Not while we were there, but maybe later in the night. Never been here late on a Friday/Saturday before
Catch up with a friend – Really good during the week or early on Friday/Saturday.
First or last drink of the night – Good for a first drink.
Overall – As I said in the previous entry… this is a city with lots and lots of Irish Bars.  It's actually tough to distinguish one from another.  McSwiggan's has a great layout, and an outside area that is fantastic in nice weather with a loyal set of patrons.  Of course on the weekend you don't always get a "normal crowd" but this spot is one definitely worth checking out. I'll give it a 7.4.
- Link Cromwell
Completed Bars
Introduction
Northern Soul – 9.3/10
The Clinton Social – 9.1/10
Grimaldi's – 8.8/10
1 Republik – 8.6/10
Oddfellows – 8.1/10
The Shannon – 7.9/10
Karma Kafe – 7.7/10
Louise & Jerry's – 7.7/10
Mulligans – 7.7/10
Village Pourhouse – 7.7/10
Brass Rail – 7.6/10
Four L's – 7.5/10
Liberty Bar – 7.5/10
Nag's Head – 7.4/10
Eight Street Tavern – 7.3/10
Maggie's Place – 7.3/10
Three A's – 7.3/10
The Quays – 7.2/10
S. Sullivan's – 7.1/10
Farside – 7.1/10
Rogo's – 6.7/10
Related Articles
Share
About Author
(1) Reader Comment