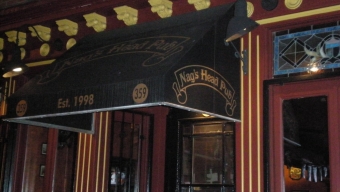 Spirits In the Sixth Borough: The Nag's Head
LocalBozo.com has sent one of our correspondents out for some field research, as our own Link Cromwell attempts to bar crawl his way through Hoboken, New Jersey- just a stones throw away from Manhattan. Check back for his adventures and travels every single Friday as LocalBozo.com attempts to do the unimaginable. And yes, it involves drinking.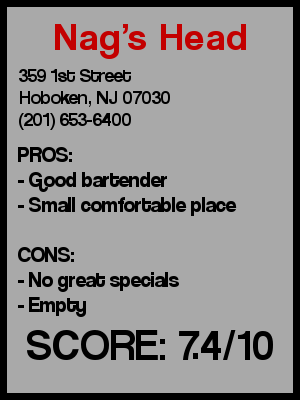 Our next stop along "Spirits in the Sixth Borough" was The Nag's Head Pub.  Again, we've stopped at a neighborhood bar…the only problem was the only neighborhood that was there was my group of friends that joined me.  Now normally I wouldn't care about going to a bar and having it be all of my friends, but not having any strangers to talk with or about makes it a little tougher to come up with some interesting things to say about a place.
Nag's Head is on First Street between Grand and Clinton and I have been there a few times before but never walked in and have seen it so empty. In fact one time I actually saw Hoboken royalty…well it was really just the mayor, but I'm sure city folk would still be impressed to be at the same bar as Mayor Bloomberg.  It was understandable that it was empty considering that it was almost 5 o'clock on a Saturday evening and considering they don't serve food, it's not an ideal spot around meal time. The bartender did let my group bring in some snacks from the bodega across the street and gave us some bowls so that we were able to eat in a civilized manner, which was a notable touch.
After having a few beers beforehand, I noticed a sign behind the bar advertising $5 sangria.  Now normally I am not one to get Sangria at a bar (Spanish or Mexican restaurants … sure but not at a bar), and to be honest $5 didn't seem like a great special. But thanks to a little peer pressure I ended up having 2 glasses of sangria. The sangria was primarily out of a bottle called "Senor Sangria" but the bartender added some great fruit to it making it tasty.
One of my favorite things about Nag's Head is the nice big windows that look out onto First Street. On nice days the windows open up, making you feel like you are outside.  While it was nice weather for March, it was still a little cold for that.  Coming in from the cold outside though was a homeless man looking for change.  The bartender quickly and sternly told the man to leave and we weren't bothered again.
Now because there wasn't another patron (unless you count the homeless man) and really not a whole lot else to talk about I figured I would bring up a thought that I encountered while at Nag's Head.  Now when I went to the lavatory to relieve myself I noticed the mens bathroom had a toilet and a urinal with no divider or anything in between.  I don't understand that setup at all.  Now I just needed to use the urinal but I was unsure whether I was to lock the door or not.  Like I can't imagine any scenario when would someone need to use the urinal at the time that someone was using the regular toilet. Just seems pretty inefficient to have two things that wouldn't be used at the same time.  I guess the only explanation I can think of is that if you wanted to save water per flush a urinal.  Now that we got that conversation over with, here's the breakdown….
Preconceived notion – I 've been here before, usually for happy hour on a nice workday and there are usually 5 to 10 other people just hanging around and drinking
Bar Type – Neighborhood Bar
Crowd stereotype – Um everyone that was there was in my group of friends…so between 25-30 mix of women and men. Normally I would say its between 25-35…a mature group of young professionals
Music – New rock
Value –  Average…didn't seem like the sangria that was on special was of great value.
Good for a….
Date – For a first innocent date of drinks and conversation as you feel the person out and decide if you want to sacrifice a whole meal getting to know them…then yes.
Hookup – Probably not
Dance – No
Catch up with a friend – Excellent
First or last drink of the night – Great
Overall -  Another bar that I really liked in past visits disappoints because of a lack of crowd. Of course late afternoon on a Saturday isn't the ideal time to evaluate a bar, but I have always liked Nag's Head as a solid neighborhood spot where you can throw some darts, or catch up with a friend.  I just wish they could have had a better showing on the afternoon I stopped by.  On the 1-10 scale I'll give it a 7.4.
- Link Cromwell
Completed Bars
Introduction
Northern Soul – 9.3/10
The Clinton Social – 9.1/10
Grimaldi's – 8.8/10
1 Republik – 8.6/10
Oddfellows – 8.1/10
The Shannon – 7.9/10
Karma Kafe – 7.7/10
Louise & Jerry's – 7.7/10
Mulligans – 7.7/10
Village Pourhouse – 7.7/10
Brass Rail – 7.6/10
Four L's – 7.5/10
Liberty Bar – 7.5/10
Nag's Head – 7.4/10
Eight Street Tavern – 7.3/10
Maggie's Place – 7.3/10
Three A's – 7.3/10
The Quays – 7.2/10
S. Sullivan's – 7.1/10
Farside – 7.1/10
Rogo's – 6.7/10
Related Articles
Share
About Author
(2) Readers Comments