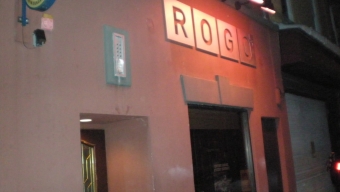 Spirits In the Sixth Borough: Rogo's
LocalBozo.com has sent one of our correspondents out for some field research, as our own Link Cromwell attempts to bar crawl his way through Hoboken, New Jersey- just a stones throw away from Manhattan. Check back for his adventures and travels every single Friday as LocalBozo.com attempts to do the unimaginable. And yes, it involves drinking.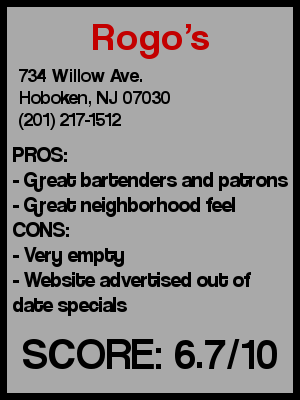 Hopefully the worst of the winter is behind us, but there are a couple more months before the weather really gets nice.  So I sought shelter in a local neighborhood bar on a Friday night…Rogo's.
Over the past 6 years I have never gone to Rogo's but was greatly looking forward to it.  Located on Willow Avenue between 7th Street and 8th Street (closer to 8th) I've driven past the magenta lit bar numerous times. It's one of the bigger bars not on the Washington Street/Sinatra Drive strip.  It was a Friday night and my date and I was looking forward to having a few drinks to start the night before dinner.  Before heading out I took a look at their website and was surprised how advanced their website was for a Hoboken bar. Plus they have over 1,500 friends on facebook so I was fairly certain that this place was going to be one of those popular places I had been missing out…but I was wrong.
Considering the website advertised $1 Mugs Monday-Friday from 5-8pm I thought there would be a decent happy hour crowd.  However, I found out both the deal and my intuition was off.  When we got to the bar I looked into the window and was shocked by how empty it was.  We had gotten there at 6:30 and there was just one customer and the bartender eating dinner at the bar.  That's it!
The bartender was very friendly which ended up being an ongoing theme with this establishment. We talked with him, and found out that the bar has been in business for around 15 years.  The other bar patron left and it was just the 2 of us and the bartender.  From that point on we waited…and waited… and waited for some more people to show up.
Finally after around 45 minutes and 2 rounds of drinks (and one order of delicious chipotle ranch wings) another couple of patrons and a new bartender showed up.  Now the one benefit of having such a sparse crowd is that you get to know the bartenders.  Bethany, our bartender for most of the night, ranks up there with Emmett from Grimaldi's as one of the nicer people I have met on this journey.  She has been working at Rogo's for around 5 or 6 years and has seen it from its busy times when they required 3 bartenders and a bar-back every Friday night to the current day in which they require 1 bartender and close up shop at around midnight.
Part of Rogo's appeal to her and the other patrons bar is that all of the patrons either have known each other forever or are very friendly to first timers. It seems that they come here at least every week to reminisce, commiserate, or bust each other's balls.  Bethany explained that everyone there feels like family to her.  One such "family member" is John the Baker.  John used to be one of Hoboken's finest bakers when he owned Grand Bakery which is located right next to Rogo's. In fact he sold the building that Rogo's is in to the current owners.  John spoke to my date and me for over 20 minutes telling us about how we should visit Italy and see the world while we are young. He even bought us a round of drinks…which is the least he could do now that our Greece vacation over Labor Day weekend will now be an Italy-Greece vacation costing me a couple grand more than anticipated.
Part of the conundrum that is Rogo's is that while the people inside the bar are friendly and welcoming the actual bar is huge and a little too big for the crowd.  Rogo's is two levels with a bar both upstairs and downstairs. As far as I know they never even open the bar upstairs. The main level has a huge bar with maybe 15 chairs, a bunch of other tables and a smaller back room that maybe either for a DJ or beruit (I call it beruit, you call it beer pong…but for me beer pong is played with paddles).  There are plenty of HD TVs around the bar area and all you have to do is ask and you can watch NBA games, NHL games, local news, TBS, whatever.  The lights in the ceiling are LED lights that alternately flash red and blue giving this place more of the night club feel…definitely not vibe coming from the 5 men grabbing drinks together. Which brings me to my next point…this place is extremely underutilized and confused.
It's a shame for any bar to have only 2 patrons in it from 6:30 – 7:30 any Friday night. Even at its peak while I was there, at max there was like 7 people.  This is a far cry from the busy nights that were in Rogo's past. Part of it may be that the partners that owned Rogo's split so the one who did a lot of the marketing (the website & facebook) no longer runs Rogo's.   So I got to thinking about I would try to do to increase the crowd at Rogo's.  I wouldn't necessarily go with the dance club crowd atmosphere because that would ostracize the current cliental and the location is just too far from the main strip to be a major draw.  So the key would be to really separate itself from the other neighborhood bars around Rogo's (Turtle Club, Clinton Social to name a few).  First off you need a website that is up-to-date.  It's inexcusable to have specials that are no longer valid up on a website. Feels very much like bait-and-switch. Secondly I would take advantage of all the space they have. Put in a pool table, put in an air hockey or bubble hockey, put in a full size hand shuffleboard.  Almost like a toned down version of Dave and Busters.  Hoboken doesn't have a place that is just over-the-top rich kid's basement.  That way when mature drinkers are looking to get some of their competitive juices flowing and grab a few casual beers they will head to Rogo's.  Without doing something I feel that Rogo's time may be fleeting.  Of course maybe the owner has his eyes on converting the building (along with the old Grand Bakery spot) into condo's when the market turns around and selling the liquor license.   But that's my 2 cents.
So now the breakdown…
Preconceived notion – Based on the website I thought it was going to be a good happy hour place that started to fill up for a DJ later in the night.
Bar Type – Neighborhood place…disguised as a night club.
Crowd stereotype – Mainly men, most 35+
Music – Had some modern music on.
Value – Thought they had great specials based on their websites. Instead of the 4 beers that I orderd being a buck each they were around $4-5. Luckily one round was on the bar (first set of buybacks I have gotten on this bar crawl) and John the Baker picked up a round. So while there aren't any great values I appreciate the buyback!
Good for a….
Date – Honestly would be a good place…if there were more people. Otherwise I think it would be awkward to take a date to an empty bar.
Hookup – No chance
Dance – Maybe in the old days when they had a DJ. Current day you would be dancing with yourself…Billy Idol Style
Catch up with a friend – Great!
First or last drink of the night – For a first drink this place works well…however they may close early if they have no customers so the last night may be iffy.
Overall -  Now this may be my toughest place to figure out a score.  The bar itself has soooo much potential.  And the characters I met were probably the nicest, most welcoming people I have met so far.  It's just it just doesn't seem to fully mesh. If Rogo's was the size of Louise and Jerry's or S. Sullivan's it would be a perfect neighborhood bar.  But it's like 3-4 times the size of those places and that makes the really small crowd seem even smaller.  I have heard that Wednesday nights may be a larger crowd so maybe if I get another chance I'll stop by for a beer to take a look. Gotta take points off for having out of date specials on the website but I really enjoyed the company when I was there. Just can't rate a place that highly if its basically empty.  I really hope this place draws up a crowd because it has potential to be great. But on a scale of 1-10, I'll go with a 6.7.
- Link Cromwell
Completed Bars
Introduction
Northern Soul – 9.3/10
The Clinton Social – 9.1/10
Grimaldi's – 8.8/10
1 Republik – 8.6/10
Oddfellows – 8.1/10
The Shannon – 7.9/10
Karma Kafe – 7.7/10
Louise & Jerry's – 7.7/10
Mulligans – 7.7/10
Village Pourhouse – 7.7/10
Brass Rail – 7.6/10
Four L's – 7.5/10
Liberty Bar – 7.5/10
Nag's Head – 7.4/10
Eight Street Tavern – 7.3/10
Maggie's Place – 7.3/10
Three A's – 7.3/10
The Quays – 7.2/10
S. Sullivan's – 7.1/10
Farside – 7.1/10
Rogo's – 6.7/10
Related Articles
Share
About Author
(6) Readers Comments