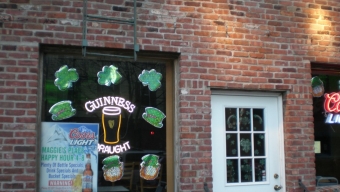 Spirits In the Sixth Borough: Maggie's Place
LocalBozo.com has sent one of our correspondents out for some field research, as our own Link Cromwell attempts to bar crawl his way through Hoboken, New Jersey- just a stones throw away from Manhattan. Check back for his adventures and travels every single Friday as LocalBozo.com attempts to do the unimaginable. And yes, it involves drinking.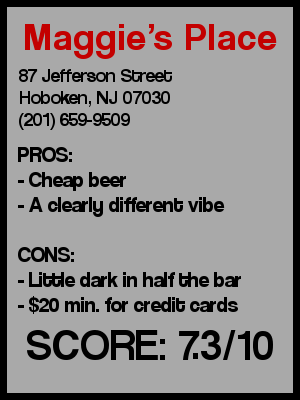 As part of this bar crawl there are bars that I have to have a drink inside of even if I never once thought I would go there.  Maggie's Place is one of those spots, but as it turns out, I ended up having a really great time there.  Maggie's Place is located on Jefferson Street between 1st Street and Newark/Observer Highway in a brick building. I know there used to be a sign up over the windows proclaiming it as Maggie's Place, but for some reason its not up anymore.  Instead, the only thing that lets you know the name of the bar is a Miller Light sign that advertises Maggie's Place as one of the St. Patrick's Day bars to go to.
Maggie's Place used to go by the name El Cuatro Bar (according to Google Maps) and as the previous name suggests it was definitely a "Latino" bar.  We walked into the dimly lit establishment at around 4pm and were pleasantly surprised to see about 10 other patrons.  We quickly took 4 seats at the octagonal, center island bar.  We asked about specials, and were delighted to find that they offer $2 Coronas and Miller Lites and $3 Heineken and Heineken Lights.  I opened with a Corona figuring that it fit with the bar and the only downside was that they had a $20 minimum for credit cards.
Despite the fact that we were the only group of people speaking English to each other, the bartender and the crowd made us feel welcome.  We had a good time chatting it up with the bartender and found out that they are putting in a new kitchen in a few weeks.  The center island bar was right at the front of the establishment and there was a wide open area in the back that was dark while we were there but I would imagine it would be used for private parties. There was a relic of the past: a payphone near the bathrooms. I have no idea if it still worked or why anyone would use it, but it's worth noting that if you need to make a phone call and you don't have a cell phone, I guess you should head to Maggie's Place.  There were two HD televisions- one showing Goodfellas and the other one showing The Baseball Network (for some reason no college basketball was on).  There were two domino tables near the front of the bar, but no one was playing while we were drinking.
Despite not speaking the same language of the other patrons, our group never felt like outsiders.  We were welcomed warmly and even got in on some of the jokes. When one of the patrons walked in with a bunch of limes (for the Coronas) the bar burst into cheers and we clapped along. Another patron (he looked a little like Jimmy Smits from his season on Dexter and for some reason was wearing 2 watches on the same hand) came in with frozen shrimp…no idea why, and considering their kitchen was under construction, I honestly have no clue what they were going to be used for.  But either way, Maggie's Place was a pleasant surprise.
So now the breakdown…
Preconceived notion – I had always heard it was a Spanish/Latino bar so I figured when I walked in with a bunch of English speaking 20 somethings that the music would screech to a stop and everyone would look at us.
Bar Type – Neighborhood/ Spanish/Latino bar.
Crowd stereotype – All men except for one patron (as in bar-goer, not the tequila) and the bar tender.  Most of the men were in their 40s or 50s.
Music – It was in Spanish, although I may have heard a song in Italian as well.
Value –  $2 beers is always a great value!
Good for a….
Date – No.
Hookup – Probably not
Dance – Not while we were there, but then again Latino's can be great dancers, so maybe later in the night there would be some great dancing
Catch up with a friend – Maybe
First or last drink of the night – Maybe a first drink of the night.
Overall -  Not every bar in Hoboken is going to be the same cookie cutter place serving either the B&T crowd or the "Yuppies" (and I use that term very loosely).  Some bars are going to be a little more ethnic, and have a different flavor to serve a community that deserves to be represented in Hoboken.  And Maggie's Place is one of those places.  I honestly had a great time there.  The people were really nice and welcoming. I don't know if I would make it a habit and become a regular there, but if I lived in the neighborhood, I would give the place a shot on a weekend afternoon for a few beers.  For $2 a beer, how could you go wrong?  On the 1-10 scale I'll give it a 7.3.
- Link Cromwell
Completed Bars
Introduction
Northern Soul – 9.3/10
The Clinton Social – 9.1/10
Grimaldi's – 8.8/10
1 Republik – 8.6/10
Oddfellows – 8.1/10
The Shannon – 7.9/10
Karma Kafe – 7.7/10
Louise & Jerry's – 7.7/10
Mulligans – 7.7/10
Village Pourhouse – 7.7/10
Brass Rail – 7.6/10
Four L's – 7.5/10
Liberty Bar – 7.5/10
Nag's Head – 7.4/10
Eight Street Tavern – 7.3/10
Maggie's Place – 7.3/10
Three A's – 7.3/10
The Quays – 7.2/10
S. Sullivan's – 7.1/10
Farside – 7.1/10
Rogo's – 6.7/10
Related Articles
Share
About Author
(2) Readers Comments