Spirits In the Sixth Borough: Northern Soul
LocalBozo.com has sent one of our correspondents out for some field research, as our own Link Cromwell attempts to bar crawl his way through Hoboken, New Jersey- just a stones throw away from Manhattan. Check back for his adventures and travels every single Friday as LocalBozo.com attempts to do the unimaginable. And yes, it involves drinking.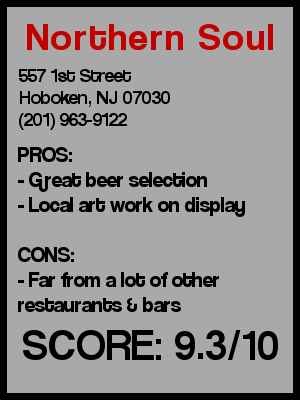 Unfortunately I had other commitments and couldn't attend the debacle that is known as Hoboken St. Patrick's Day.  Much has been made of the disorderly behavior and Hoboken's reaction of rescheduling next year's parade to a Wednesday, but I'll get to that sometime later.  It was around 3:30 pm when we strolled into Northern Soul.  Northern Soul is located on the between Madison and Monroe on 1st Street and might just be the furthest west bar in all of Hoboken.  Having never been to Northern Soul (or its predecessor The Quiet Woman) I really didn't know what to expect.  I was surprised that the bar was pleasantly well stocked with patrons.  In fact they had a four-legged patron that I didn't expect- a really cute playful dog, (probably an American pit bull terrier) greeted my party and kept bringing over his ball looking for someone to play fetch with.  I am a dog lover, so the sight of a 45 pound dog running over to me doesn't scare me, but I can see how that might scare some people.  Now I don't know if I am blowing up someone's spot here by pointing out some health violation, but I actually am more drawn to a bar that is neighborhoody enough for someone to bring a dog inside.
We sat down near the windows that look out onto First Street.  All around us on the walls was artwork from local artists.  Some of it was a little morbid but overall the artwork was very well done and added another nice touch to the bar.  The bar has a nice open feeling with a curved, free formed bar and a couple of side tables. They also have a pool table that was free to play, plenty of HD televisions and a Touchtunes jukebox that was temporarily out of service.  They were playing all kinds of rock from classic to modern.
When walking into the bar we noticed a blackboard out front with some specials so I started out with a Yuengling. However after sitting down I noticed that this bar had a very large beer selection including 21 bottles and 12 on tap.  So for my second beer I originally asked for a River Horse beer from Lambertville, NJ but they were unfortunately all out. Instead the bartender let me taste a couple of beers that I hadn't heard of and I ended up with what was their "Beer of the Month" which was a very good IPA.  After a couple of beers it was onto the next bar, but Northern Soul was a bar I would consider going back to.
So now the breakdown…
Preconceived notion – I had never been to Northern Soul before and it's pretty far out of the way for me. Also it being around 3:30 on a Saturday afternoon I thought it was going to be very empty.
Bar Type – Neighborhood bar.
Crowd stereotype – Basically everyone was 25-30.
Music – Modern and Classic Rock
Value – Had a couple of specials on the outside blackboard. Other than that the price was pretty ordinary.
Good for a….
Date – If you lived in the area I guess it would be a good place to go, it's just pretty far from the restaurants so if this was just part one of a date I would say no.
Hookup – Not that good.
Dance – Nope
Catch up with a friend – Great!
First or last drink of the night – Perfect especially if you live in the neighborhood.
Overall -  I was very impressed with this place. I haven't been to another place in Hoboken that does a better job at being a neighborhood bar. Between the dog, the local artist's works, and a great beer list, its tough for me to think of a better neighborhood place.  On the 1-10 scale I'll give it a 9.3.
- Link Cromwell
Completed Bars
Introduction
Northern Soul – 9.3/10
The Clinton Social – 9.1/10
Grimaldi's – 8.8/10
1 Republik – 8.6/10
Oddfellows – 8.1/10
The Shannon – 7.9/10
Karma Kafe – 7.7/10
Louise & Jerry's – 7.7/10
Mulligans – 7.7/10
Village Pourhouse – 7.7/10
Brass Rail – 7.6/10
Four L's – 7.5/10
Liberty Bar – 7.5/10
Nag's Head – 7.4/10
Eight Street Tavern – 7.3/10
Maggie's Place – 7.3/10
Three A's – 7.3/10
The Quays – 7.2/10
S. Sullivan's – 7.1/10
Farside – 7.1/10
Rogo's – 6.7/10
Related Articles
Share
About Author
(1) Reader Comment