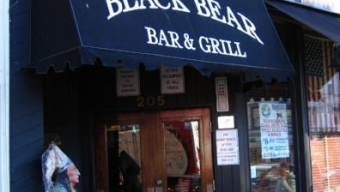 Spirits in the Sixth Borough: Black Bear Bar and Grill
LocalBozo.com has sent one of our correspondents out for some field research, as our own Link Cromwell attempts to bar crawl his way through Hoboken, New Jersey- just a stones throw away from Manhattan. Check back for his adventures and travels every single Friday as LocalBozo.com attempts to do the unimaginable. And yes, it involves drinking.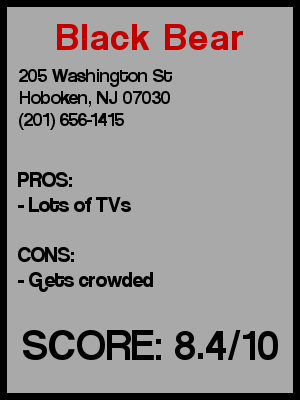 Black bear, black bear what do you see?? Apparently the black bear that sits on Washington Street in Hoboken has seen many many patrons over the years. Since I've moved to Hoboken, every time I've walked past Black Bear Bar & Grill it seems like people are having a great time. Located between 2nd and 3rd Street on Washington, it has been for years one of the go-to places for many residents and those coming into Hoboken just for the night. It is one of the first of a long string of Washington Street bars that people get to as they come piling off of the PATH.
I walked into Black Bear to meet a bunch of old friends on a Friday night. As always I had to show my ID to the bouncer who stands menacingly outside next to the fake Indian. Upon entering, you are immediately drawn to the wall of televisions behind the bar showing basically any sporting event you want to watch. In fact for you hockey fans, countless times I have actually seen hockey on their TVs (which isn't always the case even in the sports bars in town) and they have some nice Rangers memorabilia up behind the bar for Blueshirt fans. The place is spacious inside with the front bar area including some high tops on the opposite wall (be careful, if you lean on the hightops you need to get your drinks from a waitress), a back room hidden behind the kitchen with many in wall TVs, and a large bar area upstairs that seems to have a loft like setup. Despite being able to really pack in large numbers, on Saturday nights this place has been known to fill up, so you may be waiting on line (Although I don't know why you would wait on a line in Hoboken, there are plenty of other bars to choose from).
My group of friends congregated in the front bar area watching some of the games on TV. I had a couple of Yuenglings and the rest of my friends had some beers and Jack and Cokes. People just kept piling in. It seemed like it was primarily dudes this night, and some not-so-attractive females but I'll take it that what I saw was the early crowd, and maybe the later crowd was easier on the eyes. My friends and I did have a nice laugh at the expense of the 6'3 guy who had some of the biggest arms I've ever seen seen to go along with a ridiculously large stomach. Someone should have told him to maybe take a cycle off, and that working out could include some cardio.
As the night wore on, the place got busier and busier. I was worried that with the recent infusion of other large sports bars (1-Republik & Village Pourhouse) that the days of Black Bear being a top destination was over. But apparently those worries were not needed as Black Bear appears to be quite healthy and doing well. As they started turning off some of the TVs and cranking up the music I knew it was time for me to leave.
So here's the rundown…
Preconceived notion – I've been there a few times before. However they recently redid the outside of the place (honestly it looks 100x better, kudos to whoever made the decision to go with the exposed brick/wood!) and wanted to see what the inside looked like after not being inside for a while. I also thought that maybe they were losing some crowds due to some of the new bars in town.
Bar Type – Sports Bar
Crowd stereotype – More men than women. Most seemed 25 and under.
Music – Popular music
Value – No specials while we were there, drinks were pretty expensive.
Good for a….
Date – Probably not- it's pretty loud and crowded. Maybe for an informal date on an off night.
Hookup – Pretty good chance.
Dance – Possibly as the night wore on..
Catch up with a friend – On weekday nights you can find a good place to sit and talk while watching the games.
First or last drink of the night – I'd say better for a first drink than a last.
Overall – Old reliable comes through. You can always count on Black Bear. It might not ever be the greatest time, but it never is a bad time. I really don't know anyone who really has anything bad to say about the place. It's big, easy to get to and close to everything. There are people always there for a reason. Brunch, lunch, midweek drinks, and then the weekend crowd. It's a fun time anytime…I'll give it a 8.4.
-Link Cromwell
Completed Bars
Introduction
Halfway
Marathon Recap
Northern Soul – 9.3/10
The Clinton Social – 9.1/10
Havana Cafe – 9.0/10
The Turtle Club – 9.0/10
Bin 14 – 8.9/10
Court Street – 8.9/10
Hudson Tavern – 8.9/10
Elysian Cafe – 8.8/10
Grimaldi's – 8.8/10
Cork City – 8.7/10
Onieals – 8.7/10
Village Pourhouse – 8.7/10
1 Republik – 8.6/10
Wicked Wolf Tavern – 8.5/10
Zack's Oak Bar – 8.5/10
Arthur's Tavern – 8.3/10
Oddfellows – 8.1/10
Cucharamama – 8.0/10
The Shannon – 7.9/10
Carpe Diem – 7.9/10
Helmers' – 7.9/10
Teak – 7.8/10
Mulligan's – 7.7/10
Karma Kafe – 7.7/10
DC's Tavern – 7.7/10
Louise & Jerry's – 7.7/10
Brass Rail – 7.6/10
Hoboken Bar and Grill – 7.5/10
Four L's – 7.5/10
Liberty Bar – 7.5/10
McSwiggans – 7.4/10
Nag's Head – 7.4/10
Eight Street Tavern – 7.3/10
Maggie's Place – 7.3/10
Three A's – 7.3/10
The Tilted Kilt – 7.3/10
<The Quays – 7.2/10
Willow Billiard Club & Lounge – 7.1/10
S. Sullivan's – 7.1/10
Farside – 7.1/10
Hobson's Choice – 7.0/10
Rogo's – 6.7/10
Related Articles
Share
About Author
(9) Readers Comments