Spirits In the Sixth Borough: Willow Billiards
LocalBozo.com has sent one of our correspondents out for some field research, as our own Link Cromwell attempts to bar crawl his way through Hoboken, New Jersey- just a stones throw away from Manhattan. Check back for his adventures and travels every single Friday as LocalBozo.com attempts to do the unimaginable. And yes, it involves drinking.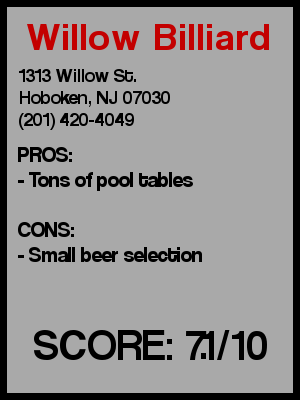 Next up on the crawl, I headed over to Willow Billiard Club & Lounge to meet up with a friend.  It's located on Willow Street between 13th and 14th Streets, across from the Rite Aid. Now I am not a big billiards fan, mainly because I am horrendous at it. Basically I have found that much like golf, shooting pool is difficult because if you are bad at it, no one who is good wants to play you, and it's pretty embarrassing playing terrible pool in a crowded bar.  Luckily for us we walked into an empty pool hall (I think we even woke/startled the owner) so I didn't have to worry about embarrassing myself.
We were given our choice of table to play on and we chose one of the 2 in the front of the place, primarily because the lights were turned off in the back and so that we would be able to see the TV located above the bar.  It was 3:30 on a Saturday afternoon so the table cost was fairly cheap, and we ordered up a couple of beers. We settled on Sam Adams Summer since there were only a couple of beers on tap.  The two of us played heads up in the first game, and I notched an improbable victory- probably my first win since my days of playing bumper pool against my younger sister in my parents' basement.  Then after our other friend arrived we played a little cutthroat.  Luckily as the other patrons showed up they filed to the back of the pool hall and weren't able to see the terrible display of pool we were exhibiting.  Either the corners were very unforgiving or we just horrendous.
We got to see the end of a Yankees game after convincing the bartender/manager to turn off the Saturday Afternoon Movie on the flat screen that is centered behind the bar.  The bar itself seats about 7 on plush leather bar seats (thankfully with backs).  The place still seemed decorated for New Year's as they had those inflatable fake snow globes hanging from the ceiling and streamers. Not exactly the touch I would expect in a pool hall.  Mirrors lined the area behind the bar and along most walls giving the place a little bit of a bigger look.
After a couple of beers and few games of pool it was time to move on…
So now the breakdown…
Preconceived notion – I've never been there before, and from driving by and seeing the dark insides and neon lights I was thinking it was going to be a dingy smoky pool hall. Okay, they've banned smoking in bars in Jersey about 6 or 7 years ago, but I was expecting an old school pool hall atmosphere.
Bar Type – Pool Hall
Crowd stereotype – Older crowd, mainly 40 and up when people actually did show up. All men.
Music – Don't remember any music.
Value –  The tables were pretty cheap because we came at an off time.  The beers were at pretty standard prices
Good for a….
Date – A pool hall isn't exactly the place I would bring any ladies I know, so I'll say no.
Hookup – No
Dance – Even better chance than at than DC's that you might get beaten with a pool cue.
Catch up with a friend – Actually really good place for this.
First or last drink of the night – I guess so, but it's not exactly convenient to a lot of other places.
Overall -  Hoboken doesn't have a bowling alley, and just recently got a movie theatre back, but a pool hall is actually a fun place to go when you got really nothing but time to kill, the weather sucks, and want to do something different for a change. So it's definitely a positive thing to have in a neighborhood.  My crappy pool skills notwithstanding, I'd come back if I was looking for something else to do on a weekend, but it's the open table with no crowd around that would be bringing me back… not the bar.  I'll give it a 7.1.
- Link Cromwell
Completed Bars
Introduction
Northern Soul – 9.3/10
The Clinton Social – 9.1/10
Grimaldi's – 8.8/10
1 Republik – 8.6/10
Oddfellows – 8.1/10
The Shannon – 7.9/10
Karma Kafe – 7.7/10
Louise & Jerry's – 7.7/10
Mulligans – 7.7/10
Village Pourhouse – 7.7/10
Brass Rail – 7.6/10
Four L's – 7.5/10
Liberty Bar – 7.5/10
Nag's Head – 7.4/10
Eight Street Tavern – 7.3/10
Maggie's Place – 7.3/10
Three A's – 7.3/10
The Quays – 7.2/10
S. Sullivan's – 7.1/10
Farside – 7.1/10
Hobson's Choice – 7.0/10
Rogo's – 6.7/10
Related Articles
Share
About Author
(6) Readers Comments