Spirits In the Sixth Borough: Hudson Tavern
LocalBozo.com has sent one of our correspondents out for some field research, as our own Link Cromwell attempts to bar crawl his way through Hoboken, New Jersey- just a stones throw away from Manhattan. Check back for his adventures and travels every single Friday as LocalBozo.com attempts to do the unimaginable. And yes, it involves drinking.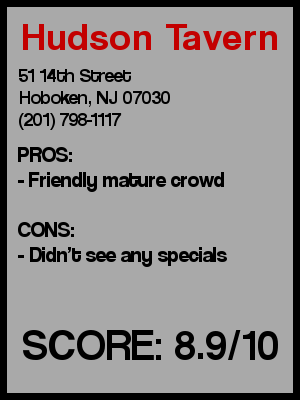 The brisk fall winds finally seem to be blowing into town which means 2 things in Hoboken: everyone is back from their shore houses and Stevens is back in session.  With that influx of population, Hoboken already feels a little bit more congested.  The already rare occurrence of finding a parking spot becomes even rarer and the bars have a little more jump to them.  Having not been totally ready to re-welcome the two re-emerging populations into my little bubble, I headed uptown to Hudson Tavern to have a drink with more of the local flair.
Hudson Tavern, located on corner of 14th Street and Hudson Street, is one of the more recently opened bars in uptown Hoboken.  Walking outside the place you are warmly greeted with the neon orange-ish "Hudson Tavern" sign, kind of reminding you of Cheers.
 As you walk in you notice plenty of seating and a circular bar.  There are a few side rooms with tables for a more formal dinner atmosphere and a bunch of smaller tables around the bar.  The ceiling of the bar is authentic looking paneling with classy lights hanging down giving the dimly lit bar just enough light for the mood.  The TVs were on with baseball and college football. No one was playing all that much attention to either one, but it was good to have on in the background as an intermediate distraction.
On this particular Thursday night, all of the bar seats were taken which meant we were relegated to the small tables around the bar. So we got a waitress instead of the bartender and it was time to order our beers.  Hudson Tavern has a nice selection of beers, with about 10 on draught and roughly 25 bottles. Unfortunately the bottle I wanted to help celebrate the beginning of Oktoberfest (Hofbrau), they didn't have on this night.  I settled for an American draught.  The prices seem reasonable, with most of the bottles being around $5, and most of the draughts being in line with their quality (obviously the Chimays cost significantly more than the Yuengling.)
The clientele was very mature and professional with most people at least in their 30s with a couple of patrons in their 40s and up. There were a few couples, a bunch of friends and a couple of small groups of people.  All in all, the place just felt friendly and welcoming.  Throughout the night people came and went but nearly the entire time all of the seats at the bar were packed.  A bunch of people seemed to really know some of the bartenders, and all in all the staff appeared friendly.  If anything there always seemed like there was staff on hand ready to pour you a beer quickly or bring you some food that you ordered.  The bar seemed so comforting, so friendly it almost seemed cliché.
So here's the rundown…
Preconceived notion – I've been there before, but I felt that it would be a quiet night at a neighborhood bar
Bar Type – American Neighborhood Upscale Bar/ Restaurant
Crowd stereotype – It was older than most places in Hoboken. It was mainly 30+, some couples some friends.
Music –   Mainly 90's, 2000, and modern rock but mainly as a background music level.  Basically some Foo Fighters, Mumford & Sons, Band of Horses, etc.
Value – No specials jumped out at me, the prices were fairly reasonable, but no great deals or grossly overpriced items.
Good for a….
Date – Very, very good for a date. Its classy and quiet enough to make a good impression, and not too empty where it feels awkward.
Hookup – Maybe
Dance – Nope
Catch up with a friend – Perfect
First or last drink of the night – Very good for this
Overall  – This bar personifies why some people love to living in uptown Hoboken.  You can fall out of some of the bigger waterfront buildings and be right on this bar's doorstep.  The place was surprisingly pleasantly full of patrons all of which were more mature and quieter than their downtown counterparts.  As I said earlier, it gives off the feeling of the ideal neighborhood bar represented in Cheers, which is a very very good thing.  I'll give it a 8.9.
- Link Cromwell
 
Completed Bars
Introduction
Halfway
Northern Soul – 9.3/10
The Clinton Social – 9.1/10
The Turtle Club – 9.0/10
Elysian Cafe – 8.8/10
Grimaldi's – 8.8/10
Onieals – 8.7/10
Village Pourhouse – 8.7/10
1 Republik – 8.6/10
Wicked Wolf Tavern – 8.5/10
Oddfellows – 8.1/10
Cucharamama – 8.0/10
The Shannon – 7.9/10
Carpe Diem – 7.9/10
Helmers' – 7.9/10
Teak – 7.8/10
Mulligan's – 7.7/10
Karma Kafe – 7.7/10
DC's Tavern – 7.7/10
Louise & Jerry's – 7.7/10
Brass Rail – 7.6/10
Hoboken Bar and Grill – 7.5/10
Four L's – 7.5/10
Liberty Bar – 7.5/10
McSwiggans – 7.4/10
Nag's Head – 7.4/10
Eight Street Tavern – 7.3/10
Maggie's Place – 7.3/10
Three A's – 7.3/10
The Quays – 7.2/10
Willow Billiard Club & Lounge – 7.1/10
S. Sullivan's – 7.1/10
Farside – 7.1/10
Hobson's Choice – 7.0/10
Rogo's – 6.7/10
Related Articles
Share
About Author
(8) Readers Comments