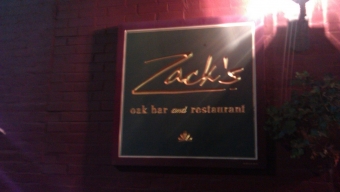 Spirits In the Sixth Borough: Zack's Oak Bar and Restaurant
LocalBozo.com has sent one of our correspondents out for some field research, as our own Link Cromwell attempts to bar crawl his way through Hoboken, New Jersey- just a stones throw away from Manhattan. Check back for his adventures and travels every single Friday as LocalBozo.com attempts to do the unimaginable. And yes, it involves drinking.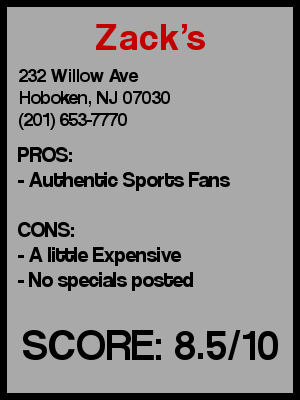 Well it was one of the first Monday Night Football games without Hank Williams and his rowdy gang, so I decided to go out and find my own rowdy gang.  It was a perfect night outside and I headed over to Zack's Oak Bar and Restaurant at the corner of 3rd Street and Willow.
I have been to Zack's many times, but typically on the weekends and not on a weeknight. I've had dinner and brunch there eating either in their backroom or outside when the weather permits.  There were a few people at the tables outside enjoying the nice weather, but I decided to have my drinks inside so that I could watch some of the baseball playoffs.  Inside there were only two other people sitting at the bar, a guy in the corner and a familiar face, one of my favorite waitresses in all of Hoboken. I am not going to blow up her spot other than saying that my wife and I have had the pleasure of having her as our waitress countless times.  Walking into Zack's the first thing I noticed was how light it was inside.  Now this sometimes is a good thing (like when you are trying to take pictures of the inside of bar without your obnoxious flash going off and drawing attention), but it was almost too bright on this night. We did get there early- around 7:30ish, so maybe the lights were going to dim as the night wore on. 
We sat down at the bar and sticking with my Oktoberfest theme, I went with the Hacker Pschorr Oktoberfest on tap and my wife had a white wine.  As we were watching baseball playoffs, a guy to my left was talking the bartenders ear off about everything sports. It was like listening to Mike Francesca minus the heavy breathing due to carrying an extra 150 pounds.  More accurately it was like listening to those opinionated, live only for the moment fans that call into his show, but it was fun listening in (I can't call it eavesdropping because the guy was basically screaming) on a good sports conversation.  Behind the bar all of the bartenders and waitresses were chatting it up with their customers which made me think the crowd was definitely a bunch of regulars.
All of the patrons were watching the exciting ALCS intently, but when it was time for my Cardinals to start their NLCS none of the TVs were changed. Now I know during the regular season I shouldn't expect a bar to be showing a random NL Central matchup, but this is the playoffs, the bartender should have been on his toes ready to change at least one of the TVs without my asking.  I was actually surprised that as the minutes ticked down before the first pitch that no one else had showed up at the bar.  Normally it is tough to get a seat here on the weekends, so I started to figure it was a weekend only bar.  But then sure enough about 5 minutes beforehand the floodgates opened and people started piling in one by one. It wasn't like they showed up in a big group, but within a minute every seat at the bar was taken and then some of the high tops started to fill up.  It seemed like one big party as most of the patrons seemed to know each other.  Talking about how their fantasy football and other football wagers fared on Sunday, it felt like I was in a stranger's living room. People were busting each others' balls and it was a really good atmosphere to sit in.  A little after kickoff I had to go, because I had just finished my second beer and I really wanted to watch my Cardinals. But it was a nice weekday trip to Zack's and I am happy to report they are very much alive and well during the week.
So here's the rundown…
Preconceived notion – I've been there before, but never on a weeknight. I thought they would have a decent crowd but it would be a quiet neighborhood place.
Bar Type – Neighborhood Bar/Small Restaurant
Crowd stereotype – I would say over 30 and mainly guys
Music –   I think I heard a little Radiohead and other 90's and modern rock. It was fairly low, and then unnoticeable once the crowd filled up.
Value – I didn't notice any specials posted. 2 specialty draught beers and a wine cost $21 so it was in the fair to fair-expensive range.
Good for a….
Date – On the weekends it would probably better as this place went from awkwardly quiet to screaming and loud, very quick. Plus the way it was lit, I would probably have preferred someplace else on a date early in a relationship. However on the weekends I don't remember the noise nor lighting being an issue.
Hookup – Maybe
Dance – Nope
Catch up with a friend – Perfect
First or last drink of the night – Very good for this
Overall  –  I was a little worried about this bar early on Monday night, wondering how they survive without getting a decent football crowd. But sure enough the people showed up. Nearly everyone there seemed like regulars and some of them seemed really excited to try their new menu.  But the crowd was loud and full of big time sports fans. Sometimes you need to get away from the "artificial" new jazzed up sports bars on Washington and First Street to get to the real sports fans.  Overall I give this place an  8.5.
- Link Cromwell
 
Completed Bars
Introduction
Halfway
Northern Soul – 9.3/10
The Clinton Social – 9.1/10
The Turtle Club – 9.0/10
Court Street – 8.9/10
Hudson Tavern – 8.9/10
Elysian Cafe – 8.8/10
Grimaldi's – 8.8/10
Onieals – 8.7/10
Village Pourhouse – 8.7/10
1 Republik – 8.6/10
Wicked Wolf Tavern – 8.5/10
Zack's Oak Bar – 8.5/10
Oddfellows – 8.1/10
Cucharamama – 8.0/10
The Shannon – 7.9/10
Carpe Diem – 7.9/10
Helmers' – 7.9/10
Teak – 7.8/10
Mulligan's – 7.7/10
Karma Kafe – 7.7/10
DC's Tavern – 7.7/10
Louise & Jerry's – 7.7/10
Brass Rail – 7.6/10
Hoboken Bar and Grill – 7.5/10
Four L's – 7.5/10
Liberty Bar – 7.5/10
McSwiggans – 7.4/10
Nag's Head – 7.4/10
Eight Street Tavern – 7.3/10
Maggie's Place – 7.3/10
Three A's – 7.3/10
The Quays – 7.2/10
Willow Billiard Club & Lounge – 7.1/10
S. Sullivan's – 7.1/10
Farside – 7.1/10
Hobson's Choice – 7.0/10
Rogo's – 6.7/10
Related Articles
Share
About Author
(11) Readers Comments