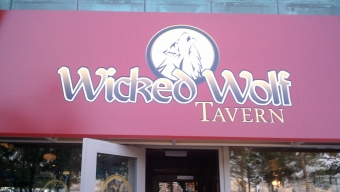 Spirits In the Sixth Borough: Wicked Wolf
LocalBozo.com has sent one of our correspondents out for some field research, as our own Link Cromwell attempts to bar crawl his way through Hoboken, New Jersey- just a stones throw away from Manhattan. Check back for his adventures and travels every single Friday as LocalBozo.com attempts to do the unimaginable. And yes, it involves drinking.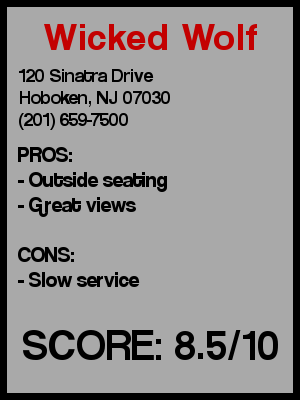 Another Friday meant another night to go out drinking and I decided to head to one of the newer spots in Hoboken- the Wicked Wolf Tavern. Located on the corner of Sinatra Drive and 2nd Street, Wicked Wolf has turned a previously cursed spot for bars and restaurants into a prime drinking location. Ideal for the nice weather and lucky enough to have beautiful views of Manhattan from its large windows, I walked in with a group of five just before 7pm on a Friday night.
Unfortunately all of the outside tables were taken but they sat us in a large round table right near the bar. In fact the table was unusually low and it felt like we were sitting in a hole compared to the rest of the high tops that were around us. But we had great views of the numerous televisions all around us, which included the projection screen. There was a private happy hour party behind us and overall there was a decent sized crowd there for what seemed a little bit early.
Wicked Wolf reminded me of 1-Republik with their upscale sports bar feel. The waitress came right over and was able to sneak us into the happy hour deal which runs from 4-7. The Sam Adams Summer that I ordered along with all of the other draughts, wine, and house drinks were $3. It took a little while for the drinks to come out, as did the Bennigan's (R.I.P.)-esque appetizer sampler that we ordered. The draft beer list runs about 18 deep, not as deep as 1-Republik but enough on there that both the high class beer drinker, and the cheap frat style beer drinker can be happy.
As I mentioned before this location in Hoboken had been under utilized prior to Wicked Wolf. One thing the owners of Wicked Wolf should get complimented on is that they have done a great job getting Wicked Wolf's name out there. I know I have been naming their competition (1-Republik) a lot in this write-up but you can tell that both owners really knew what they were doing in opening their bars. Both took over formerly dead spots, renovated and modernized them, and promoted them well. Just visiting the very up to date Wicked Wolf website shows that they want to get themselves involved in the community more actively and draw more people to their bar. For instance, their Teacher Appreciation Night honoring the end of another school year, trivia nights, rec sports teams nights, and other fun-themed nights for example all cater to a certain niche, while the place is gaining the recognition of a much wider audience of residents. They really provided a great template that any new bar owner looking to break into the market should try to emulate. The owners also have a few other locations in New York and Connecticut so it seems like this is might be more of a corporate/chain bar-restaurant. However, I assume that if you got to really know the bartenders and waitresses this location could still bring a neighborhood feel.
So now the breakdown…
Preconceived notion – I've never been there before, but a few people that I know had gone there and said it was a good time. I figured it would be a packed house for happy hour with their great spot right on the river.
Bar Type – Upscale Sports Bar.
Crowd stereotype – 25 and up. There were a few older people there as part of a work happy hour and also a few parents with strollers.
Music – Didn't hear much
Value – Happy hour was pretty good, and we snuck right in just before 7PM. After that everything was pretty fairly priced.
Good for a….
Date – Maybe
Hookup – Not when we were there, but later on a Friday/Saturday night I would think so.
Dance – Maybe later in the night. A lot of the bars along the river have dancing.
Catch up with a friend – Was good for my group.
First or last drink of the night – Maybe better for a first drink than a last drink.
Overall – Congratulations to Wicked Wolf for really making a name for themselves in Hoboken. I always welcome new bars that can come in and immediately draw a crowd (and a fun, non-obnoxious crowd in that). The location is ideal and the interior bar setup is great. They have a decent but not groundbreaking beer selection, but the place is missing a tiny bit of the neighborhood feel. Maybe on a slower night I would notice it. But I'd gladly come back anytime. I'll give it an 8.5.
- Link Cromwell
Completed Bars
Introduction
Northern Soul – 9.3/10
The Clinton Social – 9.1/10
Grimaldi's – 8.8/10
1 Republik – 8.6/10
Oddfellows – 8.1/10
The Shannon – 7.9/10
Karma Kafe – 7.7/10
Louise & Jerry's – 7.7/10
Mulligans – 7.7/10
Village Pourhouse – 7.7/10
Brass Rail – 7.6/10
Four L's – 7.5/10
Liberty Bar – 7.5/10
Nag's Head – 7.4/10
Eight Street Tavern – 7.3/10
Maggie's Place – 7.3/10
Three A's – 7.3/10
The Quays – 7.2/10
S. Sullivan's – 7.1/10
Farside – 7.1/10
Hobson's Choice – 7.0/10
Rogo's – 6.7/10
Related Articles
Share
About Author
(5) Readers Comments