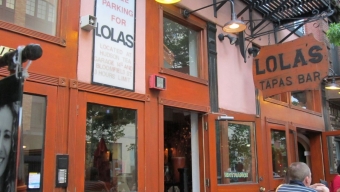 LocalBozo.com has sent one of our correspondents out for some field research, as our own Link Cromwell attempts to bar crawl his way through Hoboken, New Jersey- just a stone's throw away from Manhattan. Check back for his adventures and travels every single Friday as LocalBozo.com attempts to do the unimaginable. And yes, it involves drinking.
Spirits in the Sixth Borough: Lolas Tapas Bar
In my travels through Hoboken, I have realized it's of the utmost importance to pair drinking with eating. Perhaps it's a matter of circumstance at this point that most of the bars left for me to hit in Hoboken also happen to be primarily restaurants. Nevertheless, sometimes you just want a small bite or a sample of a food while you sip on a tasty cocktail. One restaurant located on 14th Street satisfies this desire and then some. And thus, my next stop was "Lola's Tapas & Wine Bar".
'Lola's' is located steps away from the hustle and bustle of Washington Street, and thank goodness for that. Step inside and the place provides a distinctive feel from most other area spots. The owners of the Tapas restaurant have painstakingly recreated aspects of Spain within it's four walls. During the warmer months Lola's boasts fantastic outdoor seating providing great views for people watching. But in the end you came here for the food and drink. Lola's menu offers up more than 80 regional Spanish dishes paired with over a great bottled beer selection and 100 wines to choose from, many by the glass.
The popular Tapas bar is all about customer service. Beyond the delectable selection of regional eats, guests can enjoy generous Happy Hour specials most days of the week featuring great beers and wines. On Fridays Lola's kicks it into high gear with their popular 'Salsa' nights. Few places in town cover so much ground, providing customers with a one stop shop for all their eat, drinking, and partying needs. We grabbed a couple of beers here, took in the sights and sounds, and headed back out into the sweltering heat.
So here's the rundown…
Preconceived notion – Authentic Spain-inspired Tapas restaurant.
Bar Type – A Tapas and spirits bar hybrid serving Hoboken the best of both.
Crowd stereotype – Young families enjoying dinner and thirty-somethings sipping after work drinks.
Music – No noticeable music was playing during my visit.
Value – Well stocked bar featuring a huge beer selection and expertly made sangrias which is ideal especially during happy hour.
Good for a….
Date – Yes! Show that first date you know your Tapas by ordering the best of land and sea.
Hookup – A kiss after a great meal or glass of sangria is fine. Just don't go overboard
Dance – Friday is 'Salsa' night for shaking your booty!
Catch up with a friend – Yes, and be sure to share some hot or cold Tapas while you chat.
First or last drink of the night – Both. Whether you're here to eat or just have a cocktail, Lola's is a fine start to a night out or a quiet finishing touch on a long day.
Overall – Tapas is literally one of my favorite dining options. Anytime you can sample various indigenous dishes while sipping on expertly made sangrias and well priced brews is a good time to me! It also doesn't hurt that this place is pretty cool to look at from inside and out. 8.2.
-Link Cromwell
Completed Bars
Introduction
Halfway
Marathon Recap
Northern Soul – 9.3/10
Pilsner Haus and Biergarten – 9.3/10
Maxwell's – 9.2/10
The Clinton Social – 9.1/10
Cooper's Union – 9.0/10
Green Rock Bar – 9.0/10
Havana Cafe – 9.0/10
The Turtle Club – 9.0/10
Bin 14 – 8.9/10
Court Street – 8.9/10
Hudson Tavern – 8.9/10
The Chandelier Room – 8.9/10
10th & Willow – 8.8/10
3 Forty Grill – 8.8/10
Elysian Cafe – 8.8/10
Grimaldi's – 8.8/10
Madison Bar & Grill – 8.8/10
Sushi Lounge – 8.8/10
City Bistro – 8.7/10
Cork City – 8.7/10
Onieals – 8.7/10
Village Pourhouse – 8.7/10
1 Republik – 8.6/10
Mikie Squared – 8.5/10
Wicked Wolf Tavern – 8.5/10
Zack's Oak Bar – 8.5/10
Black Bear Bar & Grill – 8.4/10
Moran's – 8.4/10
Arthur's Tavern – 8.3/10
Oddfellows – 8.1/10
Trinity – 8.1/10
Cucharamama – 8.0/10
Marty O'Brien's Social Club – 8.0/10
The Dubliner – 8.0/10
East LA – 8.0/10
Scotland Yard – 7.9/10
The Shannon – 7.9/10
Carpe Diem – 7.9/10
Helmers' – 7.9/10
Teak – 7.8/10
Mulligan's – 7.7/10
Karma Kafe – 7.7/10
DC's Tavern – 7.7/10
Louise & Jerry's – 7.7/10
Brass Rail – 7.6/10
Hoboken Bar and Grill – 7.5/10
Four L's – 7.5/10
Liberty Bar – 7.5/10
Texas Arizona – 7.5/10
McSwiggans – 7.4/10
Nag's Head – 7.4/10
Eight Street Tavern – 7.3/10
Maggie's Place – 7.3/10
Three A's – 7.3/10
The Tilted Kilt – 7.3/10
Whiskey Bar- 7.3/10
The Quays – 7.2/10
The Melting Pot – 7.1/10
Tutta Pasta – 7.1/10
Sushi House – 7.0/10
Wilton House – 6.0/10
Related Articles
Share
About Author
(0) Readers Comments