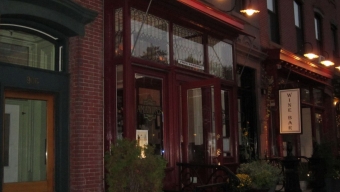 LocalBozo.com has sent one of our correspondents out for some field research, as our own Link Cromwell attempts to bar crawl his way through Hoboken, New Jersey- just a stone's throw away from Manhattan. Check back for his adventures and travels every single Friday as LocalBozo.com attempts to do the unimaginable. And yes, it involves drinking.
Amandas Restaurant: Spirits in the Sixth Borough
As we have seen from previous editions of this post, uptown Hoboken is home to some of this community's more unique venues for alcohol consumption. From Tapas at Lola's to rock n' roll at Maxwell's, the higher streets provide older and/or mature residents and visitors with a less collegiate approach to this historic town. And without any further ado we are proud to descend into the climax of "Spirits in the Sixth Borough" with uptown's own, "Amanda's Restaurant."
If you are coming from near the PATH Station like we did, this spot can be a bit of a walk. But pay this hike no mind. Once you reach 908 Washington Street, the trek will have been worth it. Amanda's Restaurant is situated inside of a classic brownstone from the late nineteenth century. You may want to spend some time outside to marvel at the place's ornate exterior, but the real sights lie just beyond the front door. I visited on a Thursday during the early evening hours to sample the drink menu, and get a general taste for this place since I haven't even passed by it on the street previously. In the entrance sits Amanda's small yet beautifully designed bar area which can also double as it's lobby/waiting space for dinner guests checking in with the host. The bar is made of light wood to brighten up the room. A few high stools fit snugly in front of it, providing just a handful of seating. During my visit two gentleman both wearing suits and Oliver People's glasses were sitting there having a few laughs over beers. Amanda's bar serves a diverse selection of craft bees on draught from such breweries as Atlantic Highlands' own, Carton. Yet on this particular evening my tastes tended more towards vino.
Luckily for my friends and I, wine is the name of the game at Amanda's. Both at the front bar or in the stunning dining room, guests can sample glasses or order entire bottles from a lengthy wine list that has been specially curated. For those celebrating a special event or for those who have a comfortable discretionary income, a reserve list is also available. After a brief, yet lively discussion about my dry style wine tastes with the friendly bartender, I ordered a glass of the, "Finca el Origen 2011 Malbec" ($10 glass). This Argentina red perfectly matched my pallete, making it extremely pleasurable to sip on. Sure, the price might appear steep for a single glass of wine, but once you take your first sip you will know the money went to the right place. If you love fruit infused liquors, Amanda's has you covered. All of these expert concoctions such as the cranberry infused vodka are made in house, so be prepared for a bold spirits adventure! During my next visit I will be sure to call ahead for a table. If the food is as good as the spirits, I believe we have a real winner on our hands.
So here's the rundown…
Preconceived notion –  Fancy restaurant in the uptown section of Hoboken.
Bar Type – A vintage bar at the front of a restaurant that recaptures the history of Hoboken.
Crowd stereotype – Families and business professionals enjoying a drink and dinner.
Music – No music was playing during my visit.
Value – You won't find a Happy Hour here. But again, once you sip a glass of their wine you'll know where the money went.
Good for a….
Date – Amanda's is perfect to impress that first date for a drink at their classic bar. For those in long term relationships, why not celebrate an anniversary and share some fine wine and a great meal.
Hookup – Sure, you can share a sweet kiss over dinner. But don't go trying to pull a full on make out session.
Dance – Sorry, busting out your best moves won't fly at Amanda's. Better try a lounge way downtown!
Catch up with a friend – Absolutely. Amanda's laid back yet classy atmosphere provides an environment ripe for long conversations.
First or last drink of the night – Either. A glass of wine in this elegant space is perfect for all points in the evening. Just don't arrive drunk, this joint is classy.
Overall -Â  If you are looking for something other than the traditionally young geared Hoboken scene, Amanda's is your stop. The restaurant recaptures classic, elegant New Jersey dining nightlife like no other spot in the community. I wholeheartedly suggest you take a seat at their well stocked front bar, chat with the highly knowledgeable bartender and dig into their vast wine menu! That being said, I'll give it a 8.4.
-Link Cromwell
Completed Bars
Introduction
Halfway
Marathon Recap
Pier 13 – 9.5/10
Northern Soul – 9.3/10
Pilsner Haus and Biergarten – 9.3/10
Maxwell's – 9.2/10
The Clinton Social – 9.1/10
Willie McBride's – 9.1/10
Cooper's Union – 9.0/10
Green Rock Bar – 9.0/10
Havana Cafe – 9.0/10
The Turtle Club – 9.0/10
Bin 14 – 8.9/10
Court Street – 8.9/10
Hudson Tavern – 8.9/10
Leo's Grandevous – 8.9/10
The Chandelier Room – 8.9/10
10th & Willow – 8.8/10
3 Forty Grill – 8.8/10
Elysian Cafe – 8.8/10
The Cuban – 8.8/10
Grimaldi's – 8.8/10
Madison Bar & Grill – 8.8/10
Sammy's Roadhouse Bar and Grill – 8.8/10
Sushi Lounge – 8.8/10
City Bistro – 8.7/10
Cork City – 8.7/10
Onieals – 8.7/10
Village Pourhouse – 8.7/10
1 Republik – 8.6/10
McMahon's Brownstone Ale House – 8.6/10
Zylo Tuscan Steak House – 8.6/10
Mikie Squared – 8.5/10
Wicked Wolf Tavern – 8.5/10
Zack's Oak Bar – 8.5/10
Black Bear Bar & Grill – 8.4/10
Moran's – 8.4/10
Arthur's Tavern – 8.3/10
Biggie's Clam Bar – 8.3/10
Lola's Tapas and Wine Bar – 8.2/10
Baja Mexican Cuisine – 8.1/10<
Oddfellows – 8.1/10
Trinity – 8.1/10
Cucharamama – 8.0/10
Marty O'Brien's Social Club – 8.0/10
The Dubliner – 8.0/10
East LA – 8.0/10
Scotland Yard – 7.9/10
Las Olas Sushi Bar and Grill – 7.9/10
The Shannon – 7.9/10
Carpe Diem – 7.9/10
Dino and Harry's – 7.9/10
Helmers' – 7.9/10
Teak – 7.8/10
Mulligan's – 7.7/10
Karma Kafe – 7.7/10
DC's Tavern – 7.7/10
Louise & Jerry's – 7.7/10
The West Five Supper Club – 7.6/10
Brass Rail – 7.6/10
Hoboken Bar and Grill – 7.5/10
Four L's – 7.5/10
Liberty Bar – 7.5/10
Texas Arizona – 7.5/10
McSwiggans – 7.4/10
Nag's Head – 7.4/10
Eight Street Tavern – 7.3/10
Maggie's Place – 7.3/10
Three A's – 7.3/10
The Tilted Kilt – 7.3/10
Whiskey Bar- 7.3/10
The Quays – 7.2/10
The Melting Pot – 7.1/10
Tutta Pasta – 7.1/10
Sushi House – 7.0/10
Wilton House – 6.0/10
Related Articles
Share
About Author
(0) Readers Comments