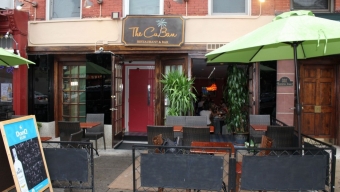 LocalBozo.com has sent one of our correspondents out for some field research, as our own Link Cromwell attempts to bar crawl his way through Hoboken, New Jersey- just a stone's throw away from Manhattan. Check back for his adventures and travels every single Friday as LocalBozo.com attempts to do the unimaginable. And yes, it involves drinking.
The Cuban: Spirits in the Sixth Borough
I'd be lying if I said that I miss the former Nine space in Hoboken. The dimly lit, loungy feel inside wasn't one that suited me all that well during the many visits forced upon me by friends and ex-flames. In the ashes of the former bar has spawned The Cuban, a new restaurant and bar that serves (you guessed it) Cuban style fare. I dropped in with a small group to survey the spot, plop at the bar for a drink, and get a taste of Havana, right on Washington Street.
The first thing to take note of at The Cuban is the outdoorsy, summery vibe, with big green umbrellas and plants being the drawing card. Although it was lightly drizzling during my visit, the place is an ideal one for an outdoor brunch, or to casually relax while nearby places like Black Bear are overcrowded with frat boy types. Inside, the space is clearly more a restaurant than a bar, outfitted with red walls and dark booths and tables, crowded by couples dining on some tasty looking dishes. That's not to say the bar isn't notable, however. Down a few stairs, the lengthy bar lines the walk-in area of the place before another massive dining room area in back.
With few minutes to spare, we grabbed a seat and chatted up the friendly bartender, who whipped up a tasty "Caipirinha" for us. Happy hour specials included $3 domestic and imported draughts and bottles and $5 wines and specialty cocktails, which are great values for mixologist inspired concoctions. The Latin music playing in the background just continues the unique setting, sipping on a sweet drink, while the hustle of the neighborhood's main road is in full swing just a few forgettable steps away. The Cuban might not be a spot to sit at and imbibe all day until you get silly – it's far too classy a place for that. In fact, I was asked to remove my hat when coming inside, which I honestly did appreciate. So if you feel like stepping it up a notch, the place is absolutely worth visiting; only next time, we'll make certain to stay for dinner.
So here's the rundown…
Preconceived notion – The newest incarnation of a Cuban restaurant in the area.
Bar Type – Upscale to a degree, but a restaurant first and foremost.
Crowd stereotype – Early 30's couples and families dining.
Music – Latin music.
Value – Happy Hour values are excellent- be it for a beer, cocktail, or a glass of wine. At the top of the value meter for Hoboken bars.
Good for a….
Date – Absolutely bring a date here. It's likely to be a bit pricey so perhaps it's best to wait until date two or three though.
Hookup – If the date goes well, sure. Maybe you'll meet someone at the bar, but this isn't a spot to cruise for singles.
Dance – Not likely.
Catch up with a friend – Absolutely.
First or last drink of the night – Come in for the first few drinks during Happy Hour. They're cheap and tasty.
Overall – I have to say that The Cuban is a welcome addition to Hoboken. They've been in business for much of 2012, but this was my first trip here and as mentioned, my next will be for dinner. The massive back dining area (outfitted with zebra print booths and large stones affixed to the surrounding walls) is a quiet respite from the busy street, while the rest of the spot transports you to a Cuban style paradise. An urban oasis if you will. I'll go with an 8.8 and a 'can't wait to come back.'
-Link Cromwell
Completed Bars
Introduction
Halfway
Marathon Recap
Pier 13 – 9.5/10
Northern Soul – 9.3/10
Pilsner Haus and Biergarten – 9.3/10
Maxwell's – 9.2/10
The Clinton Social – 9.1/10
Willie McBride's – 9.1/10
Cooper's Union – 9.0/10
Green Rock Bar – 9.0/10
Havana Cafe – 9.0/10
The Turtle Club – 9.0/10
Bin 14 – 8.9/10
Court Street – 8.9/10
Hudson Tavern – 8.9/10
Leo's Grandevous – 8.9/10
The Chandelier Room – 8.9/10
10th & Willow – 8.8/10
3 Forty Grill – 8.8/10
Elysian Cafe – 8.8/10
Grimaldi's – 8.8/10
Madison Bar & Grill – 8.8/10
Sammy's Roadhouse Bar and Grill – 8.8/10
Sushi Lounge – 8.8/10
City Bistro – 8.7/10
Cork City – 8.7/10
Onieals – 8.7/10
Village Pourhouse – 8.7/10
1 Republik – 8.6/10
McMahon's Brownstone Ale House – 8.6/10
Zylo Tuscan Steak House – 8.6/10
Mikie Squared – 8.5/10
Wicked Wolf Tavern – 8.5/10
Zack's Oak Bar – 8.5/10
Black Bear Bar & Grill – 8.4/10
Moran's – 8.4/10
Arthur's Tavern – 8.3/10
Biggie's Clam Bar – 8.3/10
Lola's Tapas and Wine Bar – 8.2/10
Oddfellows – 8.1/10
Trinity – 8.1/10
Cucharamama – 8.0/10
Marty O'Brien's Social Club – 8.0/10
The Dubliner – 8.0/10
East LA – 8.0/10
Scotland Yard – 7.9/10
The Shannon – 7.9/10
Carpe Diem – 7.9/10
Helmers' – 7.9/10
Teak – 7.8/10
Mulligan's – 7.7/10
Karma Kafe – 7.7/10
DC's Tavern – 7.7/10
Louise & Jerry's – 7.7/10
Brass Rail – 7.6/10
Hoboken Bar and Grill – 7.5/10
Four L's – 7.5/10
Liberty Bar – 7.5/10
Texas Arizona – 7.5/10
McSwiggans – 7.4/10
Nag's Head – 7.4/10
Eight Street Tavern – 7.3/10
Maggie's Place – 7.3/10
Three A's – 7.3/10
The Tilted Kilt – 7.3/10
Whiskey Bar- 7.3/10
The Quays – 7.2/10
The Melting Pot – 7.1/10
Tutta Pasta – 7.1/10
Sushi House – 7.0/10
Wilton House – 6.0/10
Related Articles
Share
About Author
(4) Readers Comments