LocalBozo.com has sent one of our correspondents out for some field research, as our own Link Cromwell attempts to bar crawl his way through Hoboken, New Jersey- just a stone's throw away from Manhattan. Check back for his adventures and travels every single Friday as LocalBozo.com attempts to do the unimaginable. And yes, it involves drinking.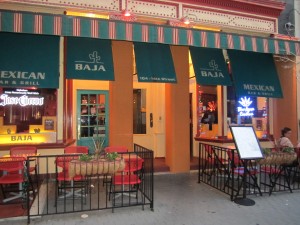 With just a handful of places left to hit on my trek for a drink at every bar in Hoboken, I've come across both new openings and places that have existed for years shuttering, seemingly the day after my visit. Since 1987 however, Baja Mexican Cuisine has proudly served the folks of uptown Hoboken with traditional Mexican fare and some classically made margaritas. Having been there for a relatively cheap dinner before, it was time to grab a stool and sit at the bar for the next stop on my journey through town.
Just a step through the front door and Baja has the feel of a classic Mexican-style cantina. With exposed brick covered up by the array of liquors and tequilas on hand, the narrow bar takes up much of the place's entrance. The lamps shining overhead resemble those used to heat up food back in the kitchen as old school Mexican music plays in the background. With scant tv's the the bar area, Baja is not necessarily a spot for game day, but it is more of a restaurant anyway. Just around the nook of the bar sits Baja's main dining area, decked out with old school paintings and pictures that continue the place's authentic feel.
Regardless of where you opt to sit, Baja brings out a fresh basket of tasty chips and salsa for you to destroy while slugging down discounted bottles of Dos Equis or whatever you decide upon. The true vale here lies with the place's legendary $5 margaritas during happy hour, but beers are also affordably priced below $4 for domestics and imports. And if you're feeling particularly saucy, this is your spot for tequila as Baja sports perhaps the largest selection of Blue Agave Tequilas anywhere- certainly in Hoboken.
So here's the rundown…
Preconceived notion – A restaurant that serves affordable Mexican food and some tasty margaritas.
Bar Type – A traditional Mexican cantina.
Crowd stereotype – Not many people hanging around for happy hour, but some early 30's types sitting outside drinking sangria and a couple sprinkled around the bar.
Music – The traditional Mexican infused guitar strums
Value – Good deals for margaritas and sangria, and comparable beer prices to most spots around the area.
Good for a….
Date – Definitely. Food is both tasty and affordable, and if you live downtown, it's sort of off the beaten path, so it feels new.
Hookup – Not likely. It's a restaurant.
Dance – It's a restaurant!
Catch up with a friend – Absolutely. Come in for dinner or chill out at the bar behind a bowl of tortilla chips and salsa. Nobody's going to bother you here.
First or last drink of the night – Ideal for a first drink.
Overall – There are bars and there are restaurants. With just a few spots remaining on my bar crawl, most of them are restaurants- which is a good thing because I can catch a glimpse at some places I've never eaten at before. Baja Mexican Cuisine is a good for the value Mexican restaurant that serves every dish you would expect to find here. Is it the best or largest bar in Hoboken? No. But if you are looking for an exotic drink after work, or a place to kick back with some affordable pops and Mexican food, you won't break the bank here. I'll give it an 8.1.
-Link Cromwell
Completed Bars
Introduction
Halfway
Marathon Recap
Pier 13 – 9.5/10
Northern Soul – 9.3/10
Pilsner Haus and Biergarten – 9.3/10
Maxwell's – 9.2/10
The Clinton Social – 9.1/10
Willie McBride's – 9.1/10
Cooper's Union – 9.0/10
Green Rock Bar – 9.0/10
Havana Cafe – 9.0/10
The Turtle Club – 9.0/10
Bin 14 – 8.9/10
Court Street – 8.9/10
Hudson Tavern – 8.9/10
Leo's Grandevous – 8.9/10
The Chandelier Room – 8.9/10
10th & Willow – 8.8/10
3 Forty Grill – 8.8/10
Elysian Cafe – 8.8/10
The Cuban – 8.8/10
Grimaldi's – 8.8/10
Madison Bar & Grill – 8.8/10
Sammy's Roadhouse Bar and Grill – 8.8/10
Sushi Lounge – 8.8/10
City Bistro – 8.7/10
Cork City – 8.7/10
Onieals – 8.7/10
Village Pourhouse – 8.7/10
1 Republik – 8.6/10
McMahon's Brownstone Ale House – 8.6/10
Zylo Tuscan Steak House – 8.6/10
Mikie Squared – 8.5/10
Wicked Wolf Tavern – 8.5/10
Zack's Oak Bar – 8.5/10
Black Bear Bar & Grill – 8.4/10
Moran's – 8.4/10
Arthur's Tavern – 8.3/10
Biggie's Clam Bar – 8.3/10
Lola's Tapas and Wine Bar – 8.2/10
Oddfellows – 8.1/10
Trinity – 8.1/10
Cucharamama – 8.0/10
Marty O'Brien's Social Club – 8.0/10
The Dubliner – 8.0/10
East LA – 8.0/10
Scotland Yard – 7.9/10
The Shannon – 7.9/10
Carpe Diem – 7.9/10
Dino and Harry's – 7.9/10
Helmers' – 7.9/10
Teak – 7.8/10
Mulligan's – 7.7/10
Karma Kafe – 7.7/10
DC's Tavern – 7.7/10
Louise & Jerry's – 7.7/10
Brass Rail – 7.6/10
Hoboken Bar and Grill – 7.5/10
Four L's – 7.5/10
Liberty Bar – 7.5/10
Texas Arizona – 7.5/10
McSwiggans – 7.4/10
Nag's Head – 7.4/10
Eight Street Tavern – 7.3/10
Maggie's Place – 7.3/10
Three A's – 7.3/10
The Tilted Kilt – 7.3/10
Whiskey Bar- 7.3/10
The Quays – 7.2/10
The Melting Pot – 7.1/10
Tutta Pasta – 7.1/10
Sushi House – 7.0/10
Wilton House – 6.0/10
Related Articles
Share
About Author
(0) Readers Comments