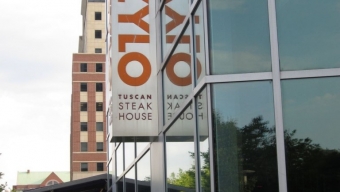 LocalBozo.com has sent one of our correspondents out for some field research, as our own Link Cromwell attempts to bar crawl his way through Hoboken, New Jersey- just a stone's throw away from Manhattan. Check back for his adventures and travels every single Friday as LocalBozo.com attempts to do the unimaginable. And yes, it involves drinking.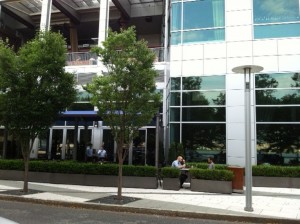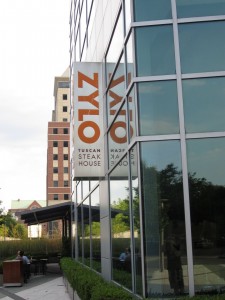 From the outside a hotel appears to be just a place to rest your head when you're far away from home. Yet for the internationally acclaimed "W Hotel," no typical conventions apply. Hoboken's "W" is a prime example of creating that special something for its trendsetting clientele. Located on the first floor and all the way tucked in the back sits "Zylo Tuscan Steak House," a meat lovers oasis with a bar that is equally as cool. Your old buddy Link was in the mood to class it up a bit last week so I headed here to grab a happy hour drink and Zylo's version of bar snacks after a hard day at my day job. No folks, I don't do this for a living.
The first thing I noticed, as I'm sure you'll take into account as well, is how spacious this joint is. The high ceiling, which is loaded with brilliant wood and metal work shows off Zylo's eye for design as well as guest comfort. The focal point of the venue is most definitely the bar, which was my primary destination for this visit. The bar area sits in the dead center of the Steakhouse, but is far enough removed from the dining area to provide drinkers and light snackers their own space to relax and have a good time. Huge windows facing the Hudson River and Manhattan provide all customers with plenty of great eye candy. I ponied up to the bar to be quickly greeted by the highly affable female bartender. They were slightly busy with the beginning of the dinner rush, but she was more than happy to answer whatever questions I had. During happy hour, Monday-Friday guests can enjoy 1/2 price cocktails, $5 wines, and $3 Peroni Beer. I decided to go with a Peroni, which is served draught style in a frosty mug. While I sipped the cold Italian brew, I couldn't help but notice various, highly colorful jugs on the counter. The bartender informed me that these were loaded with Sangria and homemade infused vodka using various fruits left to sit and mature. These drinks looked highly drinkable but maybe a little too potent for my after work visit.
The music selection featured a mix of female soul acts such as Amy Winehouse and Adele, which is generally not my speed but okay to bob your head to while kicking back with a few drinks. The Chandelier Room is located directly upstairs, which provided some clashing of tunes with their club music permeating the space. It was slightly odd at times but nothing to ruin one's time. While I sipped my beers, many small crowds came and grabbed a few drinks and headed to their respective tables for dinner. Throughout my entire stay, not once did I feel rushed or cramped. The turnover rate was excellent, and with an expert bartender-mixology, I felt in good hands rather than having a waiter who has to double as a bartender between tables.
So here's the rundown…
Preconceived notion – Upscale Steakhouse located in the W Hotel.
Bar Type – Trendy Restaurant-bar combination with a focus on Mixology cocktails.
Crowd stereotype – Affluent thirsty-somethings.
Music – A mixture of Amy Winehouse, Adele, and club music.
Value – Surprisingly, yes! On Monday-Friday's guest can enjoy 1/2 price cocktails, $5 wines, $3 Peroni.
Good for a….
Date – Zylo is perfect for a date with your longtime girlfriend or boyfriend who is not a vegetarian. But due to the prices, try not to bring a first date here.
Hookup – If the W Hotel isn't enough, Zylo is the perfect "Spanish Fly" to help close the deal.
Dance – The music may call for it, but sadly the layout doesn't allow dancing. Your best bet is to head upstairs to the W's Chandelier Room.
Catch up with a friend – Yes, I spotted several after work cocktail meetings going on for both men and women.
First or last drink of the night – First is best. Enjoy a cocktail, beer or bar snacks but just don't end up here drunk at the end of the night.
Overall – Zylo's may be primarily known for its dry aged selection of prime cuts of steak but the W Hotel establishment should be equally known for having an attractive bar space that is more than accommodating for all of your imbibing and light yet innovative bar snack needs. 8.6.
-Link Cromwell
Completed Bars
Introduction
Halfway
Marathon Recap
Northern Soul – 9.3/10
Pilsner Haus and Biergarten – 9.3/10
Maxwell's – 9.2/10
The Clinton Social – 9.1/10
Cooper's Union – 9.0/10
Green Rock Bar – 9.0/10
Havana Cafe – 9.0/10
The Turtle Club – 9.0/10
Bin 14 – 8.9/10
Court Street – 8.9/10
Hudson Tavern – 8.9/10
Leo's Grandevous – 8.9/10
The Chandelier Room – 8.9/10
10th & Willow – 8.8/10
3 Forty Grill – 8.8/10
Elysian Cafe – 8.8/10
Grimaldi's – 8.8/10
Madison Bar & Grill – 8.8/10
Sammy's Roadhouse Bar and Grill – 8.8/10
Sushi Lounge – 8.8/10
City Bistro – 8.7/10
Cork City – 8.7/10
Onieals – 8.7/10
Village Pourhouse – 8.7/10
1 Republik – 8.6/10
Mikie Squared – 8.5/10
Wicked Wolf Tavern – 8.5/10
Zack's Oak Bar – 8.5/10
Black Bear Bar & Grill – 8.4/10
Moran's – 8.4/10
Arthur's Tavern – 8.3/10
Oddfellows – 8.1/10
Lola's Tapas and Wine Bar – 8.2/10
Trinity – 8.1/10
Cucharamama – 8.0/10
Marty O'Brien's Social Club – 8.0/10
The Dubliner – 8.0/10
East LA – 8.0/10
Scotland Yard – 7.9/10
The Shannon – 7.9/10
Carpe Diem – 7.9/10
Helmers' – 7.9/10
Teak – 7.8/10
Mulligan's – 7.7/10
Karma Kafe – 7.7/10
DC's Tavern – 7.7/10
Louise & Jerry's – 7.7/10
Brass Rail – 7.6/10
Hoboken Bar and Grill – 7.5/10
Four L's – 7.5/10
Liberty Bar – 7.5/10
Texas Arizona – 7.5/10
McSwiggans – 7.4/10
Nag's Head – 7.4/10
Eight Street Tavern – 7.3/10
Maggie's Place – 7.3/10
Three A's – 7.3/10
The Tilted Kilt – 7.3/10
Whiskey Bar- 7.3/10
The Quays – 7.2/10
The Melting Pot – 7.1/10
Tutta Pasta – 7.1/10
Sushi House – 7.0/10
Wilton House – 6.0/10
Related Articles
Share
About Author
(0) Readers Comments