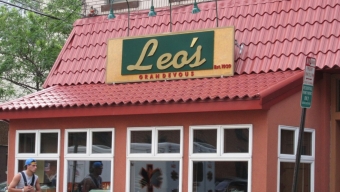 LocalBozo.com has sent one of our correspondents out for some field research, as our own Link Cromwell attempts to bar crawl his way through Hoboken, New Jersey- just a stone's throw away from Manhattan. Check back for his adventures and travels every single Friday as LocalBozo.com attempts to do the unimaginable. And yes, it involves drinking.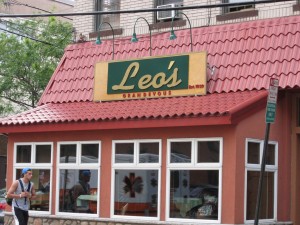 Italian joints and old school bars are Hoboken's bread and butter. Wouldn't it be great if you could combine the two into one satisfying eating and drinking experience? Well, friends Link Cromwell comes to you this week with an answer to that pressing question. Travel to the highly residential, Grand Street and you will find a historic establishment amongst the many rows of apartment buildings. It's, "Leo's Grandevous" the seventy-two year old Hoboken institution serving the neighborhood and it's heroes classic Italian dishes and fine cocktails all at reasonable prices.
The corner location of Leo's draws in guests by it's welcoming large sign and windows facing the street. It had that effect on me, causing me to literally change plans and step inside just out of pure curiosity. Upon entry, I noticed how spacious this place was. The bar is the first thing patrons will see when they walk in, as it is in the dead center of the restaurant. It is small in stature but big in detail and construction. The half moon shaped bar boasts ample seating for small parties looking to grab a few drinks before sitting down in one of the main dining rooms for their meals. But unlike other restaurant bars that are an after-thought, Leo's takes pride in this space. I ventured in at dinner time on a Thursday, and even though they were quite busy the friendly bartender was more than happy to run down the drink list. He stated that glasses of wine were $7 for both red and whites, and bottled beers will run me $4. These prices are outstanding especially for a restaurant. The bottled beer list is lengthy providing customers with a solid selection for all tastes and diets! These brews include; Budweiser, Bud light, Coors light, Miller light, Michelob Light, Heineken, Heineken Light just to name a few.
I went for a Budweiser, or "Bud Heavy" as it is affectionately called sometimes. As I sipped my beer I turned in my chair and looked around Leo's. Paintings and pictures line the walls, showing the joints long history in the neighborhood. From business owners, politicians, and local celebrities everyone who matters to Hoboken is represented here. While I took in these sights music played at a pleasurable volume over the speakers. Hometown boy, Frank Sinatra was well represented as was the popular tunes of the late 1950s and early 1960s that Leo's history is routed in. Waiters streamed from out of the kitchen with hot plates in toe, featuring some of their culinary highlights. The value extends to the food with classic dishes such as, "Stuffed Shells" and "Pasta filet di Pomodoro" running patrons only $11 per plate. It warms my heart, liver, and stomach to know a place like this still exists. I don't think Frank would have had it any other way!
So here's the rundown…
Preconceived notion – Old school Hoboken Italian restaurant.
Bar Type – Vintage restaurant bar that matches the eateries charm.
Crowd stereotype – During my visit it was families of four and couples.
Music – '50s and '60s era pop and Frank Sinatra. Who else? It's Hoboken!
Value – Yes! Leo's keep the bar prices down keeping that old school feel. Bottled domestic beers like Budweiser are $4 while glasses of many wines are $7. They are cash only, but they have an ATM on site.
Good for a….
Date – You better believe it! Leo's is a classy joint with plenty of history. Bring that special someone here any night and impress them.
Hookup – Pasta and wine can often lead to a goodnight kiss. Just don't go any further than that.
Dance – If your having a private party, sure. But, if your just an evening guest keep the party at the bar or your table.
Catch up with a friend – Yes, Leo's is a relaxed spacious place to have that long catching up chat with a friend.
First or last drink of the night – First. Have a wine or beer with your meal, but then head elsewhere to party.
Overall – Leo's Grandevous is a living and breathing step back in time to old school Hoboken, NJ. The joint boasts one of the friendliest atmospheres in town, accommodating both bar and restaurant guests comfortably. The food and drink value speaks volumes of Leo's customer appreciation, making it a must for your eating, drinking, and neighborhood history needs. 8.9.
-Link Cromwell
Completed Bars
Introduction
Halfway
Marathon Recap
Northern Soul – 9.3/10
Pilsner Haus and Biergarten – 9.3/10
Maxwell's – 9.2/10
The Clinton Social – 9.1/10
Cooper's Union – 9.0/10
Green Rock Bar – 9.0/10
Havana Cafe – 9.0/10
The Turtle Club – 9.0/10
Bin 14 – 8.9/10
Court Street – 8.9/10
Hudson Tavern – 8.9/10
The Chandelier Room – 8.9/10
10th & Willow – 8.8/10
3 Forty Grill – 8.8/10
Elysian Cafe – 8.8/10
Grimaldi's – 8.8/10
Madison Bar & Grill – 8.8/10
Sammy's Roadhouse Bar and Grill – 8.8/10
Sushi Lounge – 8.8/10
City Bistro – 8.7/10
Cork City – 8.7/10
Onieals – 8.7/10
Village Pourhouse – 8.7/10
1 Republik – 8.6/10
Mikie Squared – 8.5/10
Wicked Wolf Tavern – 8.5/10
Zack's Oak Bar – 8.5/10
Black Bear Bar & Grill – 8.4/10
Moran's – 8.4/10
Arthur's Tavern – 8.3/10
Oddfellows – 8.1/10
Lola's Tapas and Wine Bar – 8.2/10
Trinity – 8.1/10
Cucharamama – 8.0/10
Marty O'Brien's Social Club – 8.0/10
The Dubliner – 8.0/10
East LA – 8.0/10
Scotland Yard – 7.9/10
The Shannon – 7.9/10
Carpe Diem – 7.9/10
Helmers' – 7.9/10
Teak – 7.8/10
Mulligan's – 7.7/10
Karma Kafe – 7.7/10
DC's Tavern – 7.7/10
Louise & Jerry's – 7.7/10
Brass Rail – 7.6/10
Hoboken Bar and Grill – 7.5/10
Four L's – 7.5/10
Liberty Bar – 7.5/10
Texas Arizona – 7.5/10
McSwiggans – 7.4/10
Nag's Head – 7.4/10
Eight Street Tavern – 7.3/10
Maggie's Place – 7.3/10
Three A's – 7.3/10
The Tilted Kilt – 7.3/10
Whiskey Bar- 7.3/10
The Quays – 7.2/10
The Melting Pot – 7.1/10
Tutta Pasta – 7.1/10
Sushi House – 7.0/10
Wilton House – 6.0/10
Related Articles
Share
About Author
(1) Reader Comment