Spirits In the Sixth Borough: Benny Tudinos
LocalBozo.com has sent one of our correspondents out for some field research, as our own Link Cromwell attempts to bar crawl his way through Hoboken, New Jersey- just a stones throw away from Manhattan. Check back for his adventures and travels every single Friday as LocalBozo.com attempts to do the unimaginable. And yes, it involves drinking.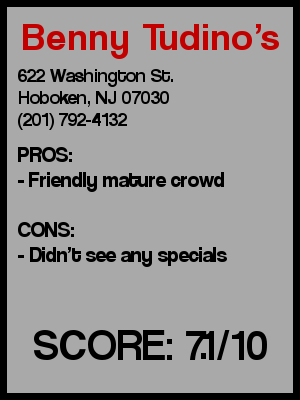 So I guess it's my busy season at work…but then again it's been a busy 5 or so years straight so that might not even be accurate.  But longer work hours take away from having time to do the important things like trying to drink beers at every bar in Hoboken.  So after another late night of working until well past 10, I finally called it a night and headed home. Not having eaten dinner yet and desperately in need of a drink, but looking like a mess from being in the same stale clothes and sitting in a office where they turned off the AC at least 4 hours before I closed down, I wasn't exactly in the mood to deal with the typical Thursday night bar crowd.  Luckily right near my apartment was the beckoning yellow flashing lights for Benny Tudino's.
Now I know what most of you are thinking "why are you telling us this really boring narrative…we don't care". And to that I have no answer. But I do know that a very small number of you are thinking to yourself, "But Benny Tudino's is a pizzeria not a bar!".  And to that my friend, I would have to answer that you are wrong. Because as stated in the introduction of this bar crawl, I consider any place that has a free standing bar and serves alcohol a bar.  Benny Tudino's between 6th and 7th on Washington Street qualifies because on the counter that they serve from, they have Coors Light and Yuengling on tap.
Benny's (as most people refer to it) has the moniker "Home of the Largest Slice".  And that may very well be accurate.  Between Benny's and 7 Star Pizza in Hoboken, they both take making large pizza slices to the extreme.  There is even a picture of a newborn baby next to a Benny slice and I think the pizza is larger. Even with really large slices, Benny's usually doesn't compromise on its taste…but this isn't a column about all the pizza places in Hoboken (although that's not a bad idea).
So while I waited the couple of minutes for my pizza to come out, I asked for a Yuengling.  They must be accustomed to the Stevens students coming in there because they asked me for my ID despite my 4 day old beard.  Now they must not get many people asking for beers, especially at the point of the night I walked in. I figure that most people after 11PM are grabbing a slice or two on their way home from a night of drinking. And for me this was my beer for the night.  The beer was obviously very heady as the man behind the counter had to pour out a cup full of head a few times before getting a good pour.  The beer was poured into a plastic Coors Light cup like I was at an outdoor party. I had a couple of sips of the cold tasty goodness when my pizza came out. Now like I said before, this isn't an evaluation of the pizza (which was a little undercooked this time…I've had better from there), but the beer was nice and cold.
On the walls are all the makings of a classic pizzeria.  Random artwork from the owners grandchildren, a local soccer poster from 1979, some sports memorabilia, everything that lets you know it's authentic and part of the community.  The crowd was pretty transient with most people grabbing a slice and going. The TV was showing some terrible movie on FX. Below the TV was a fridge full of about 17 other beers they offer if you don't want the 2 beers on tap. Most were your classic American beers, but they also had Modelo and Harp. They also offer Senor Sangria, which is the Sangria mix that you basically just add ice to. After having my one beer and one slice it was time to go. But for the $7, I had a tasty meal, a tasty brew, and another place done.
So here's the rundown…
Preconceived notion – I wasn't so sure the beer would be any good, or if they would look at me weird coming into a pizza place asking for a beer, but their pizza is legit.
Bar Type – Pizzeria…with a couple of taps
Crowd stereotype – A couple of college students and then a bunch of people in their 30s or so.
Music –   None…you could hear the TV
Value – $4 for a beer ($3 for a slice). I guess that's a little steep for the beer, but nothing outrageous.
Good for a…
Date – Probably not
Hookup – Maybe stop by here with the girl you picked up at the bar, or maybe you will run into a group of drunk girls at the end of the night and end up really hitting it off. But I wouldn't come here for the girls
Dance – Nope
Catch up with a friend – Perfect
First or last drink of the night – Actually this place is probably really good for a drinking lunch. Grab a couple of quick slices and a couple of beers and head back to work (if you work in Hoboken).  I guess it's good for a nightcap…or if you are grabbing a dinner to go as well.
Overall  – I mean, no doubt about it, this place isn't exactly your prototypical bar. But they do serve beer, and they serve it quick and with a really good slice.  This place is more of a hit and run place then somewhere you want to spend the night, so I gotta take some points off for that. But for a pizzeria its not too bad. Obviously they have a very very limited selection on tap…but a decent bottle selection earns them a couple of points. I'll give it a 7.1.
- Link Cromwell
Completed Bars
Introduction
Halfway
Northern Soul – 9.3/10
The Clinton Social – 9.1/10
The Turtle Club – 9.0/10
Hudson Tavern – 8.9/10
Elysian Cafe – 8.8/10
Grimaldi's – 8.8/10
Onieals – 8.7/10
Village Pourhouse – 8.7/10
1 Republik – 8.6/10
Wicked Wolf Tavern – 8.5/10
Oddfellows – 8.1/10
Cucharamama – 8.0/10
The Shannon – 7.9/10
Carpe Diem – 7.9/10
Helmers' – 7.9/10
Teak – 7.8/10
Mulligan's – 7.7/10
Karma Kafe – 7.7/10
DC's Tavern – 7.7/10
Louise & Jerry's – 7.7/10
Brass Rail – 7.6/10
Hoboken Bar and Grill – 7.5/10
Four L's – 7.5/10
Liberty Bar – 7.5/10
McSwiggans – 7.4/10
Nag's Head – 7.4/10
Eight Street Tavern – 7.3/10
Maggie's Place – 7.3/10
Three A's – 7.3/10
The Quays – 7.2/10
Willow Billiard Club & Lounge – 7.1/10
S. Sullivan's – 7.1/10
Farside – 7.1/10
Hobson's Choice – 7.0/10
Rogo's – 6.7/10
Related Articles
Share
About Author
(0) Readers Comments