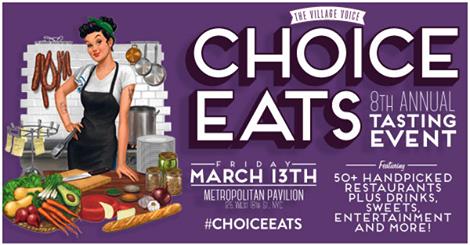 It's among the year's most well attended eating festivals by both scenester guests and participating restaurants. And it's one you may have read about on our site either here, here, here or here. Typically, Friday the 13th is reserved for those of us with bad luck- fortunately, The Village Voice has your four-leaf clover in the form of "Choice Eats 2015," the 8th annual frenzied feast that emanates this year from Chelsea's Metropolitan Pavilion.
For more than three hours, hundreds of hungry eating enthusiasts will swarm the sprawling setting to devour delicious fare from upwards of fifty different restaurants doling out sweet and savory samples. This year, the event is drawing out restaurants from the surrounding boroughs where Queens eateries John Brown Smokehouse, Queens Comfort and Casa del Chef join the likes of Brooklyn's Butter & Scotch, Fletcher's Brooklyn Barbecue, The Gorbals and Littleneck to ensure that guests all leave satisfied. The participants from Manhattan are too numerous to mention but notables like Luke's Lobster, Kuma Inn, Casa Mono, Commerce Restaurant, Huertas and many more are already signed on for the festivities.
Couple the endless array of delicious bites with an unlimited supply of differing beers, wines and cocktails and a sea of different desserts – 'Choice Sweets' and you'd be hard pressed to find a more complete collection of the dining life here in New York City. With live entertainment and a commemorative tasting glass, affordably priced tickets are available now. Can't make "Choice Eats?" Fear not- as the team from The Village Voice returns on Tuesday, May 5th with the spring's best food truck-centric event "Choice Streets." Don't just stare at your friend's photos from the festivites on Instagram- make plans to secure your space while tickets last.
- Jane Van Arsdale
Related Articles
Share
About Author
(0) Readers Comments