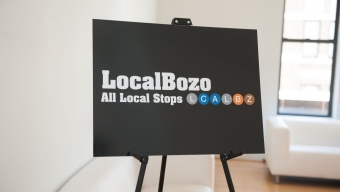 Keep it here for the 2017 events that we're anticipating most over the next few weeks in the greater New York City area.
Date: Friday, January 27th, 2017

Event: LUCKYRICE Lunar New Year's Eve Bash

Place: Bowery Hotel

Cost: General Admission – $88

The Scoop:  It may be a wee bit late to grab tickets to the $888 'Edible Wonderland' portion of LUCKYRICE's fabulous Lunar New Year's Eve Bash- but Friday at 9:30pm, duck into the Bowery Hotel for an unparalleled cocktail feast featuring awesome atmosphere amid a cultural celebration.  Hand crafted drinks coming from the likes of Extra Fancy, Macao Trading Co., PS450, Maharlika, Sanatorium and more will surely set the mood for the weekend that follows- assuming of course, you're well enough to wake up early enough to be productive the next day.
Date: Saturday, January 28, 2017

Event: Beer, Bourbon & BBQ Festival 2017

Place: The Tunnel

Cost: General Admission – $109

The Scoop: You would be hard pressed to find three things that go together better than Beer, Bourbon & BBQ and with that mind mind, the 2017 Festival of that name returns to New York City with two action-packed sessions.  The evening's Whole Hog Pickin' Session still has tickets available for an unlimited and bountiful feast of eats and drinks.  You'll get a keepsake tasting glass along with fantastic eats from Kloby's Smokehouse, Butcher Bar, Bar Matchless with a spread that includes bacon wrapped meatballs, grass-fed beef chili and brisket sliders – all washed down by beers from spots like Sierra Nevada, Long Trail Brewing Co., Samuel Adams, Coney Island Brewing Co. and excellent spirits like Buffalo Trace, Four Roses Bourbon and Widow Jane, among a few dozen different varieties.
Date: Saturday, January 28 – Sunday, January 29, 2017

Event: Jets House 2017

Place: SPiN New York

Cost: $99

The Scoop: Whether you're a Long Islander, from Jersey or holding it down here in Manhattan, the blood of Gang Green certainly runs deep in our area.  Saturday and Sunday marks the return of Jets House, a weekend filled with eats and drinks, but more importantly – the opportunity for families to schmooze with some of the 2016 New York Jets, live and in person.  Guests like Muhammad Wilkerson, Chad Pennington, LaDainian Tomlinson, Quincy Enunwa, Nick Folk, Bart Scott and Wayne Chrebet will join the dozens of current and former players – at ping pong hot spot SPiN New York.  Take a turn at the tables against some highly competitive athletes from our area!
Date: Sunday, January 29, 2017

Event: COCHON555 – New Porc City

Place: Weylin – Williamsburg

Cost: $99

The Scoop: Take 5 Chefs.  Give them 5 Pigs.  Bring in 5 Winemakers.  And you've got yourself one heck of a party!  The Official Kickoff to the 2017 COCHON555 Tour begins in Brooklyn, New York where a three-and-a-half hour feast of delicious cocktails, beers and wines meshes with some brilliant local fare- all dedicated to the pig, in nose-to-tail fashion.  Chefs from the likes of Saxon+Parole, Quality Eats, Olmsted, Birds & Bubbles and Chef's Club by Food & Wine will compete in a friendly competition against each other, course after delicious course, vying for the crown of local COCHON555 champion.  The winner will head to Chicago on October 1st to GRAND COCHON, a national competition to crown the country's finest master of swine.  Guests will also enjoy an inspired butchering demonstration, live music from Public Enemy's DJ Lord and Kool Keith and a live auction for freshly chopped pig parts for guests to grab as take home keepsakes!  The sheer array of delicacies at COCHON is simply unparalleled.  From the 'Pate Experience' and 'Tartar Bar' to the 'Pop-Up Ramen Bar' and 'Punch Kings Drink Competition,' there is an endless assortment of things to choose.  Grab your tickets – NOW!

Date: Saturday, February 4th, 2017
Event: International Great Beer Expo – Meadowlands

Place: Meadowlands Expo Center

Cost: $45
The Scoop: What can you get for $45?  A cheap dinner for one?  A trip to the movies for two with popcorn?  How about parading around a massive space with hundreds of different beers from which to sample – just 12 minutes from the confines of the City.  The 7th Annual International Great Beer Expo returns to Northern New Jersey where a quick bus ride drops you right at the gateway to one of two exciting sessions.  Sip on beers from Flying Fish Brewing Co., Eight Sand Beer Co., River Horse, Two Ton Brewing, Brix City Brewing, 21st Amendment Brewery, Sly Fox, Victory Brewing Company, Two Roads Brewing Company, Anchor Brewing, Southern Tier, Schofferhofer, Radeburger, Flying Dog Brewery, Troegs Intependent Brewing, Small Town Brewery, Jughandle Brewing Co., Czig Meister and MORE.  Best of all, use code 'BOZO5′ at check out for $5 off your Expo ticket!
The #GREATBEEREXPO will be a 3.5 hour affair – fun for groups or for the intimacy of a few- and if you don't believe this sell job, check out our recap of last year's festivities! Or the year before! Or the year before!
- Jane Van Arsdale
Related Articles
Share
About Author
(0) Readers Comments