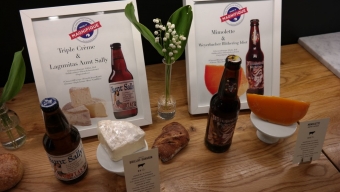 Blog: French Cheese Board - Beer and Cheese Tasting
The space at SoHo's French Cheese Board is part cheese shop, part gallery, part hangout spot.  Primary among these is, unsurprisingly, the cheese: pictures of cheese sculptures adorn the walls that are not displaying a giant map of France by cheese region or a diagram of various cheese making processes.  And the events table is designed so that hands can reach a cheese board placed at the center from any point.  If we seem to be experts on the space it's because we trekked downtown on Wednesday evening for a 'Beer and Cheese' tasting experience that left us with renewed interest in two areas in which we had previously dubbed ourselves 'experts.'
At first glance our hosts blended in with the assembled crowd on hand, casually setting up the requisite selection of beers and cheeses we were about to enjoy.  The relaxed atmosphere was a bit of a surprise given the subject matter, and I was a bit ashamed to have anticipated it being unapproachable (sorry, French things).  After a few minutes of mulling about, we were brought together by, what else, cheese.  Generous tasting plates were passed out as Beer Expert John Holl reminded us that, "Beer and cheese have been enjoyed together, and in many ways, more sensibly than wine and cheese, for centuries."  Bold start, but we were interested, if for no other reason than to see if he was right (note: he certainly wasn't wrong).  After a quick intro on how to properly approach beer tasting (it involves a technique called the 'Bloodhound method' of smelling aromas, my preference over the 'drive-by' approach), Holl jumped right into our pairings.
The tasting was designed to move from light to heavy in both beer and cheese characteristics.  We started with a Belgian-style pale ale from AleSmith called "Lil' Devil" paired with the ever-popular Brie.  While many serve this cheese with various accompaniments like jams and honey, its flavors were more subtly enhanced by this pairing.  Its buttery notes were balanced with the ale's spice, while its earthiness was echoed by biscuits and a touch of honey without the sweetness.  The next cheese, Brillat Savarin, was a gradual step in intensity.  The rich, salty and ever-so-slightly sour triple cream made from cow's milk was paired with "Aunt Sally," a sour ale from Lagunitas Brewing Company.  This was the most interesting combination to us because it was the physical nature of the beer that really elevated the pairing.  The carbonation in the beer cleared the palette for each successive creamy bite, allowing us to pick up more and more flavors.  The beer itself was also enhanced by the cheese, its richness providing a platform for the tart, "candy-bowl" and nutty flavors (there was a long discussion about the similarities to those little strawberry candies that appear in every grandmother's purse as soon as her first grandchild is born. It was, surprisingly, not inaccurate).  The cheese disappeared from most of the tasting plates before Holl could inform us that we might want to save a bite to pair with the last beer, an equally delightful pairing for the end of a meal.
First, however, came the bright orange Mimolette cheese paired with a Barleywine.  From Weyerbacher brewery in Easton, PA, this 11.1% abv brew called the "Blithering Idiot" didn't manage to turn us into one, but can be a dangerous beverage when enjoyed so fully with a cheese like the Mimolette.  Holl described the pairing as "a complete cheese board" with stone fruit and malt flavors from the beer and sweet and nutty notes from the hard cheese.   The cheese itself has an interesting history.  Developed by Louis XIV to replace the popular – but imported from a warring Netherlands – Edam cheese, Mimolettemore recently gained notoriety for being banned from the US.  The mite content on the crust of the cheese was too high; it could cause an overreaction if consumed in large quantities, a legitimate concern based on how much we ate at the tasting.  Between the high alcohol content of the brew and the formerly criminal cheese, this dangerous pairing could quickly inspire some raucous activity (or more likely, a nap).
Speaking of dangerous combinations, the tasting was wrapped up with a Bleu d'Auvergne cheese and an Imperial Stout, a rich and assertive pairing.  Both confident in their own right, this pair managed to highlight each component's strengths.  Certainly rich, this combo would best be enjoyed at the end of a meal as a final taste.  The chocolate, oak and bourbon flavors of Hoppin' Frog Barrel's Aged B.O.R.I.S. would be delightful on its own, but is balanced by the tangy notes of the Bleu cheese.   Personally, I never would have thought of pairing these two.  This is why I was not leading the tasting.  After some generous refills of cheese boards and cups, our hosts answered our questions and encouraged us to try our own pairings.
The French Cheese Board has other upcoming tastings and events available on their website for those looking to gain some knowledge and perhaps to discover some new favorites.  We recommend stopping in to see the experts for help choosing cheese and tuning into Holl's Steal This Beer podcast for a closer look at the many craft beer options available today.  In the meantime, don't be afraid to tell your snooty friends you prefer pairing your cheese with beer rather than wine – they'll get right in your corner before long!
- Mallory Sullivan
Related Articles
Share
About Author
(0) Readers Comments