I don't want to speak for anybody else but seriously- enough of the snow. Â It's ruining our boots, making our commutes miserable and generally speaking, being outside of our warm apartments can be downright miserable. Â If spring is supposedly just a few weeks away, how about a glimpse of sunshine as a sign of life? Â It might be March but it still feels like February's coldest days. Â Here are some of the best events coming this month that will hopefully draw you from the comforts of your house.

March 2015 Events in New York City: Where You Need to Be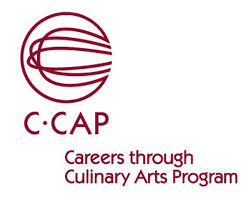 Date: Tuesday, March 3rd 2015

Event: Careers Through Culinary Arts Program 2015 'C-CAP Benefit'

Place: Pier Sixty, Chelsea Piers

Cost: VIP – $1,000, General Admission – $550

The Scoop: It costs a lot to eat well in New York City.  But when a good cause is at stake, the dollar amount matters much less.  Every year, C-CAP brings together the City's very best restaurants for an unparalleled feasting Benefit that helps fund their initiatives to give underserved youths the opportunity at careers in different culinary fields.  Current Grads like Cesar Gutierrez (Lexington Brass), Thiago Silva (Catch) and Veronica Rivera (Restaurant Marc Forgione) join restaurants like Union Square Cafe, Marea, Daniel, Dirty French, The Cecil, Oceana, Maialino, Le Cirque, Dovetail, Batard, Asiate, Betony and many many more on March 3rd.  The list of restaurants is only half as impressive as the feast that you'll enjoy during the incredible affair.

Date: Saturday, March 7th 2015

Event: CoffeeCon 2015

Place: Broad Street Ballroom

Cost: General Admission + Seminar – $90; General Admission – $35

The Scoop: You've spent far too much money at those familiar big brand coffee shops on every corner.  Try something new on for size at the 2015 NYC CoffeeCon where you'll have the opportunity to taste more than 100 different local and national coffees.  You'll learn about the different roasting styles and compare the distinctive beans from around the country- plus, you'll have the opportunity to sit in on some classes and seminars for the true all-around interactive experience.  The festival will also host bakeries and chocolate makers as well as food trucks on site, giving you plenty to wash down with that freshly served roast.  It's just a half block from the subway so there's no excuse not to make the trek out.  Unless of course you're pregnant.  And even then, there's always decaf.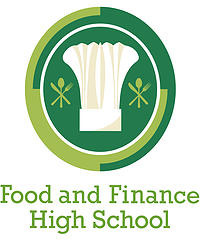 Date: Monday, March 9th 2015

Event: Small Plates, Big Hearts

Place: Metropolitan Pavilion

Cost: VIP – $500, General Admission – $250, Young Supporters (Under 25) – $100

The Scoop: The annual benefit event to fund raise for New York City's Food and Finance High School returns in 2015, bigger and better than ever before.  Dubbed "Small Plates, Big Hearts" the reception welcomes participating chefs from restaurants like Gotham Bar & Grill, Extra Virgin, Distilled NY, Oceana, The Smith, Telepan, The Stanton Social, Marta, Maialino and more for a tasting event that lasts more than three hours.  Beers from Allagash Brewery will also be poured during the evening, which will be hosted by TV Personality and Celebrity Chef Marc Murphy (Landmarc, Ditch Plains).  And the live silent auction on site is sure to offer up experiences unavailable elsewhere.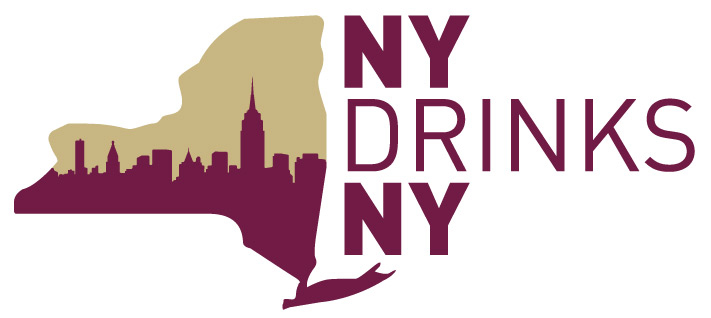 Date: Tuesday, March 10th 2015

Event: New York Drinks NY Grand Tasting

Place: Astor Center

Cost: General Admission – $40

The Scoop: Perhaps the month's most reasonably priced event, the 4th Annual New York Drinks NY Grand Tasting welcomes more than 100 local wineries to the spacious Astor Center for just $40.  You'll sip different varietals from the Finger Lakes out to Long Island, along with delicious food pairings, cheeses and finger foods all over two action-packed hours.  Wines from Bedell Cellars, Brooklyn Oenology, Wagner Vineyards, Macari Wines, Lieb Cellars and Hosmer Winery are all likely to be poured in person- proving you don't need to head out west to drink some truly delicious wines.
 
Date: Wednesday, March 11th 2015

Event: F Cancer

Place: Brooklyn Brewery

Cost: General Admission – $50

The Scoop: Some of North Brooklyn's most renowned local eateries are coming out in unison to help residents fight the country's most pressing disease.  Entitled 'F Cancer,' the Wednesday evening ticket price is hardly the most noteworthy piece of the puzzle happening inside Williamsburg's Brooklyn Brewery.  Here you'll sample some tasty fare from Pies N Thighs, Allswell, The Bedford, Greenpoint Heights, The Meat Hook, Marlow & Sons and many more.  There's also slated to be some live music and a terrific silent auction sure to raise a ton of dough toward 'Stupid Cancer,' a nonprofit that works for the advocacy of the disease in young adults.  You have both the $50 and the appetite- so why not come on out and do something good for a change?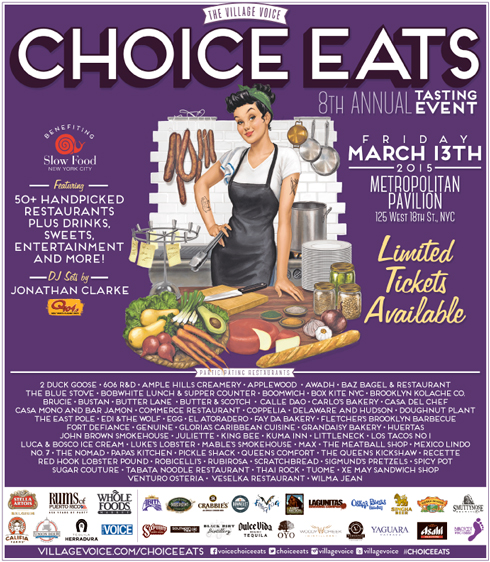 Date: Friday, March 13th

Event: Village Voice 8th Annual 'Choice Eats'

Place: Metropolitan Pavilion

Cost: General Admission – $65

The Scoop: If you read our preview piece a few weeks back, it's fairly easy to tell how excited we are for the return of the Village Voice's 'Choice Eats' event, which for us is the unofficial start of spring each year.  For the 8th time, the massively grandiose walk around tasting feast brings together the longest list of chefs imaginable from every possible borough for three full hours- with plenty of booze to appease even the most casual drinker.  Though the full list is massive, you'll be treated to dishes courtesy of Casa Mono and Bar Jamon, Delaware and Hudson, The East Pole, Commerce, The NoMad, Huertas, Veselka, Wilma Jean and more- including 'Choice Sweets,' a full-on dessert restaurant row with the likes of Butter and Scotch, Robicelli's, Ample Hills Creamery among others.  This one will sell out- best get your tickets while you still can.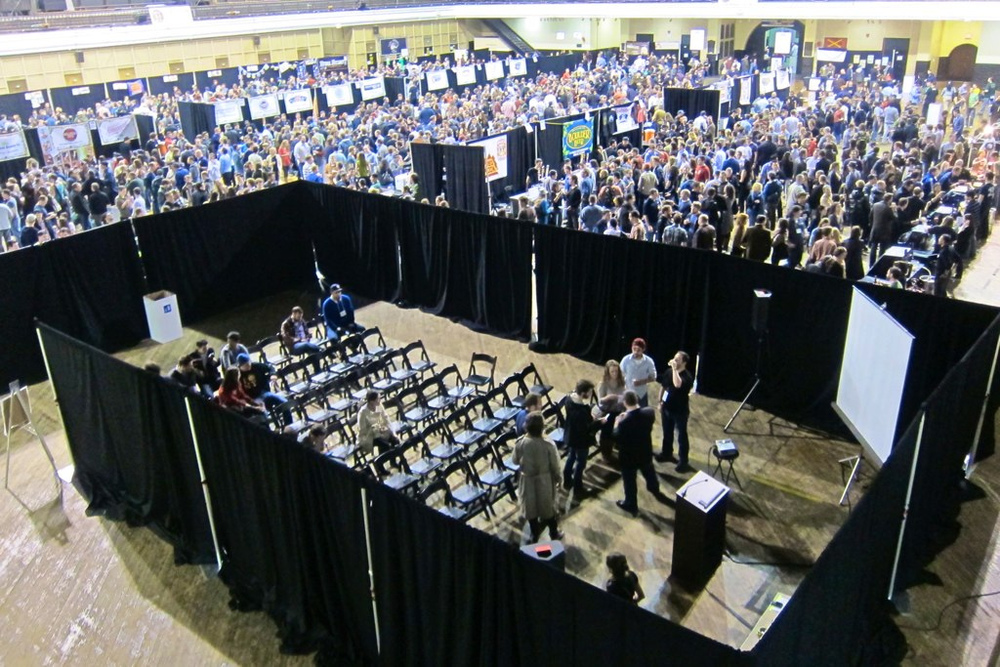 Date: Friday, March 13th – Saturday, March 14th 2015

Event: NYC Craft Beer Fest: Spring Seasonals

Place: Tribeca Three-Sixty

Cost: VIP – $75, General Admission – $65

The Scoop: What is there left to say about the seasonal NYC Craft Beer Festival, an event that welcomes thousands of locals into the Lexington Armory for a day of deliciously refreshing and unlimited pours from breweries around the globe?  Tickets to their three sessions of 'Spring Seasonals' range from $65 – $75 to sip more than 150 beers, ciders and meads with participants like Bell's, Sixpoint, New Holland, Chelsea Brewing, Abita, Finback, Lagunitas, Victory, Kuka, Left Hand, Crispin, Magic Hat, Dogfish Head, Allagash, Belfast Bay and a ton of others.  Best of all?  Make sure to seek out the LocalBozo table as we'll be pouring some of our favorite brews right on site!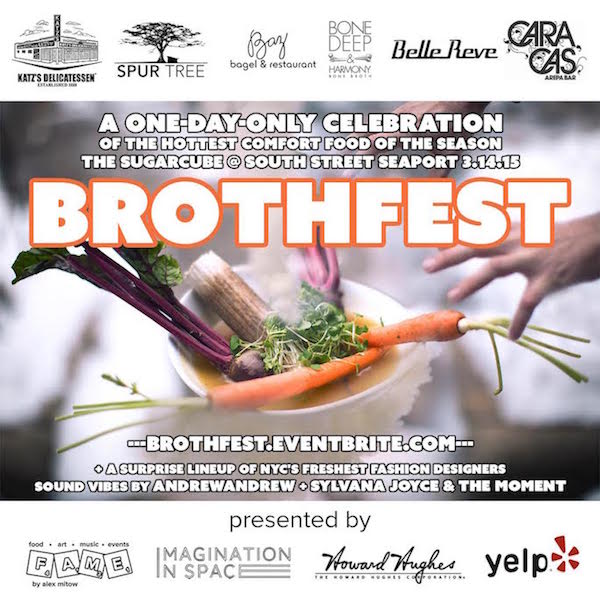 Date: Saturday, March 14th 2015

Event: BrothFest

Place: South Street Seaport

Cost:Â  $33

The Scoop: I guess they'll think of just about any dish to create a wildly inventive food festival around.  Making the cold weather a good thing for a change, it's the first ever BrothFest, a one day only competition that crowns the day's finest prepared piping hot fare at the South Street Seaport.  Portions from the likes of Katz's Deli, Baz, Spur Tree, FAME, Caracas Arepa Bar among others will be sipped, slurped and slugged down over the course of six 90 minute sessions.  And with tickets at just $33, the promise of live DJ music and delectable fare is an unbeatable way to spend a Saturday afternoon.  Lets grab a heaping spoonful and wave goodbye to Old Man Winter in style!
 
Date: Monday, March 16th 2015

Event: Brisket King of NYC 2015

Place: Irondale Center

Cost: $85
The Scoop: Following the first ever NYC Mardi Gras is no easy task.  But the third annual Brisket King of NYC knows no true competitors.  Fort Greene's Irondale Center will host more then 20 different chefs for the very first time with entrants like Mokbar, Hometown BBQ, Fletcher's Brooklyn BBQ, Dinosaur BBQ, Katz's Deli, The Wandering Que and others vying to be named the best of the brisket bunch in 2015.  Your all-inclusive ticket gets you tastes from more than a dozen distilleries and craft beers to boot.  Don't just sit at home and wait for our coverage over Twitter- make sure to taste a piece of the tender, juicy glory that is perfectly prepared brisket- made by some of the City's finest culinary minds.
Date: Wednesday, March 18th 2015

Event: Edible's 'Good Cider'

Place: Tribeca Three Sixty

Cost: $60
The Scoop: Talk about outdoing yourself.  For the first time in 2015, Edible launched their first ever 'Good Spirits – Brooklyn Edition,' before managing to pull off the biggest Manhattan 'Good Spirits' event yet- and it's only the first week in March!  What better way to continue their brand evolution in taking over the world one event at a time than by turning their attention to cider.  With that in mind, Edible's first annual 'Good Cider' takes liftoff from the spacious and picturesque Tribeca Three-Sixty building in downtown Manhattan where guests will sip the sweet tastes of Badass Hard Cider, Bad Seed Cider, 1911 Cider, Bellwether Hard Cider, Doc's Draft Hard Cider, Orchard Hill Cider Mill and a slew of other brands.  Peruse the full list of cider-makers and restaurants participating (Gramercy Tavern!) and then- buy your tickets immediately.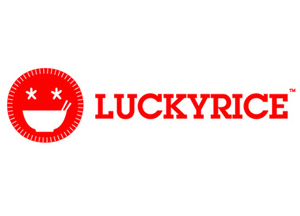 Date: Friday, March 20th

Event: LUCKYRICE New York Grand Feast

Place: Mandarin Oriental

Cost: VIP – $250, General Admission – $150
The Scoop: The sixth anniversary of the LUCKYRICE New York Festival is fast approaching and Friday, March 20th marks the return of the "New York Feast" to the posh 36th floor setting inside of the Mandarin Oriental hotel.  The evening's entire tasting menu is available on the LUCKYRICE website, but notable restaurants like RedFarm, Clement, Asiate, Pig & Khao, Spice Market, Mokbar, Delicatessen, Morimoto, The Black Ant will represent the nearly two dozen participants during the three hour food frenzy.  Hurry up- these tickets will not last.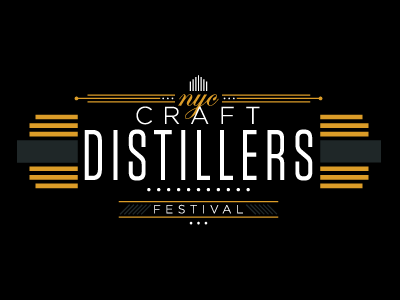 Date: Saturday, March 28th 2015

Event: NYC Craft Distillers Festival

Place: Bowery Hotel

Cost: VIP – $150 – $165, General Admission – $95 – $100

The Scoop: Time to turn back the clock to Prohibition with two exciting sessions to sample more than 60 craft spirits amid the backdrop of a 1920′s style jazz band.  It's the NYC Craft Distillers Fest and it's taking over the posh Bowery Hotel on March's last remaining Saturday.  Suggested attire is 'Modern-Gatsby' so the costumes- like the booze- will be aplenty.  You'll enjoy Dutch's Spirits, Philadelphia Distilling, Widow Jane, Barrow's Intense, Jack From Brooklyn, Cooperstown Distillery, Finger Lakes Distilling, The Manhattan Moonshine Company and a plethora of samples that set the mood for a day unlike many others.  And like 'Gatsby' himself, it's sure to be great.
 

Date: Monday, March 30th 2015

Event: Doing Art Together Benefit

Place: Mandarin Oriental

Cost: Junior Friend (40 and Under) – $175

The Scoop: Every year the folks at nonprofit Doing Art Together throw a fantastic fundraiser at the Mandarin Oriental that welcomes philanthropic guests to enjoy an evening replete with a dance party, unlimited food and drink and the chance to see some celebrities up close and personal.  The 2015 Benefit Event is no different, hosted by NBC's own Lauren Scala with the evening's honoree Tony Danza, but the heart of the evening is focused on the organization's cause- raising funds to teach underserved city youths about art- and more importantly, harnessing and fostering creativity. Additionally, Michael Marrale of Investment Technology Group will also be recognized during the program as a local community honoree. The evening is perpetually a fun and festive experience and one that any New York City partygoer will certainly enjoy being a part of.  Grab your tickets now.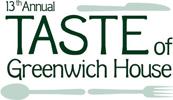 Date: Tuesday, March 31st 2015

Event: Taste of Greenwich House

Place: Metropolitan Pavilion

Cost: VIP – $250; General Admission – $150

The Scoop: More than 600 thrillseekers will trek out to the Metropolitan Pavilion on the last day of the month to enjoy an eclectic array of dishes from some of New York's notable restaurants as part of a fantastic fundraiser.  The cause?  An organization known as Greenwich House that has been a fundamental part of New York for more than 100 years.  Today, the group offers assistance to immigrants adjusting to life in our City through arts programs, health and senior services and education.  Helped by participating restaurants like Bodega Negra, dell'anima, Murray's Cheese Bar, Little Owl, Monument Lane, Sushisamba and Swine to name a few, the 13th Annual Taste of Greenwich is a great way to give back while also deliciously filling up your stomach.  Tickets are available here.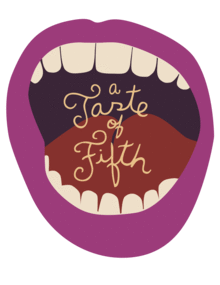 Date: Wednesday, April 1st 2015

Event: A Taste of Fifth 2015

Place: Grand Prospect Hall

Cost: $55

The Scoop: Yes, we know this one's technically in April but it's one you shouldn't miss.  Celebrating the very best food in Brooklyn's Park Slope neighborhood, A Taste of Fifth returns in 2015 with a slew of notable names on board.  Indulge in Bonnie's Grill, Bricolage, Fleischers, Luke's Lobster, 200 Fifth, Benchmark, Loki, Taco Santo, Palo Santo… Look, if we listed any more here, we'd run out of space.  Priced at just $55, inclusive of beer, wine and food- the event is an absolute steal.  There's a reason everyone you know is moving to the Slope, evidenced by the tremendous fare being served up at 2015′s Taste of Fifth.
Date: Sunday, March 1st – Tuesday, March 31st, 2015

Event: Concerts Concerts Everywhere

Place: Varies

Cost: Varies
The Scoop: Check out our new and notable concert listings for the month of January and make sure to secure your tickets before it's too late.
Wednesday, March 4th
Mike + The Mechanics, Best Buy Theatre
An Acoustic Evening with Matisyahu, City Winery
Thursday, March 5th
Charlie Wilson with Kem, Barclays Center
Maroon 5, Madison Square Garden
AJR, Studio at Webster Hall
Friday, March 6th
Hozier, Beacon Theatre
Maroon 5, Madison Square Garden
Hawthorne Heights, Studio at Webster Hall
Never Shout Never, Marlin Room at Webster Hall
Saturday, March 7th
7th Annual Salute to Texas Independence Day, Terminal 5
Sister Sparrow & The Dirty Birds, Brooklyn Bowl
Sunday, March 8th
Dropkick Murphys, Irving Plaza
Monday, March 9th
Dropkick Murphys, Irving Plaza
Billy Joel, Madison Square Garden
Tuesday, March 10th
Los Lonely Boys, City Winery
Dropkick Murphys, Irving Plaza
Scott Weiland and The Wildabouts, Gramercy Theatre
Wednesday, March 11th
Los Lonely Boys, City Winery
of Montreal, Webster Hall
The Airborne Toxic Event, Warsaw
Alabama Shakes, Beacon Theatre
D'Angelo, Best Buy Theater
Hollywood Undead, Gramercy Theatre
Thursday, March 12th
Los Lonely Boys, City Winery
G. Love & Special Sauce
Friday, March 13th
Citizen Cope-Acoustic, City Winery
Meghan Trainor, Irving Plaza
Milo Greene, Music Hall of Williamsburg
Steve Aoki, Hammerstein Ballroom
Saturday, March 14th
Citizen Cope- Acoustic, City Winery
brite nights f. Pegboard Nerds, Webster Hall
The Cribs, Saint Vitus
Diana Krall, Beacon Theatre
moe., Best Buy Theater
Sunday, March 15th
Citizen Cope- Acoustic, City Winery
Meghan Trainor, Irving Plaza
Monday, March 16th
James Bay, Bowery Ballroom
Tuesday, March 17th
Citizen Cope- Acoustic, City Winery
Wednesday, March 18th
Bjork, Kings Theatre
Marcus Miller, BB Kings
Pentatonix, Theater at Madison Square Garden
Taking Back Sunday, Best Buy Theater
Friday, March 20th
Cold War Kids, Terminal 5
Ariana Grande, Madison Square Garden
Saturday, March 21st
Enslaved, Gramercy Theatre
Joshua Radin and Rachel Yamagata, Irving Plaza
Ariana Grande, Madison Square Garden
Sunday, March 22nd
Hozier, Hammerstein Ballroom
Bjork, Kings Theatre
Tuesday, March 24th
Brandon Flowers, Webster Hall
Action Bronson, Terminal 5
Wednesday, March 25th
Ms. Lauren Hill- Acoustic, City Winery

Thursday, March 26th
Debbie Harry, Cafe Carlyle

Saturday, March 28th
Blackberry Smoke, Webster Hall
Deerhoof, Marlin Room at Webster Hall
Motionless In White, Irving Plaza
Milky Chance, Music Hall of Williamsburg
Sunday, March 29th
Coal Chamber, Filter and American Head Charge, Webster Hall
Monday, March 30th
Alt-J, Madison Square Garden
Tuesday, March 31st
Dead Sara, Studio at Webster Hall
Debbie Harry, Cafe Carlyle
Milky Chance, Webster Hall
Ryan Cabrera & Secondhand Serenade, Gramercy Theatre
 - Jane Van Arsdale
Related Articles
Share
About Author
(0) Readers Comments