LocalBozo.com's special beat reporter Jordan Rubenstein will be covering the New York Jets all season long, with quarterly season recaps about where the team is headed. We'll also have reporter Tim Sachs tackling the New York Giants head on as we bring you all local NFL coverage throughout the 2014 season.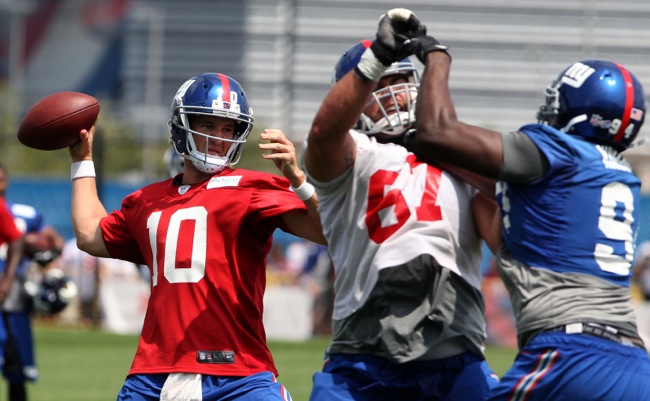 Listen to my offseason interview with New York Giants' free agent signee Walter Thurmond III here.
It was an offseason of change for the 2014 New York Giants, where a 7-9 season finished off the team's worst regular season since 2004 and just a touch below my own initial 8-8 prediction. In the months since last season's conclusion, the team waved goodbye to stalwarts like offensive coordinator Kevin Gilbride and team veteran players Justin Tuck (Raiders) and Hakeem Nicks (Colts) in free agency- but time will tell if their replacements actually make this team any better in the short term. In the meantime, we're given a look at their 2014 schedule, which has the team tasked with inter-conference games against the NFC West, predicted to be among the league's finest and with games against competitive teams like Detroit, Atlanta and Indianapolis, there aren't many gimmes on Big Blue's slate this year.
The Roster Makeover
Let's start first with the good news. The team's defensive backfield was immediately strengthened with the signings of cornerbacks Dominique Rodgers-Cromartie and Walter Thurmond III, both of whom should solidify a strong corps of players with Prince Amukamara and Antrel Rolle already in place. First round speedster Odell Beckham should take away some of the sting of Nicks' departure coupled with continued improvement from Reuben Randle and the return of Mario Manningham at receiver, joining salsa-shaking Victor Cruz at the other wideout spots. Despite running back David Wilson's inability to return from the neck injury which forced him into retirement early in camp, the trio of the returning Peyton Hillis, draft choice Andre Williams (Boston College) and free agent signee and presumed starter Rashad Jennings have looked good enough this offseason to put any worries to rest.
Those worries are still very much in play for an offensive line that continues to look shaky this preseason following a battering of their quarterback in 2013. 39 sacks and 27 interceptions were the result of a leaky line, poor decision making and bad receiver play last year- numbers that will need to drop drastically should the team have any hope of competing in 2014. The arrival of new offensive coordinator Bob McAdoo should help to settle Eli Manning down some and return him to potent form, but a revamped line with free agent signees Geoff Schwartz, J.D. Walton and John Jerry for depth, coupled with draft choice Weston Richburg might not necessarily inspire the fanbase. Defensively, problems upfront and in the linebacking corps were not exactly addressed much. The return of MLB Jon Beason who played well in 2013 highlights what's going on in the team's base defense, where the hops remains that defensive end Jason Pierre-Paul plays out of his mind enough to invigorate a Giants pass rush that has been non-existent since their last Super Bowl win. Robert Ayers (DE) and Jameel McClain (ILB) punctuate the team's free agent arrivals on defense, both of whom are not expected to be game changers on that side of the ball.
The Division
The NFC East might not feature many real contenders outside of Philadelphia, but the four teams always manage to play tough games against each other. Washington's overhaul continued this offseason with the arrival of new coach Jay Gruden and receiver Desean Jackson from the Eagles, but their success begins and ends with quarterback Robert Griffin III and his ability to bounce back from an inconsistent sophomore season. More of the same in Dallas where owner/GM Jerry Jones did little to improve a porous 2013 defensive unit and quarterback Tony Romo's slow recovery from offseason back surgery doesn't inspire much confidence that the team can ascend much higher than a .500 record. Meanwhile, the rich get richer in Philadelphia, where the Eagles have made Jets' also-ran Mark Sanchez into the second coming of Ron Jaworski- and he's only their backup. Nick Foles, Lesean McCoy and the newly acquired Darren Sproles should make the Birds the far-and-away favorite in year two of the Chip Kelly era in Philly.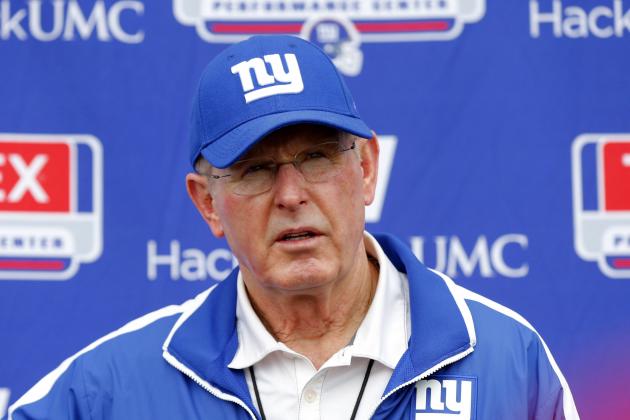 The Outlook
It's going to take a lot to go right in 2014 for the New York Giants to right the ship that was headed in the wrong direction last year. Despite a strong second half finish, on paper it doesn't appear as if the team has improved enough to make a marked improvement in the standings. Shaky line play on both sides are sure to lead to inconsistency in the running and passing game and whether or not Manning and company will have the time and the patience necessary to recover from these struggles is perhaps the team's most looming question mark. Can the team run the ball effectively enough to keep defenses honest in the passing game? Can their linebacking unit match up with faster spread offenses? Can Tom Coughlin perform well enough in this transition year to stick around for another? My guess is a resounding no and with that, I predict that this is the last year we see ole red cheeks managing the sideline for Big Blue as the team falls to their lowest point since he took over during his incredible run as head coach.
My 2014 New York Giants Prediction: 6-10
- Tim Sachs
Related Articles
Share
About Author
(1) Reader Comment