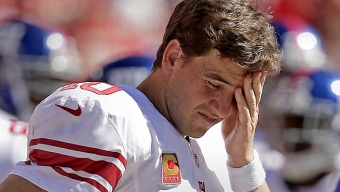 LocalBozo.com's special beat reporter Jordan Rubenstein will be covering the New York Jets all season long, with quarterly season recaps about where the team is headed. We'll also have reporter Tim Sachs tackling the New York Giants head on as we bring you all local NFL coverage heading to the upcoming 'Big Game' held at MetLife Stadium in 2014. We look back at both teams' 2013 season and ahead to what the offseason holds in store.
Check out Tim Sachs' Preseason Preview here and see how the team stacked up against his predictions.
"Mediocre men work at their best; men seeking excellence strive to do better." – Edwin Louis Cole
At 7-9, the 2013 New York Giants spawned a record of mediocrity, though most fans would characterize it as disappointing. After all, the team who just a few years ago won the Super Bowl was returning its rigid head coach, its star quarterback, and a solid enough arsenal of weapons around them to reposition themselves atop the NFC East, amid a flurry of competitive teams in their division. But despite battling back from an 0-6 start, the team could never fully recover from opening a season plagued by turnovers, offensive ineptitude, a middle of the road defense, and a pass rush that continued to be nonexistent. In 2013, the New York Giants failed in just about all aspects of their game, which position by position fell like dominoes.
Their Offensive Offense
The team's offensive line, despite the inclusion of 2013 first round pick, tackle Justin Pugh, was mostly inadequate failing to sufficiently open running lanes for its backs and failing to adequately protect quarterback Eli Manning all season long. The team was 29th in rushing and gave away 44 offensive turnovers and although they gave up just 39 sacks, good for 13th in the league, watching the games you never saw Manning completely comfortable in the pocket. The poor protection clearly impacted Manning's ability to complete passes as he suffered his worst pro season since his 2004 debut. As the receivers' numbers also dwindled as a result of their quarterback's play, (Hakeem Nicks, an unrestricted free agent disappeared in his contract year), the running backs couldn't get much going either. The team lost ineffective starter David Wilson early in the year and his backup Andre Brown for six weeks with a broken leg, leaving the forgotten relics of Peyton Hillis and the now retired Brandon Jacobs to step in as starters.
Their Slightly Less Offensive Defense
On the other side of the ball, the problems were equally as glaring, though there was more cohesion here. The Giants' pass rush or lack there of left them ranked 25th in the league in sacks and the team raked up 109 undisciplined penalties as the year wore on, but as a unit, the team did piece together some solid performances and wound up holding teams to just under 24 points allowed per game- right around the league average, which is where the team's record would indicate they belonged. The addition of linebacker Jon Beason in October brought about a marked difference in a muddled corps of linebackers and it's expected that the team will resign him to bolster the position in lieu of testing free agency. In the defensive backfield, Antrel Rolle was once again the team's most steady hand but injuries to Stevie Brown and Corey Webster left the team yearning for help as the season wore on. While injuries in the NFL are never an excuse for performance, the defense managed to perform capably, keeping the Giants in games that they had no business being in as their offense struggled all year long.
Now that the dust has settled on the 2013 season, it's clear that changes are certainly afoot for the New York Giants. The team parted ways with long time offensive coordinator Kevin Gilbride to the delight of many long time fans. Time will tell who his replacement is, but the team has given another vote of confidence to head coach Tom Coughlin to right the ship following two down years by team standards. In fact, the Giants are the only team in NFL history over a five year period to win the Super Bowl and fail to qualify for the NFL playoffs in each of the surrounding four seasons. Moreover, at 7-9 the 2013 Giants fell under .500 for the first time since Coughlin's first season with the team in 2004 (6-10). Their run has been outstanding though and with two Championships under his belt in the past ten seasons, Coughlin at 67 years of age, deserves one more opportunity to turn things around.
All I See Are Changes; New Faces?
This offseason the team is set to potentially say goodbye to receiver Hakeem Nicks, tight end Brandon Myers, defensive end Justin Tuck, and cornerback Terrell Thomas- some of whom the Giants may re-sign. Our advice? It's time to bring in some fresh blood to New Jersey. For years we've been waiting for the all-world production from the likes of Linval Joseph, Aaron Ross, and Corey Webster- high profile draft picks that never seem to fully pan out. Let them ride off into the sunset and take Nicks' along with you. The team should look to resign Myers and running back Andre Brown, also an unrestricted free agent, and give Tuck another look if he can be resigned within reason. Receiver Reuben Randle should be able to competently replace Nicks as the team's number two wideout and a guy like Arizona's Andre Roberts, also unrestricted, would be a good candidate to take over Randle's previous duties. Similarly intriguing is Baltimore Ravens receiver Jacoby Jones who could also fill the kick and punt returning duties of David Wilson, where there's no telling if he'll return. Same goes for Ted Ginn Jr., who's stock is certain to rise following an uptick in production in Carolina.
Defensively, the team should make an all out effort to recruit Greg Hardy from Carolina to be the face of their defense. The end is among the most feared linemen in the league and should be looking for a big pay day. The Bears' Henry Melton and the Seahawks' Michael Bennett would be suitable backups as well should the price be right. While the draft is stocked with offense, names like Donte Whitner, Brian Orakpo, Brent Grimes, and Sam Shields are all unrestricted free agents, giving the Giants some opportunities to pluck a few star caliber players to their liking assuming they eliminate some bigger contracts and potentially have quarterback Eli Manning rework his massive deal for the good of the team. As far as the draft, the team should follow the model set by the San Francisco 49ers and load up on talent along the offensive line in the first round to pair with Pugh. Since the first round is expected to be heavy on quarterbacks, the talented lineman should shift down as teams look to grab a signal caller. Look for the team to also draft a back to pair with Brown and potentially Wilson in the later rounds. A young, versatile, and hopefully durable change of pace running back is desperately needed here at an affordable cost. They've shown the ability to draft and increase the depth of their roster and now, with the last few seasons of playoff misses and uncertainty, it's time for GM Jerry Reese to re-evaluate everything and earn his paycheck.
My Preseason 2013 New York Giants Prediction: 8-8

- Tim Sachs
Related Articles
Share
About Author
(1) Reader Comment