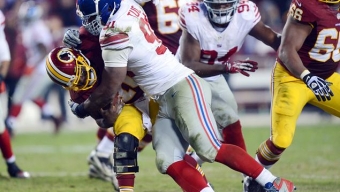 LocalBozo.com's special beat reporter Jordan Rubenstein will be covering the New York Jets all season long, with quarterly season recaps about where the team is headed. We'll also have reporter Tim Sachs tackling the New York Giants head on as we bring you all local NFL coverage heading to the upcoming 'Big Game' held at MetLife Stadium in 2014. We look back at both teams' first three quarters of  2013 and ahead to what the remainder of the season holds in store.
Check out Tim Sachs' Preseason Preview here and see how the team is stacking up against his predictions.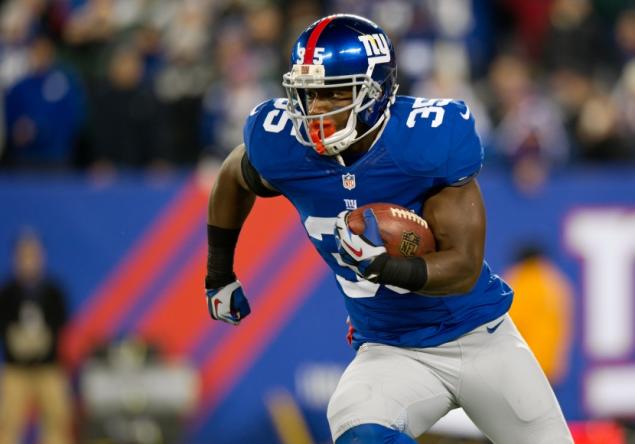 When we last left the New York Giants, the team had piled up back to back wins following an 0-6 start, giving just a faint glimpse of momentum to an otherwise lost season. With three victories in their next four games, the Giants proved that despite a slow beginning there was plenty of fight left in this team- probably a fight that had been there all along, but had been plagued by mistakes, turnovers, and outright under-performing. Today we sit three quarters of the way through the 2013 regular season with the team sporting a 5-7 record, two games back in the loss column of both the Dallas Cowboys and the Philadelphia Eagles, at least one of whom appears primed for a playoff run.
Realistically, chances remain slim for the Giants to reach the postseason as the team will likely need all 9 wins to get them there. With remaining games against the playoff bound Lions and the Seahawks, perhaps the league's best team this year, along with a visit to San Diego this weekend which is no gimme- even winning outright hardly guarantees them the four seed and a home playoff game during Wild Card weekend.
Where We've Been
Despite going 3-1 over their last four games, it certainly hasn't always been pretty. The team snuck by the lowly Oakland Raiders 24-20, beat a Green Bay Packers team absent of their starting quarterback Aaron Rodgers, lost to the Cowboys in the game's final seconds, and needed an officiating snafu in the remaining seconds of the game to beat their division rival Redskins by a touchdown. All that said, there have been some bright spots following their dismal start and the team has gotten solid production from some unlikely sources. The return of running back Andre Brown from a broken leg has injected the running game with some new life as he has amassed three touchdowns and a couple of two hundred yard games over his last four outings. Meanwhile the tandem of Brandon Jacobs and Peyton Hillis has proven to be a solid change of pace, despite not being on the roster as the season opened. In the receiving game, we are still waiting on the contract year emergence of Hakeem Nicks, who to date has still not caught a touchdown pass. Although Nicks is almost certain to be elsewhere next season, second year wideout Reuben Randle has emerged as the team's secondary wideout, having caught 35 balls and 6 touchdown passes from Eli Manning thus far on the year. Manning to his credit has cut down on his turnovers over the past 4 weeks although his production has dropped off performance-wise from years past as he's currently saddled with more interceptions than touchdowns (18-15) and no 300 yard passing games since week 5.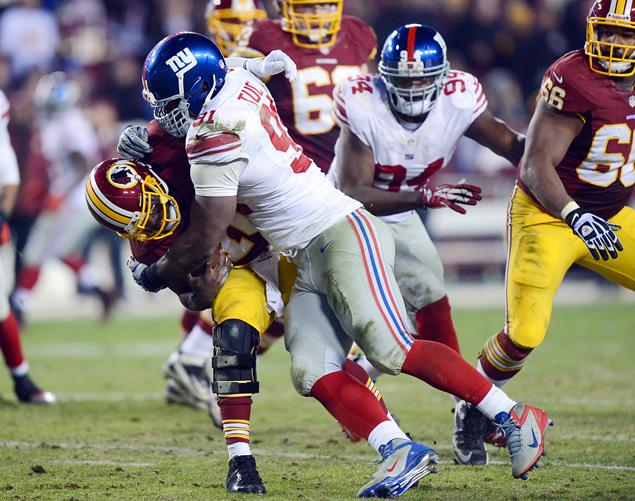 Much of the credit of the team's bounceback has to go to the defense who has worked to keep opponents at 20 points or below in 5 of the previous 6 games, of which the Giants are 5-1. No surprise here. But what's really come on of late is the team's pass rush, averaging upwards of three sacks per game over the last 4 outings led by Justin Tuck who seems to have found his footing this late in the year. Jon Beason, deemed expendable by the Carolina Panthers at the trade deadline has proven indispensable to the Giants linebacking corps. Even when he's not filling the stat sheet, Beason has been a lightning rod for the team, making tackles all over the field. And the secondary has come together in accordance, fueled by Antrel Rolle's 5 interceptions and 2 sacks and cornerbacks Prince Amukamara and Terrell Thomas who have buckled down in pass coverage in recent weeks, a likely result of the team's increased aggressiveness in their pass rush.
Where We're Headed
A lot of pieces will have to fall in place for the Giants to complete their Cinderella season. Their poor start has likely put them far enough back that a run at the playoffs is out of reach. But as we stand today, all hope is not lost. The Giants will need to win their final four games as any additional losses are likely to eliminate them from contention AND both the Eagles and Cowboys need to lose three of their final four games in order for the Giants to make a run at the division title. It's not impossible, but Big Blue fans would be best served to root even harder than usual against their two NFC East division rivals during the season's final month. They've got two games at home and two on the road and it starts on Sunday in San Diego where the Chargers similarly won't die in the AFC West. My preseason prediction is still in tact, but with the momentum the Giants have had, I can't say that I feel great about a .500 finish.
My Preseason 2013 New York Giants Prediction: 8-8
- Tim Sachs
Related Articles
Share
About Author
(0) Readers Comments