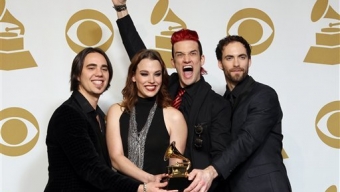 Fresh off of winning the 2013 Grammy Award for 'Best Hard Rock/Metal Performance' for their hit song "Love Bites (So Do I)," you can't blame Halestorm drummer Arejay Hale for feeling like he's on top of the world. His band, a seemingly neverending touring act seems to be just hitting their stride, headlining their biggest venues yet on their domestic fall tour that follows the recent success from the release of their second EP of cover songs ('ReAnimate 2.0'). And while songs like "Get Lucky" and "Bad Romance" are now firmly a part of the band's catalog, don't expect them to ditch their rock roots just yet.
Collectively, the band Halestorm has roots that date back to the late 1990′s when a then ten year old Arejay was smashing on the drums behind his slightly older sister Lzzy. Fast forward a decade and a half later and the pair have become rock music royalty, with their enigmatic frontwoman leading the way with her pounding guitar licks and undeniable good looks. Their drummer meanwhile is the band's relentlessly energetic catalyst during every Halestorm live performance, of which the band has finely tuned over the years and years of nonstop touring. Since stepping off of the summertime 'hardDrive Live Tour' alongside hard rock heavyweights Bullet for My Valentine, the band has recently embarked on a headlining run with support from Redlight King and Stars in Stereo, and is eying Friday, November 29th at New York City's Terminal 5 as a post Thanksgiving feast certain to satiate any live music appetite.
LocalBozo.com was fortunate to sit down with Halestorm drummer Arejay Hale for an exclusive and candid interview. Listen in as we discuss the band's selection process for cover albums, whether he was concerned that covering the likes of Lady Gaga and Daft Punk would ostracize the band from the metal community, his relationship with his sister Lzzy, the thrill of winning a Grammy, the change in the music business and Halestorm's relentless tour schedule and so much more. Plus we get into his excitement to perform in New York City and the possibility of another new album being released before the end of next year. You might not find a more genuinely excited and passionate musician that knows better than anyone else that he's living his dream than Arejay Hale. For more information on the band and tour dates, check out halestormrocks.com and make sure to grab tickets to their 11/29 show at Terminal 5 now!
- Jane Van Arsdale
Related Articles
Share
About Author
(1) Reader Comment