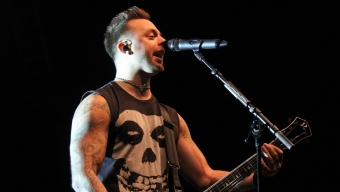 The hardDrive Live Tour f. Bullet for My Valentine & Halestorm
Roseland Ballroom, New York, NY
April 30, 2013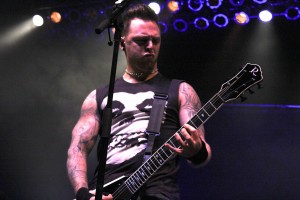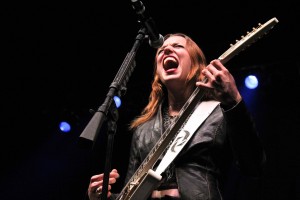 Tuesday night, the hardDrive Live Tour made a local stop at New York City's Roseland Ballroom with a bill encompassed by some of the fastest rising acts of the hard rock genre. With support from Stars in Stereo and Young Guns, the almost four hour ode to headbanging would celebrate the recent successes of four piece outfit Halestorm and show headliners Bullet for My Valentine. Hosted by hardDrive Radio jock Lou Brutus, who's long been a proponent of a seemingly diminishing hard rock scene, the legendary west side venue was packed in by a sea of hungry music lovers set out to prove that rock's demise had been ultimately exaggerated.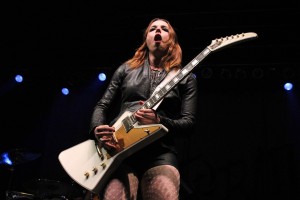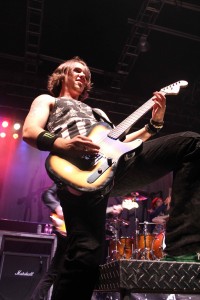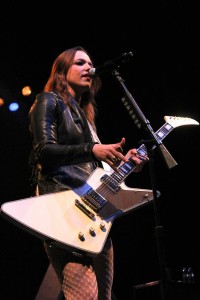 Following a lively introduction, the lights drew dim, shining but a single spotlight on center stage. Emerging from the darkness stood a figure donning a terrifying skeleton mask, banging a single drum in hand, loud enough to encourage the crowd to clap along in unison to his every pounding. The figure would expose himself as Arejay Hale, the incredibly energetic and immensely talented drummer of Pennsylvania's Halestorm. But despite his penchant for dynamic showmanship and his prowess for musical precision, all eyes stood affixed on the band's frontwoman, Hale's sister Lzzy- the Lita Ford of our generation.
Outfitted in a tight leather skirt and matching leather jacket, Lzzy Hale's command of the stage was unquestioned, playing rhythm guitar in addition to her stellar vocal duties throughout Halestorm's relatively abbreviated 45 minute support set- a non-stop ride through the band's two studio releases. Kicking off with three pulverizing and familiar tracks- "Freak Like Me," "Love Bites (and So Do I)," and "It's Not You"- Hale's outstanding vocals reverberated through a now jam packed Ballroom, backed by the rows upon rows of fans singing alongside her. The Ballroom also received a welcomed surprise as Evanescence's Amy Lee made an appearance with Hale piano-side, for a stirring rendition of "Break-In." While subsequent rock tracks like "Mz. Hyde" and "I Get Off" became enthusiastic sing-alongs for a riled up audience, set closer "I Miss the Misery" brought an unglued crowd to its knees. Watching the young girls around the room, some likely at a rock show for the very first time, you couldn't help but wonder how many of them are being influenced by the confidence and uncompromised talents of Halestorm's enigmatic singer, who can hold her own on stage alongside any frontman in the genre.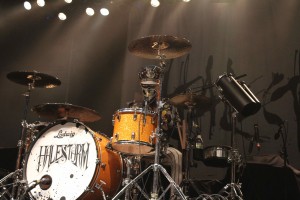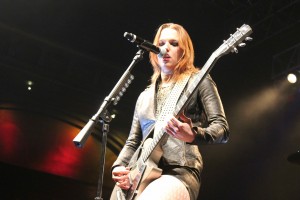 Meanwhile, just as the energy level in the room had returned to an equilibrium of normalcy, Queen's "We Will Rock You" blared over the loud speakers to a corresponding light show. And despite the massive Bullet for My Valentine logo banner falling to the floor just seconds before the band was set to take the stage, the deafening ovation inside the Roseland Ballroom didn't waiver for even a moment. The Welsh foursome catapulted onto the stage risers with vigor, immediately launching into the unrelenting "Breaking Point" and "Your Betrayal." Behind the photo pit was simply a chaotic crowd of devil horns and crowd surfers- rock music's unspoken signs of approval for the performing band. The band played with lightning fast precision, harmonizing vocally at will between shreds of their thrashing guitars, as their signature blend of heavy mauling instrumentals and melodic catchy choruses was on full display here.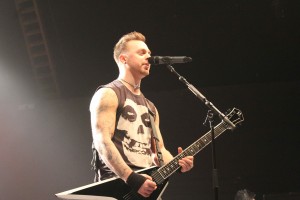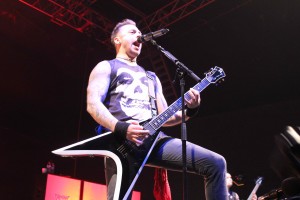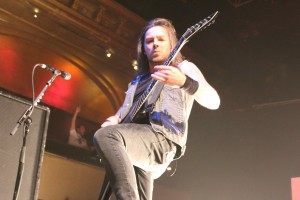 Led by frontman Matthew Tuck, proudly standing front and center with his tattooed arms emerging from his sleeveless Misfits t-shirt, the band blew through a blistering 75 minute set that barely allowed the vocal audience to catch their breath. On the heels of the band's latest release- 2013's "Temper Temper," Bullet for My Valentine's performance in New York City was downright electric, exemplifying much of the Metallica and Slayer influences that clearly resonated with them, shown by their polished live act. Ruthless cuts like "Riot" and "Temper Temper" were visible crowd pleasers as the opening chords of each track alone elicit a boisterous response from the rowdy audience. Lead guitarist Michael Paget's (Padge) shredding guitar solo followed suit, before Lzzy Hale made her way back onstage for a fantastic duet with Tuck on "Dirty Little Secret," from the new album.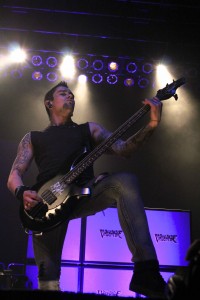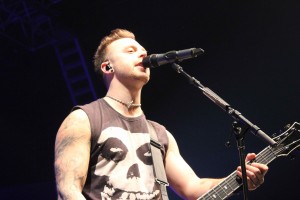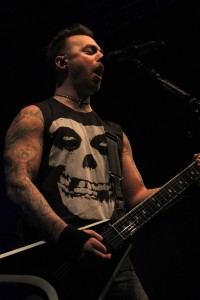 Unfortunately absent from the band's set was "All These Things I Hate (Revolve Around Me)," but Bullet for My Valentine made sure to send fans home happy with head pounding main set closer "Scream Aim Fire," and encores of "Pleasure and Pain" and perhaps the band's most well known single "Tears Don't Fall." And with that, the cavalcade of black Bullet for My Valentine t-shirts cascaded toward the Ballroom's exit doors, sweaty and exhausted, but given a second wind, by a bill of bands who continue to breathe new life into a genre that is perhaps better off than we'd all thought.
– Jane Van Arsdale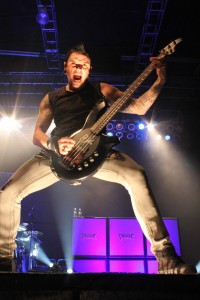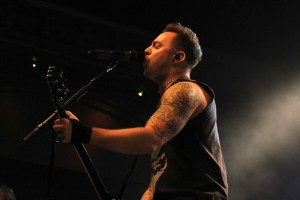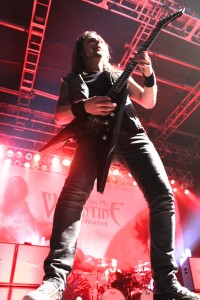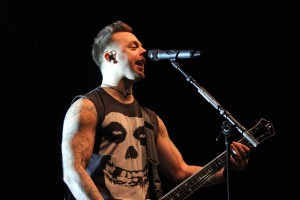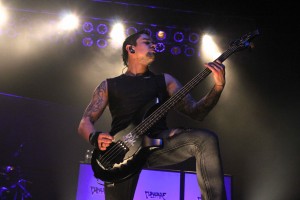 Related Articles
Share
About Author
(0) Readers Comments