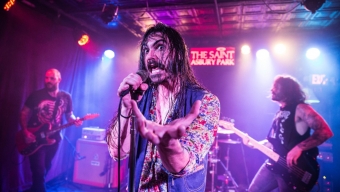 Crobot

A LocalBozo.com Concert Review
House of Vans, Brooklyn, NY
July 12, 2017
Summer time at the shore is an anxiously anticipated experience- even if the trek out to New Jersey isn't always easy from the concrete paradise that is Manhattan.  Fortunately, live music manages to energize and motivate us and the promise of a performance from Crobot would do just the trick.  The band would take over a crowded house last Tuesday night in a rejuvenated Asbury Park, with the Jersey Shore bar The Saint acting as the latest stop for the Pennsylvania based groove metal masters on their 22 city jaunt.  Singer and front man Brandon Yeagley along with bandmates- guitarist Chris Bishop, Wilson bassist James Lascu and drummer Dan Ryan- performed cohesively, with a showcase that was as tight as ever, accompanied by the eternally good vibes emitted by the animated and eccentric Yeagley and crew.
A hard hitting three song combo from "Something Supernatural" opened the band's powerful and lively set.  The four rockers wasted no time getting their fans grooving with dynamic "Skull of Geronimo," a track that's a great example of the strength and range in Yeagley's voice as well as the band's penchant for catchy songwriting.  Rounded out by "Wizards" and "Back at the Blackwoods," the band was urging the live crowd to let loose and rock out from the show's opening moments.  Swinging some spotlight onto the recently released  "Welcome to Fat City," the band pumped out the fat and funky riffs from its title track "Play It Cool," and the especially blistering and blues-fueled "Blood on the Snow."
At this point, the fully amped crowd was noticeably excited when the four performed their cover of Audioslave's "Cochise," dedicated to the late godfather of grunge Chris Cornell. Singing a Cornell song is obviously no easy task and comes with challenges that not only include natural talent, but also authenticity and Yeagley undeniably nailed it. Returning to their own material, Crobot crunched on the crowd favorite "Fly on the Wall."  The brutally heavy and hook filled song got every head in the bar banging. The remainder of their thunderous set roared with songs like "Plague of the Mammoths" and "Nowhere to Hide."  After roughly 70 minutes of whirlwind movement, metal mayhem, and lighthearted antics, the set closed with "Legend of the Spaceborn Killer," which has actually developed into a comic book created by Yeagley himself.
Between Yeagley's signature dance moves which can only be described as a mix of Mick Jagger, James Brown, and Steven Tyler, guitarist Bishop's insanely catchy riffs, and the obvious genuinely good spirited chemistry between all four-Crobot owned the stage from the second the curtains lifted to the final note ringing out. One of the most admirable traits about the band is the consistent manner in which they treat the stages they're on. Whether a festival crowd, auditorium, or an intimate bar they play like it's the Garden and mean it. These are true rock stars through and through.
Related Articles
Share
About Author
(0) Readers Comments