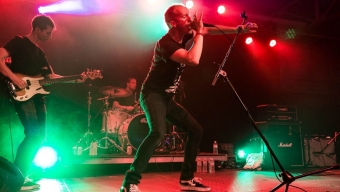 Downtown Boys & Royal Headache

A LocalBozo.com Concert Review
House of Vans, Brooklyn, NY
July 12, 2017
In New York City, nothing goes together quite like summertime and punk music. Last Wednesday night was no exception as Brooklyn got burned a little a bit by the heat, humidity and a scorcher of a show with Downtown Boys, Sheer Mag, and Royal Headache at Bushwick's House of Vans. Lines formed down Franklin Street early on in the night as eager die-hard fans rushed to pack the spacious, industrial venue. The evening's punk rock dance party launched at roughly 8pm with Downtown Boys opening both the show and the dance floor with their infectious grooves.
Concert Review: Downtown Boys at House of Vans
The punk purists (not just punk in sound but in core beliefs, attitude and their overall musical mission) performed in anticipation of their upcoming EP release, "Cost of Living," slated for release on August 11th. Like a roller coaster that just shoots you out instead of  climbing slowly, singer Victoria Ruiz's voice and overall being jolted the room immediately as the band opened up with a brand new track, "Violent Complicity."  With body movements as fast and eccentric as her vocal stylings, she quickly made use of the stage's proximity to the front row and got in the faces of her ravenous fans right away. Drummer Norlan Olivo and saxophonist Joey La Neve DeFrancesco kept the momentum up rolling into the very catchy "Wave of History" from 2015′s "Full Communism."  Fans remained kinetic and enamored when "I'm Enough" followed and offered another sneak peak at next month's album.
The Rhode Island rockers continued to ferociously bounce back and forth between their two albums would preview six of the twelve tracks which included "Lips That Bite," "A Wall," "Tonta" and "Somos Chulas."  Each proved the band is as politically aware and motivated as ever. Compounded with the songs themselves, its Ruiz's accompanying intros where she speaks from the heart that allow you to undeniably feel the band's passion and devotion to their art and community.  Downtown Boys closed out their dynamic and explosive forty minute set with dirty, raunchy and raw track "Break a Few Eggs" leaving the crowd hungry for what the rest of the night might have in store.
Concert Review: Royal Headache at House of Vans
Australian band Royal Headache headlined the evening of punk rock debauchery and did not allow the energy to dip for even a second. From the opening ringing chords of the short and powerful "Girls," the Aussies made their presence known. The frenetic and seemingly combustible singer Tim "Shogun" Wall all but exploded in the first ninety seconds. The minute and a half song gave way to the slightly slower, softer, and slightly dance inducing "High" and had the crowd singing along with the repeating lines, "now I wanna be with you," and "you get my high." Â The bass driven "Garbage" rounded out the first three songs but offered only a small taste of unadulterated garage rock to come. Â "Another World" and "Wouldn't You Know" were great examples of the band's abilities in songwriting and overall growth as musicians with their incredibly catchy melodies courtesy of keyboardist Gabrielle de Giorgio and rhythm laid down by guitarist Lawrence "Law" Hall.
What their songs may have lacked in length, they made up for with energy and authenticity (no fillers, no wondering "why is this part of the song?"), most clocked in around two to two and a half minutes but felt like they were delivered with a helping of dynamite. A generous set comprised of most of their studio catalog included powerhouse cuts like "Psychotic Episode" and "Little Star," which the fans received like musical adrenaline. In between the speed the distortion were more upbeat and vintage toned tracks like "Need You" and "Carolina."
Constant hooks kept the crowd in a frenzy all night long with Downtown Boys setting a high bar early in the night with their killer set previewing their highly anticipated new album. Although having had the challenging task of following the immense talent, Royal Headache didn't fail to please as they managed to not only maintain but somehow cycled more energy from the crowd to the stage leaving their brand Australian punk imprinted in New York.
Related Articles
Share
About Author
(0) Readers Comments