Although "I Believe in a Thing Called Love" officially entered our pop culture consciousness some thirteen years ago, it's perhaps one of the most iconic rock songs of the 2000's- one that when played in a packed bar or at a house party, simply defies the passage of time. In other words, it still holds up to this day. Suffolk, England's The Darkness is the flamboyant and charismatic band responsible for that anthemic onslaught on our ears- and while the feelings evoked by the song remain the same with each play, the band's lineup has undergone more than a few lineup changes over the past decade-plus. With the release of 2015's "Last of Our Kind" however, the band has shown remarkable resilience with an album filled with rock bangers- and as they embark on a jaunt around the states, aptly dubbed the "Back to the USSA" tour, The Darkness is back at it, doing what they do best- concocting a party atmosphere in the midst of a fun and energetic show that is one part rock and one part pageantry.
The story of the band's ascent and subsequent hiatus seemingly came about equally quickly, but fortunately for fans, the band officially reformed in 2011 and with their recent release, makes a return visit to New York City with a new drummer but with the same captivating stage presence. On Monday, May 2nd, The Darkness drops back into the iconic Irving Plaza with support from RavenEye and Best Behavior – and (no pun intended) best of all, tickets are just $25. With the local stop in mind, we grabbed a few minutes with bassist Frankie Poullain. Check out our transcript below where we discuss the talented player's departure from the band, memories of playing in New York and what fans can expect to see when they catch The Darkness on tour.
Our Interview with The Darkness bass player Frankie Poullain has been transcribed for you below: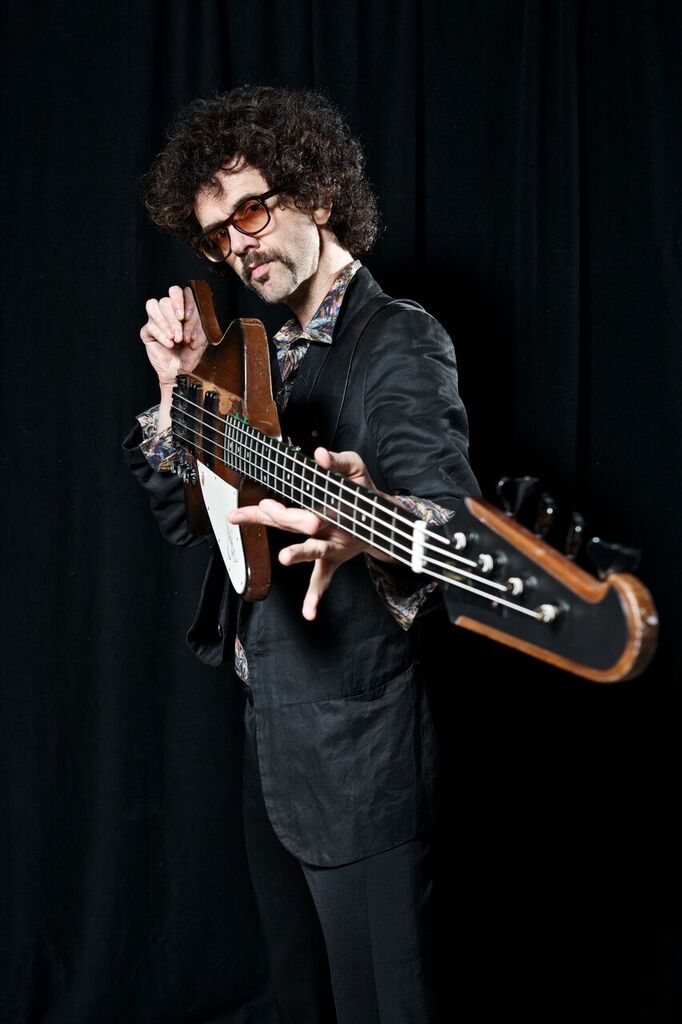 LocalBozo.com: It's been roughly five years since your decision to re-join The Darkness after your initial departure. What changes have you seen in the band since you've been back that are different than when the group first formed?
Frankie Poullain: I'd say our stagecraft has improved. We're less raw and bewildered. Less hungover too. Sometimes the hangovers were akin to trauma. The show was an ordeal, at least at first, until the adrenaline cut through and you'd generally be okay. Now everything is more focused, purposeful and powerful.
LocalBozo.com: What did you miss most in your time away from the group?
FP: Adrenaline. Adventure. Brotherhood.
LocalBozo.com: In your time away you released a self-help style book called 'Dancing in the Darkness.' How therapeutic was the book writing process for you and have you found that it similarly was helpful to fans and readers as you had expected it to be?
FP: I tried to have fun with it but it's not really fair to the others in a band to write about collective experiences. I focused on the ridiculousness as much as I could but I'm not sure if that's actually therapeutic.
LocalBozo.com: The band has undergone a couple of lineup changes in recent years including three drummers in the last two years. Does that affect the band as much as an outsider might expect it to or is The Darkness able to just shrug it off, plug in and play?
FP:Â  We couldn't carry on with Ed [Graham] unfortunately and it was fun and enriching to play with Emily [Dolan Davies] on the album – there aren't many women who can say they played in a 'cock rock' band. Now we have Rufus Taylor it feels like family somehow, like it's meant to be. We make these choices very carefully, we don't just go for journeymen – breeding and nobility of purpose are the key. And the ability to laugh in the face of adversity.
LocalBozo.com: "I Believe in a Thing Called Love" is such an iconic song/anthem, more than 15 years after its release, and it's almost impossible to find someone who doesn't recognize it. Were you aware of how much weight it would carry as your first single?
FP: We sensed something was in the air. It made people smile, transported them out of the early noughties and into an idealized version of the 80′s where Tom Cruise was mixing you a 'Pina Colada' and Kim Basinger was rolling around in honey.
LocalBozo.com: Where is the band at today as far as new music being written – or is it strictly tour duty right now?
FP: We're very enthused by the writing we've done with Ru, it's gonna be heavy, riffy and hopefully ludicrous. We don't care about good or bad taste. Or rather we have different taste. If we lost our attitude we'd be dead. We have a duty to live.
LocalBozo.com: NYC is a mecca for American musicians. Any memories of your first few trips to the big apple?
FP: We took a Darkness T-shirt wearing donkey to New York fashion week in 2003. That was quite Dali-esque I thought. And of course playing a packed out Bowery Ballroom was fun too, there were a lot of trendies at our shows in those days, hipsters I suppose you'd call them now…. Helping ourselves to the Atlantic back catalogue in the record company offices – CD's sadly!
LocalBozo.com: We lost a lot of great rock royalty recently. Any words about Lemmy [Kilmister] or David Bowie?
FP: Independent minded pioneers, we should celebrate these people whenever possible and never forget. Don't let them be a dying breed.
LocalBozo.com: For fans not familiar with The Darkness, what will the experience of the 5/2 show at Irving Plaza be like for the live crowd?
FP: A group of four awkward and eccentric British men attempting to express their sexuality
LocalBozo.com: Anything else you'd like to add for our readers?
FP: Book yourself a VIP upgrade!
Related Articles
Share
About Author
(1) Reader Comment