The trees and ornaments are packed away.  The Menorahs and candles burned for the last time days ago.  In anticipation of that massive disco ball dropping in Times Square while the likes of Pitbull and Ryan Seacrest make sure that we're all aware of the changing calendar, we look ahead with great anticipation to a new month and a new year ahead.  Which resolutions will we make and actually keep?  Which promises will we honor.  Most importantly perhaps- which events have we earmarked to attend?  We've highlighted a few that we're most excited about below for you to pick and choose from.  Lets collectively make 2015 our best year yet.

January 2015 Events in New York City: Where You Need to Be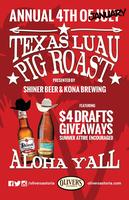 Date: Sunday, January 4th 2015

Event: Oliver's First Annual 4th of January Texas Luau

Place: Oliver's Astoria

Cost: $20

The Scoop: A Texas-style luau and pig roast in the dead of winter you ask?  Why the heck not!  Oliver's Astoria is a craft beer bar and restaurant that serves up some of the finest microbrews and bites in all of Queens.  For just $20, you'll dig into a plate of freshly served roast pig and a frothy pour from Shiner or Kona to pair with the salty swine at the place's First Annual 4th of January Texas Luau.  Best yet, don your favorite summery wardrobe to really get ensconced in the party atmosphere, which rocks until 11pm on the first Sunday evening of 2015.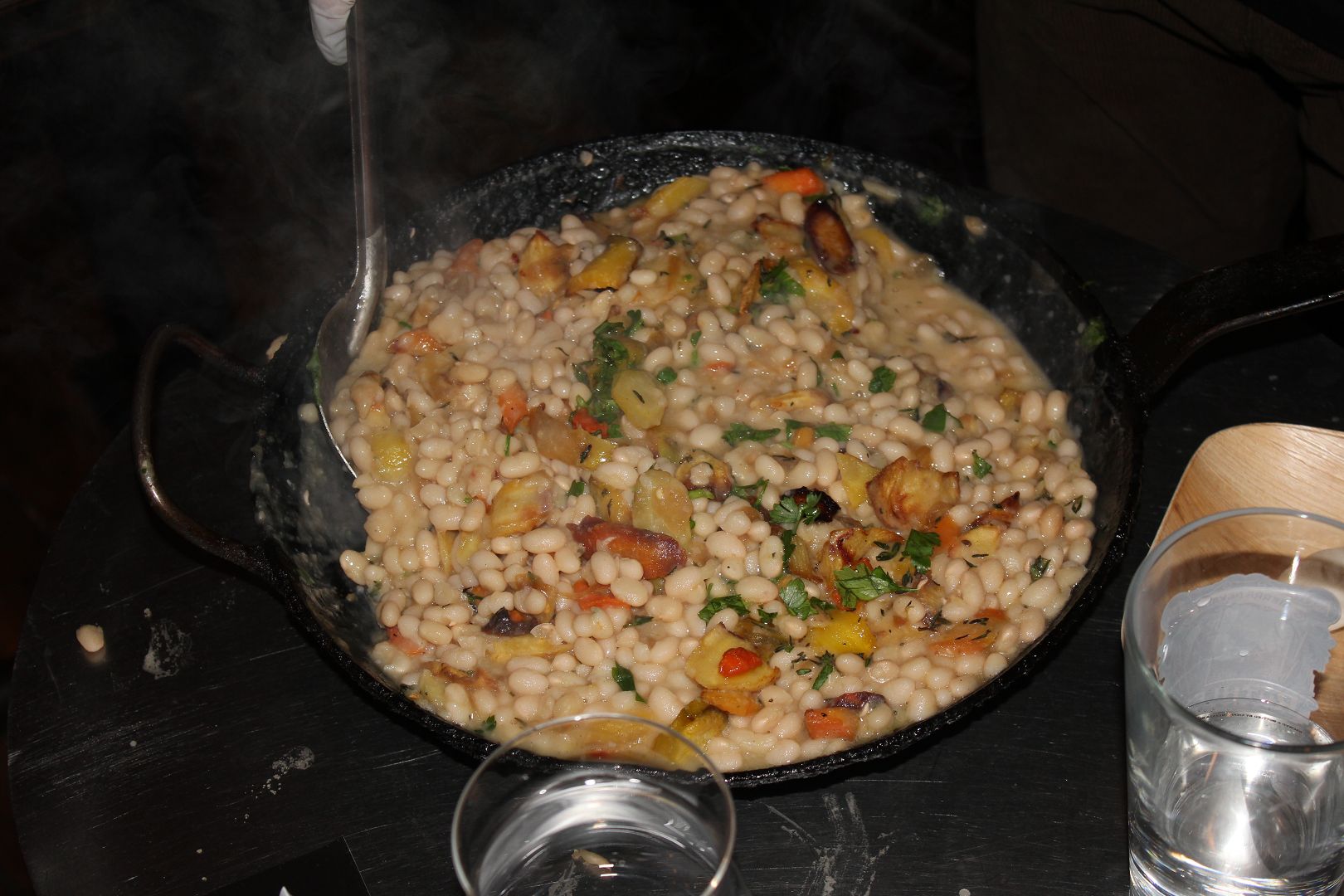 Date: Sunday, January 12th 2015

Event: Sixth Annual Cassoulet Cook-Off

Place: Jimmy's No. 43

Cost: $30

The Scoop: The East Village's most highly regarded beer bar returns with the winter's most anticipated cooking event.  The Annual Cassoulet Cook-Off is back at Jimmy's No. 43 for its 6th year, bringing with it the very best in rice, bean and sausage concoctions, served piping hot to the hungry masses.  You'll indulge upon more than ten distinctive variations on cassoulet where both amateur and professional chefs will have their dishes judged by those of us in attendance.  Best of all?  Your first beer from the three hour event is included in the ticket price and a portion of the proceeds goes directly toward the Grow NYC Greenmarket and their regional grains initiative.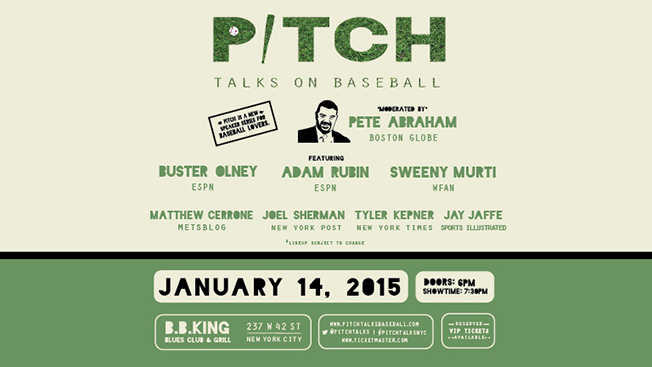 Date: Tuesday, January 14th 2015

Event: Pitch: Talks on Baseball

Place: B.B. King Blues Club & Grill

Cost: $30 – Day of Show; $25 in advance

The Scoop: Some of New York City's most beloved sportswriters are gathering at famed Times Square hangout B.B. Kings for an exciting discussion about all things hard ball.  Moderated by Boston Globe reporter Pete Abraham, join the likes of Joel Sherman, Adam Rubin, Sweeny Murti, Tyler Kepner and Buster Olney for an interactive panel discussion called 'Pitch: Talks on Baseball,' just a few weeks before the kick off of Spring Training.  The tour is slated to visit other cities around the country- but makes just one stop here in Manhattan and is a must for any Mets or Yankees fan.

Date: Saturday, January 18th 2015

Event: Pinot Days 2015

Place: City Winery

Cost: $75

The Scoop:  One weekend every January- for the past three years- Pinot Days welcomes some of the west coast's most sought after producers of Pinot Noir into New York City.  For the 4th consecutive year, City Winery will play host to more than 35 of the best winemakers in the country bringing vintages sourced from the Russian River Valley, Sonoma, Oregon, Anderson Valley and many more.  The three hour Grand Tasting is among the most well attended and best run events each and every winter and 2015 should prove to be no different.  Chat with the purveyors, sip on some fantastic wines and places your shipping orders all in the same day at the unparalleled event for lovers of Pinot.  And because you're one of our readers, use the code LOCBOZ14 for an additional 15% off of your tickets!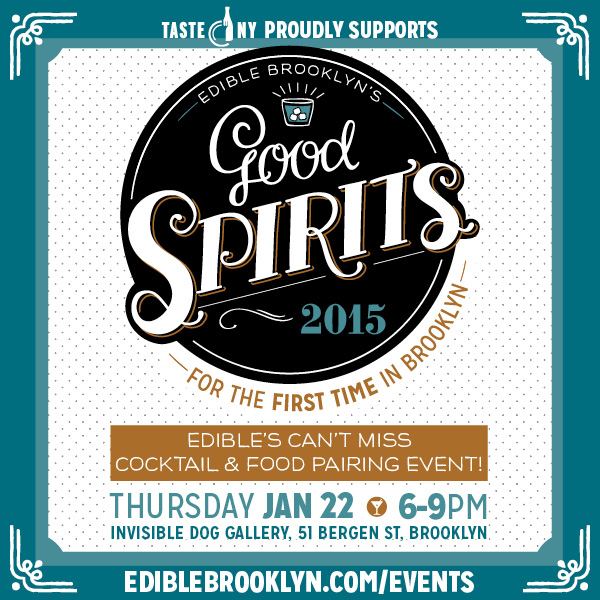 Date: Thursday, January 22nd 2015

Event: Edible Brooklyn's 'Good Spirits'

Place: Invisible Dog Gallery

Cost: $60

The Scoop: For the very first time, the annual Manhattan event run by the folks at Edible Magazine comes to Brooklyn with January's "Good Spirits – The Brooklyn Edition."  For three hours, guests will get a run of some of the borough's best eats and drinks inside of Cobble Hill's most unique venues.  Paired with delicious beers and cocktails, attendees will nosh on dishes from Post Office, Taco Santo, Fort Defiance, James and many more.  If you've been to any of Edible's events, you're guaranteed to leave completely satisfied- and probably a little tipsy!  Don't worry NYC- the Manhattan based event returns in February- but there's no reason not to enjoy twice the spirited fun.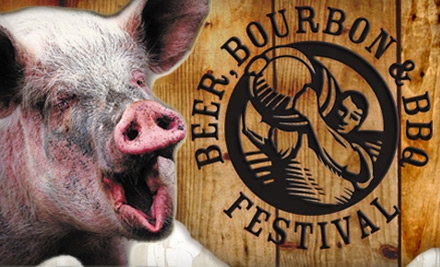 Date: Saturday, January 24th 2015

Event: Beer, Boubon & BBQ Festival 2015

Place: The Tunnel

Cost: The Bacon Bash Tasting Session – $109 (sold out); The Whole Hog Pickin' Session – $99 (5:30pm – 9:30pm); The Grand Poobah Chicken N' Biscuits Session – $199 (Noon – 9:30pm)

The Scoop: An unlimited array of ice cold beers, distinctive bourbon, cocktails and barbecue awaits at the traveling road show that is The Beer, Bacon & BBQ Festival.  2015′s festivities kick off promptly at noon with the sold out "Bacon Bash Session."  But you can rest easy, because tickets remain for the "Whole Hog Pickin' Session" with dishes from spots like Daisy May's BBQ, Tres Carnes, Bourbon Street, Lugo, Mexicue, Alewife and more.  And if you're feeling especially frisky, drop some cash as a 'Grand Poobah' where you'll enjoy nine and a half hours of sheer delight- limited to just 75 people.  There's a master tasting class that includes a sampling of six fried chickens and three biscuits to go along with all of the requisite food and drink mentioned in both sessions above.  Make sure to pick up your tickets ASAP, because with capacity set for 2,000 guests all day long- these tickets will undoubtedly sell out.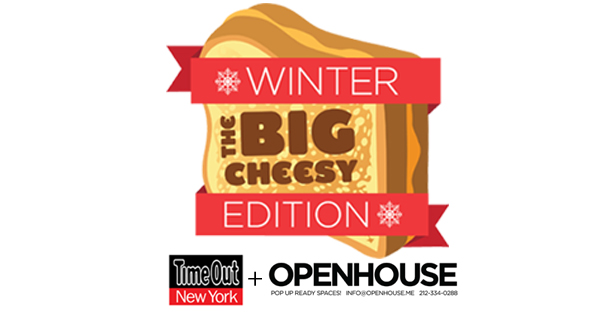 Date: Saturday, January 24th – Sunday, January 25th, 2015

Event: The Big Cheesy: Winter Edition

Place: Openhouse Gallery

Cost: $30

The Scoop: For just $30, you'll indulge in as many as six different styles of grilled cheese sandwiches over the course of a one hour session. Pairing the unlimited eats with two craft beer pours per person, you'll have your choice of slots over either day- but don't wait, The Big Cheesy is a friendly but competitive cooking contest to crown the year's finest grilled cheese sandwich. Peep our recap from last year's festivities where the likes of pimento cheese, asparagus, pulled pork and pepper jack were just some of the fun toppings inside of one of the City's best pop-up locations.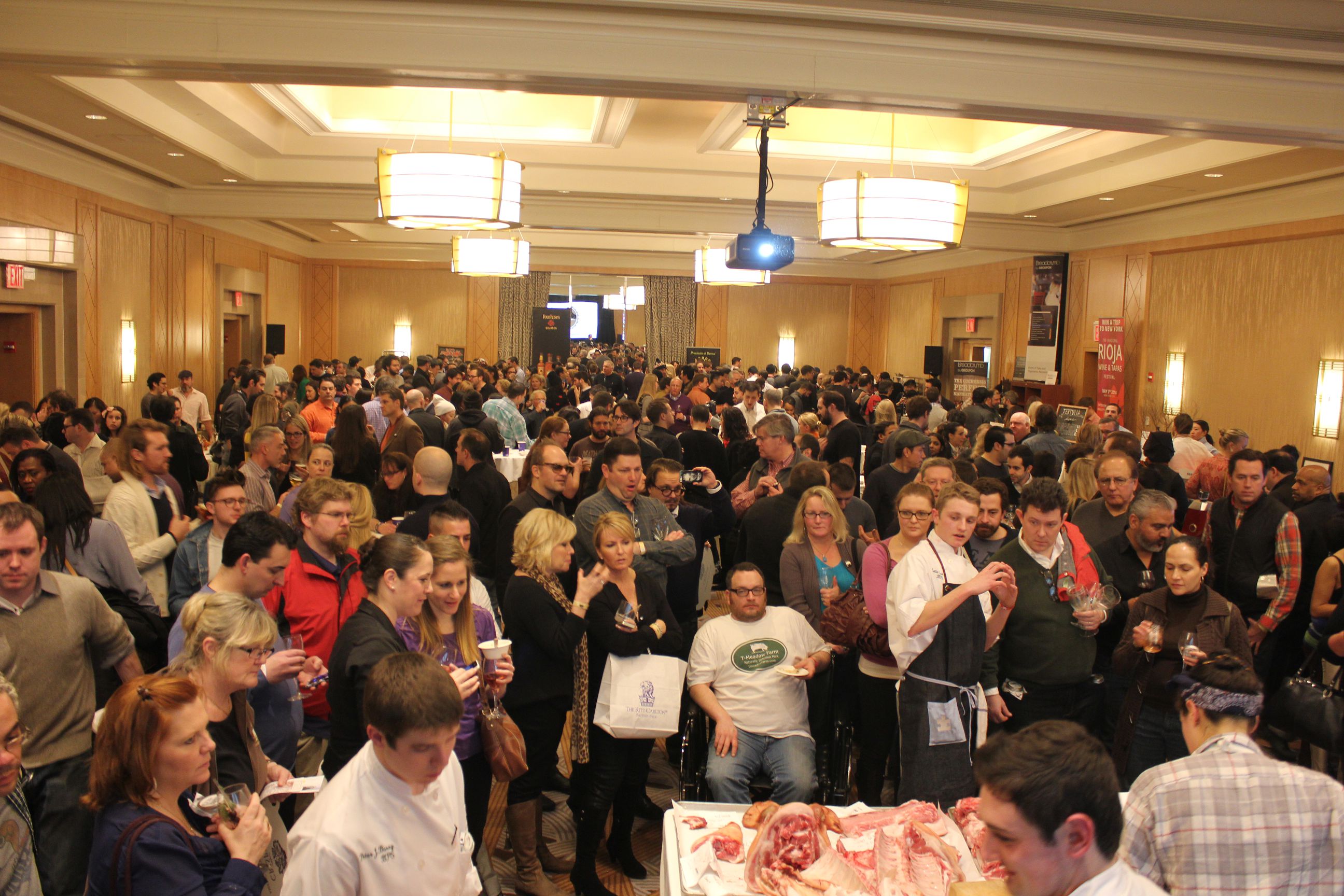 Date: Sunday, January 25th 2015

Event: COCHON555 2015

Place: Andaz 5th Avenue

Cost: VIP – $200; General Admission – $125

The Scoop: Five New York City Chefs representing critically acclaimed restaurants, each equipped with their own whole hog to be used at the mercy of their own creativity.  COCHON555 has become an annual rite of passage here in New Porc City, despite stopping in a dozen cities through the spring.  Fittingly, the first COCHON555 event begins at Manhattan's posh midtown hotel- the Andaz 5th Avenue, where the chefs representing The Cannibal, Sachi, Casa Mono, Danji and the hotel's restaurant itself will compete for hog-prepping supremacy.  With additional dishes prepared by Root & Bone and Del Posto, and a butcher demonstration from The Breslin's Erika Nakamura, some of New York's culinary elite will be vying for the votes of the judges and the attention of your palates- which are likely to be watering. We'd include more information about all of the bourbons and wines, oysters and whiskey, tapas and cheeses also on hand- but there are some things left better for surprises.

Date: Monday, January 26th 2015

Event: Great Wines of Italy – New York City

Place: IAC Building

Cost: VIP – $155; General Admission – $125

The Scoop: Renowned websites JamesSuckling.com and Zachys join together to host Great Wines of Italy, a New York City celebration that brings together more than 75 of the country's finest winemakers each showcasing two different wines each.  Sip and swirl your way around the picturesque IAC Building with an unforgettable selection of vino, delicious cheeses and charcuterie, live music and much more.  Each of the wines being shown has been awarded 90 points or higher from acclaimed wine critic James Suckling and as such, you know you won't be tasting some $8 swill you picked up because the label looked colorful.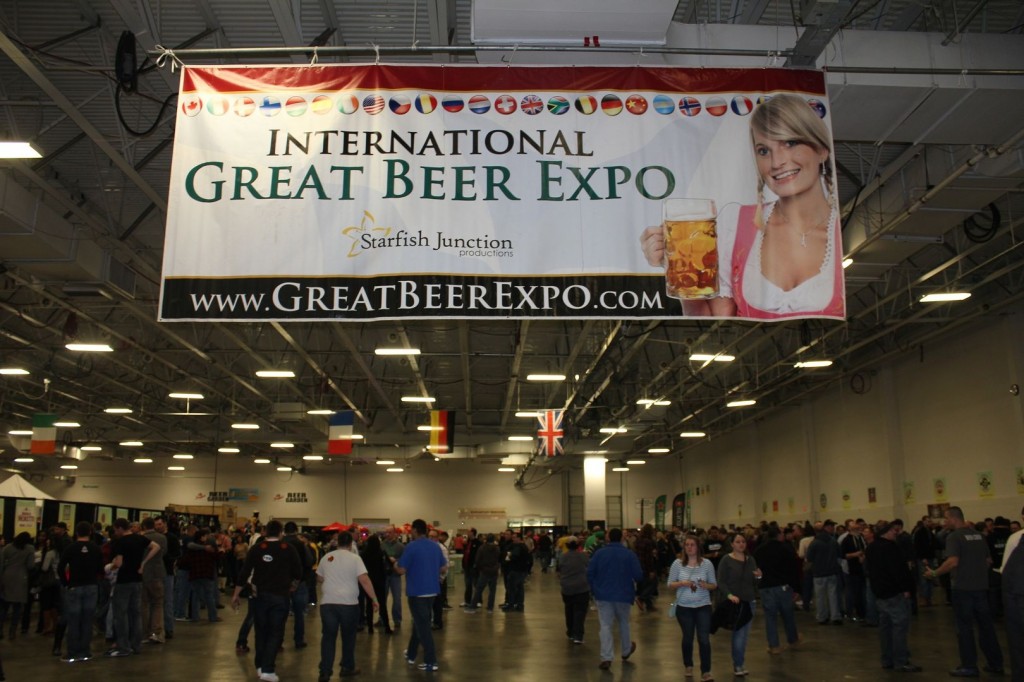 Date: Saturday, January 31st 2015

Event: International Great Beer Expo 2015

Place: Meadowlands Exposition Center

Cost: $42; Day of – $60

The Scoop: A 12 minute bus ride from the Port Authority easily whisks you from the thralls of Manhattan into northern New Jersey as the Meadowlands Exposition Center once again hosts the International Great Beer Expo.  For just $42 (!!), you'll have unlimited access to more than 150 beers from around the world over three and a half hours with plenty of food and water on site for purchase.   The afternoon and evening sessions offer the same selection of incredible value: a souvenir tasting glass and ice cold brews from more than 15 countries and over eighty different brewers.  You'll grab pours from the likes of Pabst Blue Ribbon, Flying Fish, Smuttynose, Asahi, Long Trail, Great Lakes Brewing, Anchor Steam, Dos Equis, Saranac, Otter Creek, Wolaver's, Cusquena, Shipyard Brewing, Mendocino Brewing Company, Aguila, Wolters and many many more!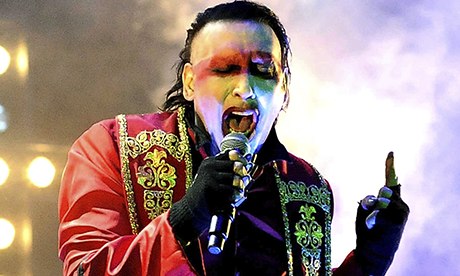 Date: Thursday, January 1st – Saturday, January 31st 2015

Event: Concerts Concerts Everywhere

Place: Varies

Cost: Varies
The Scoop: Check out our new and notable concert listings for the month of January and make sure to secure your tickets before it's too late.
Friday, January 2nd
American Nightmare, Webster Hall
Saturday, January 10th
Mayhem & Watain, Webster Hall
Friday, January 9th
YG & Nipsey Hussle, Best Buy Theater
Billy Joel, Madison Square Garden
Saturday, January 10th
Ricky Nelson Remembered starring Matthew & Gunnar Nelson & Cherry Poppin' Daddies, The Cutting Room
Wale, Irving Plaza
Wednesday, January 14th
CRUISR, The Studio at Webster Hall
Thursday, January 15th
Sam Smith, Madison Square Garden
Tuesday, January 20th
The Nearness of You Benefit with Paul Simon & James Taylor, The Appel Room
Seether & Papa Roach, Terminal 5
Wednesday, January 21st
An Evening with John Oates, City Winery
Thursday, January 22nd
Alien Ant Farm, The Studio at Webster Hall
Fleetwood Mac, Madison Square Garden
Four Year Strong, Irving Plaza
Friday, January 23rd
August Burns Red, Irving Plaza
The Tragically Hip, Beacon Theatre
Saturday, January 24th
The Whigs, Bowery Ballroom
Sunday, January 25th
Linkin Park, Barclays Center
Monday, January 26th
Marilyn Manson, Terminal 5
Tuesday, January 27th
Reel Big Fish & Less Than Jake, Best Buy Theater
London Grammar, Terminal 5
Motion City Soundtrack, Irving Plaza
Wednesday, January 28th
Billy Idol, Beacon Theatre
Thursday, January 29th
Chris Brown with Trey Songz, Barclays Center
Friday, January 30th
Jack White, Madison Square Garden
Machine Head, Irving Plaza
Ben Howard, Manhattan Center
Saturday, January 31st
Matthew Santos, Rockwood Music Hall
LOTUS, Terminal 5
 - Jane Van Arsdale
Related Articles
Share
About Author
(0) Readers Comments