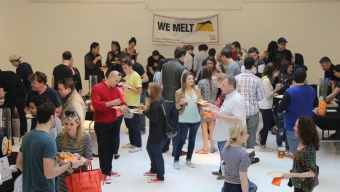 Blog: The Big Cheesy 2014
Whether it's gooey or crispy, savory or sweet, there's no more comforting comfort food than a good old-fashioned grilled cheese sandwich. Replacing the groundhog as an annual rite of spring, the two day friendly grilled cheese competition returned to Nolita's Openhouse Gallery on Saturday and Sunday for The 2014 Big Cheesy, bringing some of New York's finest purveyors of the sandwich under one roof. With each guest casting an orange ping pong ball as their proverbial ballot, each participating restaurant was vying to be crowned King Cheese by serving hundreds of attendees all weekend long.
This year's competition would be perhaps the most intense one yet with five different restaurants and seven different takes on grilled cheese being cooked, cut and served to the masses. The two room, bi-level space of Openhouse Gallery proved once again to play as an ideal host setting for each action packed hour long session, the lines for which jutted out from the open doors well in advance of each session's start time. Once inside, guests were handed the requisite essentials: the aforementioned ping pong ball to vote, two tickets for pours of select beers and of course a napkin and plate to sop up most of that greasy goodness.
Upon entering, the wafting smell of bread meets cheese was striking almost immediately with a cornucopia of different ingredients tantalizing the nostrils from the get go. Most of the attendees immediately filled up their beer cups before heading toward the tasting frenzy downstairs. Refreshing pours of Goose Island "India Pale Ale" and 312′s "Urban Pale Ale" and "Urban Wheat Ale" more than hit the spot, washing down some of the hearty sandwich halves that we devoured during the course of the hour. With a full beer in hand, it was time to eat our way to a culinary champion and we began with the eventual winner.
The West Village's 5 Oz. Factory, using Wisconsin cheeses effectively meshed smoked provolone, brie and a horseradish and chive havarti with fresh basil, mushrooms and asparagus for their dish entitled "The Meltdown." The not-so secret ingredient however was a spread of memorable horseradish pesto which brought the taste of the entire sandwich together. Prepared on a grill press, each sandwich square was sizable and the rich mixture of vegetables and creamy cheeses yielded a confluence of flavors that was just right. Though it took us awhile to make our final decision, 5 Oz. Factory earned and thus received the LocalBozo.com vote of confidence.
Alex Mitow's All-American Diner was our clear-cut runner up. Their fittingly dubbed "Challah Atcha Boy" dished out hunks of Neuske bacon (on challah?!?!) with cheddar, fontina and some navel pastrami with a spread of chipotle apple aioli and some crunchy Lays potato chips. Though a notch below the 5 Oz. Factory's sample, it was a close call for our now spoiled palates. Though there can only be one crowned winner, each of the sandwiches was delicious in their own right. La Maison Du Croque Monsieur and Murray's Melts each brought two different sandwiches each- the best of which was Murray's "Picante Pig" pairing pulled pork and pepper jack cheese with black beans and a tangy dollop of salsa verde.
The eventual runner-up went to Van Horn of Cobble Hill Brooklyn. In between crispy halves of caputo sourdough bread lay delicious pimento cheese and smoked mushrooms for a simple yet complex array of different elements. While working our way through a sea of hungry eaters, we learned that a portion of the proceeds raised at 2014′s The Big Cheesy would benefit the Food Bank for New York City. And though a champion was definitively crowned at The Big Cheesy, the winners were the guests who made the festivities a rousing event once again- exercising gluttony through the course of an hour of great eats.
- Jane Van Arsdale
Food Photos from The Big Cheesy 2014 at Openhouse Gallery

Alex Mitow's All-American Diner: "Challah Atcha Boy" – Garlic buttered challah with Neuske bacon, navel pastrami, aged cheddar, fontina, chipotle apple aioli and deli-style potato chips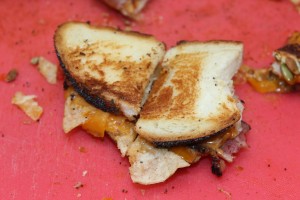 La Maison Du Croque Monsieur: "Croque Monsieur" – Mushroom ragout, bechamel, provolone cheese and truffle oil.  "Classic Croque Monsieur" – Jambon de Paris, bechamel & raclette cheese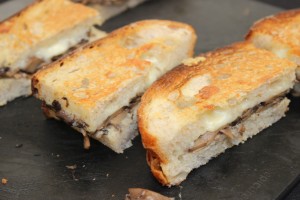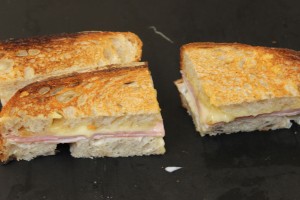 Murray's Melts: "The Peppa Jack" – Pepperjack & peppadews.  "The Picante Pig" – Pulled pork, pepperjack, black beans and salsa verde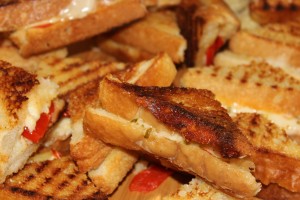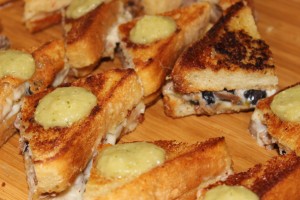 5 Oz. Factory: "The Meltdown" – Emmi Roth smoked provolone, brie, horseradish and chive havarti, roasted pencil asparagus, mushrooms, basil, horseradish pesto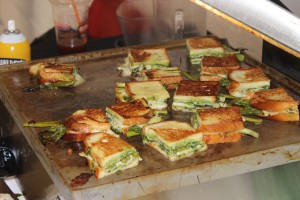 Van Horn: Pimento cheese and smoked mushrooms on caputo sourdough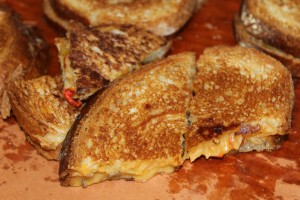 Related Articles
Share
About Author
(1) Reader Comment