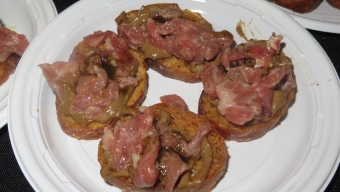 Hundreds of tastemakers, wine lovers and local food enthusiasts flocked to the immaculately designed IAC Building in Chelsea on Wednesday evening to experience an authentic evening of Spanish cuisine and culture.  The 24th Annual Spain's Great Match would be the evening's drawing card, as some of New York City's most famous Spanish restaurants would gather to prepare an oversized feast, coupled with more than three hundred varieties of Spanish wines.  The mood was festive throughout the particularly indulgent two and a half hour affair, where fresh cheeses, olives and slices of decadent serrano ham would serve to bring out some of the flavors of the regions finely paired bottles of vino.
Whether you've got a familiarity with the likes of an Albarino or Tempranillo grape matters little at the annual affair, where expert and novice wine drinkers casually sip together shoulder to shoulder.  Instead, the evening is more about discovery – finding a style that you prefer, a restaurant you've never visited, or perhaps a region of Spain that you plan on visiting.  At least that's the hope of the event's founders, Wines From Spain, a promotional organization that is committed to building awareness for Spanish wines throughout New York as well as the greater United States.
With an empty wine glass (and empty stomachs) we paced the room strategically, filling up first with a tremendous selection of bubbly – first from the likes of Campo Viejo, whose reasonably priced 'Cava Brut Reserve, NV' and 'Cava Rose, NV' were downright steals at just $11.99 a bottle.  Nicely balanced and tastefully fruit-forward, each was distinctive and in a word – classy.  The same could also be said for the pours of 'Mahou 5 Estrellas Lager' – a delicious and golden beer that we tasted for the very first time.  Served ice cold, the subtly bitter brew washed down some of the heartier fare that we enjoyed with great ease, as the lightest of the handful of beers being poured.   But as suckers for Sauvignon Blanc, it was the bottle of Marques de Riscal from 2016 that left us lingering tableside.  Introduced in the Rueda region, the delightfully pale yellow color furnished the inside of our wine glasses, replete with a fresh white fruit on the nose and a pleasantly clean finish.  There weren't many French-inspired Spanish wines from which to sip on this night, making our discovery of this one a real highlight.
Where does one begin when describing an evening of outstanding eats?  Should we start at the perpetually excellent Socarrat Paella Bar, where their 'Arroz Negro Paella' came equipped with rich, black squid-ink rice and hunks of mouthwatering fresh seafood, like scallops, shrimp, white fish, calamari?  Or maybe we should mention Amada of Battery Park City, serving a scrumptious 'Cordero Picado,' a memorable lamb tartare served chilled, atop a crunchy chicharron for contrast.  Or perhaps mentioning Casa Mono is necessary – serving a phenomenal 'Dry Aged Beef Tartare' with scallion ash and a creamy porcini mostaza which was just a touch more preferable to the bite-sized 'Glidas' from Huertas, with white anchovy poked through a ripe manzanilla olive and guindilla pepper with a plastic toothpick for one delicious bite.  For our money, the blood-sausage soaked 'Mini Morcilla Hot Dog' topped with sprout kraut from La Sirena was the hands down winner for our team.
Speaking of delicious, with hundreds of bottles from which to taste – jot down the following for future Spanish wine sipping:
-Â Teso la Monja 'Almirez 2015′ ($25)Â  – a delectable, blueberry and lavender focused red that is very well-balanced
- Teso la Monja 'Victorino 2007′ ($60) - a luxury bottle that is the snapshot of a perfect Tempranillo, sourced from 45 year old vines and aged in French oak for 18 months.  It is just hitting its ripeness
- Raimat 'Albarino 2016′ ($12) -Â A real value bottle here, full bodied, ripe white citrus fruits and a delightfully floral nose with a nice clean finish
- Las Rocas "El Renegado' Red Blend 2013′ ($14)Â - slightly oaky, this blend of Syrah and Garnacha, the light-bodied red wine is plush and ripe
- Pares Balta 'Mas Irene 2014′ ($35)Â - Aged for 13 months in new French oak, this is an organic mid-priced wine with a wonderfully smooth palate and excellent acidity
In all, the affair was another swimming success, affording guests the opportunity to sip and taste some eclectic and authentic wines and dishes- direct from Spain – but right here in Manhattan.
- Dave Gendelson
Related Articles
Share
About Author
(0) Readers Comments