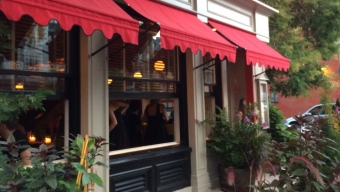 Bar Primi
A LocalBozo.com Restaurant Review
325 Bowery at 2nd Street, East Village
212-220-9100
Getting There: 6 to Bleecker Street; B,D,F,M to Broadway-Lafayette Street
http://www.barprimi.com
Restaurant Review: Bar Primi
We were conflicted on our first foray out to Bowery restaurant Bar Primi, the recently opened ode to housemade pasta in the space that formerly housed brunch favorite Peels. In its ashes, renowned Chef Andrew Carmellini hoped to resurrect an Italian inspired hotspot in the same vein as Locanda Verde, The Dutch and Lafayette- three of Manhattan's most sought after culinary institutions. Though the fare certainly has its moments, Bar Primi unfortunately fails to meet the same caliber as these predecessors.
Despite the requisite name change, Bar Primi not only resides on the same picturesque East Village corner but hasn't done all that much to re-purpose the restaurant's interior. The modernized mostly wooden and bright decor is far more akin to a local farm-to-table breakfast spot than it is a pasta paradise for carb-seeking tastemakers. But that said, the layout and decor at this space was always fairly charming making the decision to leave much of it in place a sound one. The ample outdoor seating also remains, which made for an ideal setting during an unseasonably warm autumn afternoon despite the whizzing of cars and honking horns driving up Third Avenue. Why is it a good idea to ever dine outdoors in New York again?
A small bag of crunchy breadsticks serves as a nice precursor for things to follow- especially paired with the bubbles of sparkling water being poured. The menu meanwhile, seems to change fairly often as several of the dishes that we sampled are completely removed today. But to their credit, the selections are very reasonably priced with only a single dish exceeding a $20 sticker price on both the lunch and dinner menus. In traditional fashion, the courses are broken down between Antipasti, Primi and Secondi, but since Bar Primi is known first and foremost as a pasta house, the starch-filled dishes do a fine job of filling you up.
Earlier in the season, we absolutely raved for the "Ricotta Bruschetta" ($8), two bulbous slices of thick rustic bread slightly toasted and layered with fresh ricotta cheese. With a touch of sea salt, the creamy cheese proved to be the perfect pairing with the sliced pieces of sweet fig that lay atop the soft white pillow and delivered an exceptional textural and flavor contrast once all of the elements were combined. More recently, we were less enthralled by the "Spaghetti Squash Bruschetta" ($8), a seasonal specialty that- while still delicious- combined fall flavors like pumpkin seeds and shredded orange squash in similar but slightly inferior fashion.
While pasta is certainly Bar Primi's calling card, they were equally as inconsistent. The "Orechhiette" ($16) which has also since been scrapped from the menu was a dish of perfectly prepared pasta coupled with elements like chickpeas, hunks of sausage and broccoli rabe which disappointingly sounded far better than the final dish tasted. Bar Primi's "Linguine" ($14) was slightly a notch better although its preparation was fairly elementary with just breadcrumbs and four cloves of garlic added to season. The finest of the dishes that we sampled was the "Pumpkin Agnolotti" ($17), another seasonal dish which had we known was this fantastic, we would have doubled up our order. Delicately prepared in a light buttery broth, each tasty pasta pouch packed a subtle and sweet pumpkin filling inside of the perfect textured envelope with just a touch of cheese and sweet mostarda fruit to further enhance the complimenting flavors. The "Agnolotti" alone restored our faith in Bar Primi, despite the middling dishes delivered to our table previously.
If you've read our previous reviews on some of Chef Carmellini's other restaurants, you'll understand why we consider them some of the City's finest. Clearly, we're not alone. But that's what makes the finished product of 'Andrew Carmellini's New Pasta Restaurant' a bit lackluster. At Bar Primi the menu shows flashes of brilliance, but its lack of consistency weighs down an idea that remains better in concept than execution.
Rundown of the Meal
Piccolini
Ricotta Bruschetta ($8)*
Traditional Primi
Orecchiette ($16)
Linguine ($14)
Seasonal Primi
Pumpkin Agnolotti ($17)*
*Meal Highlight
Related Articles
Share
About Author
(0) Readers Comments