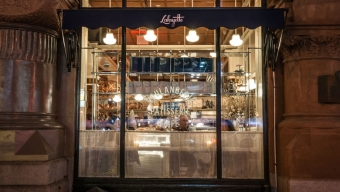 Lafayette
A LocalBozo.com Restaurant Review
380 Lafayette Street at Great Jones Street, East Village
212-533-3000
Getting There: 4,5 to Union Square- 14th Street; 6 to Bleecker Street; F to Broadway-Lafayette Street
http://www.lafayetteny.com

Upon our initial visit to the space at 380 Lafayette Street which housed the old Chinatown Brasserie, we wondered how on earth a Chinese restaurant could continue to exist inside of such a massive and opulent space. Just a few years later, while the restaurant itself is shuttered, the grandiose space and the idea behind the latest venture housed inside have transformed the layout. The sprawling brasserie and bakery that is Lafayette comes from the brilliant culinary mind of Andrew Carmellini (The Dutch, Locanda Verde), whose recent track record is as flawless as his prepared cuisine. And just at a time when it seemed that the days of the lavishly large New York City restaurants had begun to die down, Lafayette's inspired fare and luxuriously casual atmosphere joyously disprove such as a misconceived trend.
Standing outside the restaurant, it's difficult to assess its true size until once inside and a flurry of patrons waiting for tables and a collection of waiters scurry around you with plates of food and pitchers of water heading toward their tables. To the right of the host stand sits Lafayette's fully functioning bakery which serves coffees, pastries, cakes, and French macarons throughout the day and into dinner hours. High-fangled modernized light fixtures dangle down from the high ceilings overhead atop the closely packed but comfortable booth lined tables. The surrounding windows offer a glimpse out into the street, a line of sight that is mostly ignored considering the array of theatrics going on around you inside of Lafayette, a place that is entirely tasteful and never gaudy. But while the place is constantly buzzing with frenzy- from the tables to the bar- pleasantly, despite the scene (similar to many of Carmellini's restaurants) it's the food that does most of the talking.
The menu is decidedly French with a touch of Mediterranean pinache and candidly, is vast enough that any diner can get by without breaking the bank. The restaurant's helpings of cheeses and oysters are an excellent if unnecessary precursor to a selection of eclectic dishes. Pate, bone marrow, sausage and tripe capably hold their place settings atop the menu which are likely to be as delicious as any of the more generously portioned entrees underneath them. The purple "Mediterranean Octopus" ($17) was delightfully charred and flavorful, albeit diminutive plated beside a smoky eggplant, but was distinctive enough to be a stand alone starter dish. The side of "Brussels Sprouts" ($9) meanwhile, while certainly tasty, was the most ordinary of the dishes we dined on, despite the preponderance of horseradish and the accompanying hunks of fresh bacon.
And that said, we can't speak highly enough of our entrees, which included an absolutely phenomenal "Duck ou Poivre" ($30). Similar to our feelings on Carmellini's duck at The Dutch, the dish is one that has to be prepared perfectly, and both times, the chef has come through with masterful precision in his preparation. The two sizable breast slices served with skin on, atop a bed of organic grains and salty bacon were presented seared and adorned with sweet fresh oranges yielding a clean, mouthwatering finish. Furthermore, the house made "Coquilles" ($24) was equally spectacular. Salty and rich, the fresh pasta combined warm tender chunks of beef cheek ragout in just the right amount of brown sauce, meshed with ewe's milk cheese for a truly fantastic combination of differing flavors.
With so much going on around us (including birthday celebrations that are happily obscene enough to stop anyone in their tracks), it's a small miracle that the staff can manage to be so attentive. But like the food preparation and the decor, every bit of detail at Lafayette is intricately tailored to, which allows the patrons inside to really enjoy the entirety of their dining experience. Just as small standalone shops and eateries are popping up in every imaginable space from little markets to former bodegas trying to satiate any newly found appetite niche, Lafayette's utter defiance in providing a massive space that produces such outstanding experiences proves that in this regard sometimes bigger is most certainly better.
Rundown of the Meal
Hors D'oeuvres
Mediterranean Octopus ($17)
Les Pates
Coquiles ($24)*
Entrees
Duck ou Poivre ($30)*
Garnitures
Brussels Sprouts ($9)
*Meal Highlight
Related Articles
Share
About Author
(2) Readers Comments