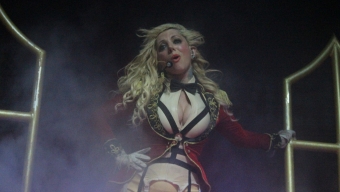 In This Moment
A LocalBozo.com Concert Review
Webster Hall, New York, NY
November 19, 2014
Concert Review: In This Moment at Webster Hall
Just days after the release of the band's fifth studio album "Black Widow," (November 17) five piece metal band In This Moment delivered a grandiose stage show amid an intimate setting at Webster Hall on Wednesday night. The show, presented as an exclusive subscriber opportunity by SiriusXM's "Octane" channel, delivered 75 nonstop minutes of rock that combined burlesque-like theatrics for the live crowd with a refined musical performance that surely satiated listeners around the world streaming the show in real time.
Nearly a year since the band last performed in New York City as part of their appropriately named "Hellpop Tour," In This Moment's triumphant return was not all that dissimilar to their last go round in Manhattan- and that's a good thing. The band routinely taps into almost hallucinogenic elements of horror, replete with masked dancers in nurse uniforms holding massive syringes behind a thick layer of fog that clouds the stage from start to finish. Flanked by the band's three guitar players, front woman Maria Brink toys with the standing room only crowd each minute she's on stage. Her shrill vocal stylings paired with a skin-tight risque wardrobe and sexually suggestive movements make Brink a particularly captivating vocalist- despite the rest of her bandmates donning equally eye-catching attire.
The stage was adorned elaborately with two sizable golden gates, between which Brink stood throughout the performance- in between wardrobe changes of course, the number of which would rival Beyonce. Actually, we counted more than five in between new cuts like show openers "Sick Like Me" and "Black Widow" which served to further enliven the excitable audience. In pop star fashion, Brink utilizes a headset microphone, likely making her wardrobe transitions from naughty nurse to nutcracker seamless and also allows for her choreographed stage movements to go off without a hitch.
Following another stirring solo rendition of "Into the Light," the band teased "Beautiful Tragedy," a track that we had been hoping to experience in this setting, before launching into a nice instrumental medley that included Metallica's "For Whom the Bell Tolls" and Pantera's "Cowboys From Hell," inspiring a sea of horns to rise up from the live crowd. Brink and company fittingly left their biggest hits for the end of the show as modern metal anthems like "Whore" and the electrifying "Blood" sandwiched the band's excellent take on Nine Inch Nails classic "Closer."
While some bands have a hard enough time putting together a cohesive musical performance, In This Moment manages to combine the pomp and circumstance of an elaborate spectacle while tearing through a commendable ten song set in style. Their latest release is just days old, but the new material appropriately adds to the band's already deep catalog and though their stage show hasn't changed much in the past year, first-time concertgoers will surely be left awed by the band's pageantry. For us, it's In This Moment's consistency in straddling the fine line on which they stand between skilled playing and showmanship that makes their live shows so utterly hypnotizing.
- Dave Gendelson
Related Articles
Share
About Author
(1) Reader Comment