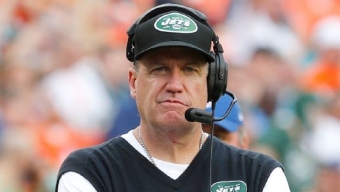 LocalBozo.com's special beat reporter Jordan Rubenstein will be covering the New York Jets all season long, with quarterly season recaps about where the team is headed. We'll also have reporter Tim Sachs tackling the New York Giants head on as we bring you all local NFL coverage throughout the 2014 season. Read Jordan's Pre-Season Predictions here.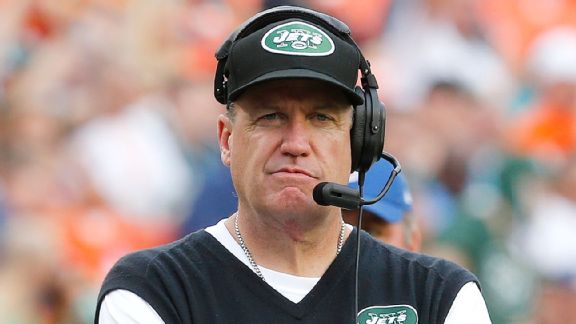 Forget the spin. Forget the statistics. Forget anything even remotely positive. The New York Jets are officially a train wreck. Undeniably, it has been written in this space that quarterback Geno Smith deserves time and that certain expectations bestowed upon him have been unfair. And that still holds true as of this writing. However, the fact that he has regressed so dramatically even in four short weeks is inexcusable.
To his credit, Smith isn't making any excuses. He faces the media firing squad with humility and an acknowledgement of his deficiencies, but also with a somewhat defiant tone. He won't give up, he won't quit and he still believes in himself even though he's been benched for the infamous Michael Vick. Whether his self-confidence is legitimate, no one really knows, perhaps not even the man himself. But you simply cannot throw three interceptions in eight pass attempts as Smith did this past Sunday during a brutal 42-23 loss at home to the Buffalo Bills, dropping Gang Green's record to an abysmal 1-7.
Candidly, this is the kind of season I expected last year when I predicted the Jets would finish 4-12 due to an inexperienced Smith, a lack of offensive weaponry and a suspect secondary. The Jets managed to do the unthinkable and surprised everyone when they competed above their talent level to an 8-8 finish, ensuring another season for embattled coach Rex Ryan. Now with a second year of coming-into-his-own running back Chris Ivory, the addition of receiver Eric Decker and an established defensive front anchored by Muhammad Wilkerson and Sheldon Richardson, the Jets surely should not have regressed. We're not talking about wins and losses here. We're talking about level of play.
Coming into 2014, everyone knew the schedule was going to be tough to navigate, so there was always a lingering possibility that their record would be worse than last year. That's simply the nature of playing elite-level opponents. What has happened throughout the first half of the season, though, is mindboggling. The defense has allowed less than 24 points just once, against the miserable, winless Oakland Raiders. In equally futile fashion, the offense has scored more than 24 also just once. That's really all that needs to be said. It's a clear-as-day indication that the Jets are suffering on both sides of the ball. Hmmm, I'm not sure about you, but that generally makes it tough to win football games.
Head Coach Rex Ryan is quickly molding into the second incarnation of Rich Kotite. You remember Kotite, right? The former Jets coach who led the organization to a 3-13 season in 1995 only to follow that up with an even less successful 1-15 campaign in 1996. Oh, and then he never coached in the NFL again. Will Ryan suffer the same post-Jets fate as Kotite when he's eventually fired after the season? No, probably not. At the very least, Ryan will be hired somewhere as a defensive coordinator and will likely find success yet again. That's his sweet spot and one that he should stick with. He can motivate and, when he actually has talent in the secondary, he can scheme with the best of them, like his father before him. Plenty of axed head coaches have gone back to being successful coordinators. There's no shame in that. But does that mean for the head coaching vacancy here in New York?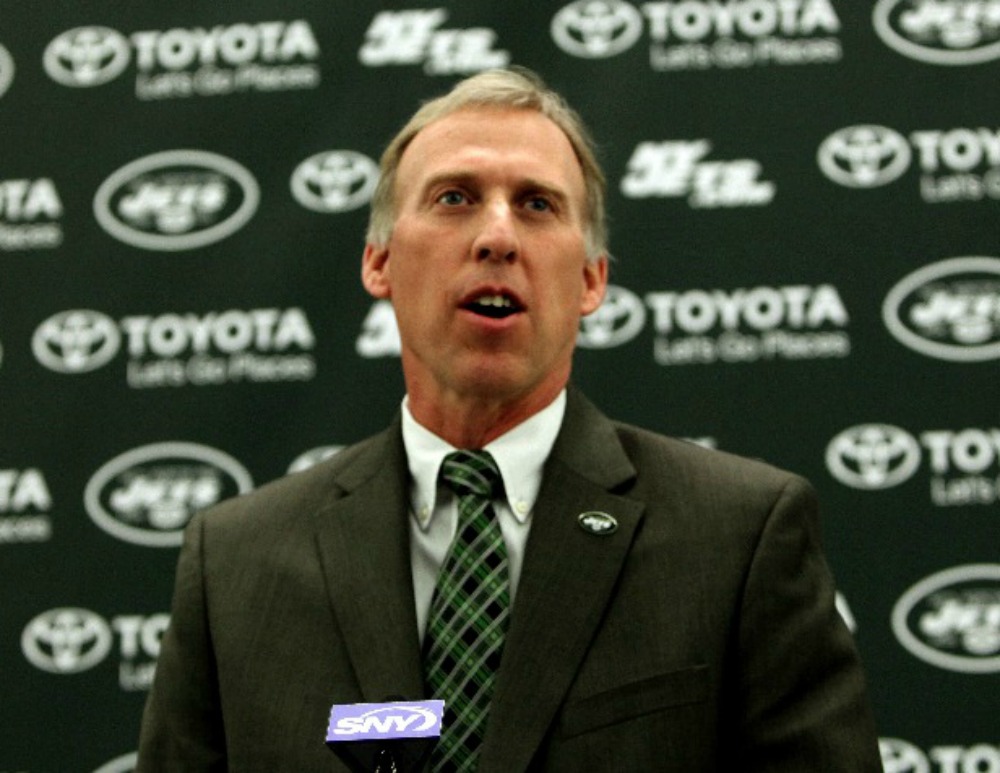 Much of that depends on whether General Manager John Idzik makes it past Black Monday, but based on his awkward, rambling press conference this past week, in which he sounded more like he was admitting to a crime than taking blame for a football team's shortcomings, it's clear Idzik thinks his job is in jeopardy. Idzik needs to go, period. End of story, end of quotation. He was brought in as a salary cap guru and has done little to improve the on-field product. Some players have underperformed and that's on them individually, but it's clear the Jets need a new direction at the top. The current plan just isn't working and with one step forward, eight steps backward results, that's not likely to change soon.
If Idzik is let go along with Ryan, what does that mean for Smith? How about veteran players like Dawan Landry, Nick Mangold and David Harris? Time will tell, but as that time goes by, this team will only get older. The future isn't now, not by a long shot. And if owner Woody Johnson wants to have a successful future, the planning begins now. Clean house, rebuild and start from the bottom.  After all, how much lower can these Jets go anyway?
My 2014 New York Jets Prediction: 9-7
- Jordan Rubenstein
Related Articles
Share
About Author
(0) Readers Comments