(Photos from the Caribbean Week NY 2014 Media Preview)
Can you feel it? The festive atmosphere. The steel drum playing. The smell of some incredible international cuisine. The taste of some of the most refreshing cocktails you've ever tasted in your life. The month of June is inching closer by the day and a certain week long celebration is returning to New York City to once again whisk you away from the stresses of your everyday existence and bring you to a place where you can kick back, relax and enjoy yourself. The Big Apple officially goes on holiday beginning Sunday, June 1st with the arrival of Caribbean Week New York sponsored by the Caribbean Tourism Organization.
Though you likely don't need much incentive to remind you of the wonderful weather that exists in the paradise that is the Caribbean, it's the CTO's focus to help steer travel and traffic to the wide array of countries that offer some incredible getaway experiences. The week of events welcomes Caribbean luminaries to New York for a schedule of different events, panels, award presentations and outright celebrations. But for our money, the culmination of Caribbean Week New York is its final event.
Friday, June 6th marks the return of the CTO's Rum & Rhythm Benefit & Auction, which once again emanates from the picturesque setting of Tribeca 360, a massive space that hosts the gala event while providing unparalleled views of downtown Manhattan. Tickets are competitively priced at just $100 in advance (available here) and grant guests unlimited access to an unparalleled selection of food and drinks reminiscent of the Caribbean culture and lifestyle. And with a DJ on hand to work the mix, the evening will certainly turn into an outright celebration. If last year's Rum & Rhythm event is any indication of what's to come, attendees will enjoy a party like none other- with a full open bar, one of a kind silent auction items, and the ability to savor a taste of the Caribbean all without having to leave New York City.
- Jane Van Arsdale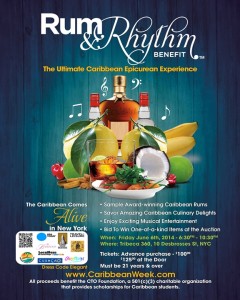 Related Articles
Share
About Author
(0) Readers Comments