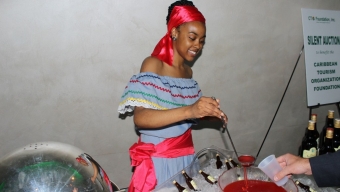 How do you turn a rainy night in New York City into a gigantic celebration? Well, just add rum of course! Caribbean Week in New York came to a spectacular conclusion on Friday evening at the sprawling venue that is Tribeca 360. LocalBozo.com was proud to be the sole media sponsor for an evening that took us on a culinary and cultural tour of the Caribbean without leaving the warm confines of our fair city. Enter the "Rum & Rhythm Benefit & Auction," an evening of eats, drinks, music, and people celebrating all things Caribbean. From Barbados to the US Virgin Islands, no conch shell was left unturned. If you have never been to any of these breath taking destinations, Friday night's festivities delivered a complimentary stamp on your passport through a variety of different represented countries. As if the evening alone didn't leave you yearning for a trip to sunny paradise, perhaps you had better check yourself for a pulse.
Shortly after 6:30pm we headed into the large event space with three hundred and sixty degree views of our picturesque city (always breathtaking even in spite of the rain) and after receiving a rum cocktail once exiting the elevator we realized it was time to kick back and celebrate. As we walked around the spacious venue and sipped our drinks, a calm rolled over, releasing us from the rigors of a long work week. From that point on it was time to soak up the culture and enjoy the wide array of culinary delights. Before digging into the massive evening of choice eats we checked out the silent auction items, which directly benefit the Caribbean Tourism Organization's programs. From JetBlue Airline tickets to iPhone accessories, a bevy of items and experiences lined the tables, giving guests plenty to bid on. At this point our stomachs began to rumble and our first stop was to the Barbados tables, where Chef Creig Greenidge was carefully and beautifully preparing a local specialty. Once the prep was complete we were handed a stunning plate of grilled Barbadian spiced beef. Tastefully served over a coconut bay leaf rice and peas and doused in a spiced rum curry sauce, the dish was mouthwatering to look at and also provided a flavor profile which was simply off the charts. The perfectly cooked meat was slathered in a spicy rub that yielded delicious heat with each bite. With such complex flavors, more drinks were in order. Fortunately, the space was loaded with bars serving up a variety of rum cocktails and beers. On this particular trip to the bar we opted for bottles of Carib, a premium Caribbean lager. The bartender popped slices of lime into the ice cold bottles, handing them to us to be gulped down in short work. Carib is comparable to that of a Corona but with a sweeter edge.
As the DJ spun local Caribbean favorites we floated through the venue with drinks in hand to each island themed station. The next stop was to the island of Grenada with Chef Willon Gibbs at the helm. Chef Gibbs brings over twenty five years of culinary experience to the event and his layout of delicious dishes boldly translated his experience to our palettes. Nutmeg rubbed chicken bites were our first tasting and were placed on skewers for easy consumption. Each bite showed off how nutmeg could be used for so much more than just desserts while the spicy rum shrimp and codfish salad with banana that truly showed off Chefs Gibbs' expertise when it comes to taking seafood and translating it into a culinary work of art. After filling up on a few bites it was time to get down on some more rum. This time around we wanted to drink our rum as a dessert and our wish was instantly granted by the good people at El Dorado Rum Cream Liquor who were pouring their sweet drink into edible chocolate shot glasses. Each richly decadent sip made us return for repeat tastings. We could see we were not alone in imbibing these sweet alcohol confections when we spotted Law & Order: SVU star Tamara Tunie sipping on them with her friends nearby, enjoying the festivities of the evening.
Our virtual airplane touched down moments later in Tinidad and Tobago for what was one of our favorite samplings of the evening. Their curry crab and dumpling soup was other levels exciting. The very friendly server poured heaping amounts of broth, dumplings and of course crabs in a bowl. Once we dipped our spoon in for the first tasting we knew we had arrived in flavor town. The savory yet spicy broth was loaded with hot pepper sauce, parsley, ginger, curry, thyme and coconut milk and pleasantly, these opposing flavors combined into a divine creation. The fluffy dumplings and crab sections soaked up all the broth, allowing them to explode with deliciousness. We continued this love of heat a few steps away at the island of Jamaica's station. The popular nation was represented by New York City favorite Golden Krust serving up Jamaican jerk wings and an indigenous rice blend. Our outlet loves wings, but to cake them with Jerk sauce makes us rethink our devotion to the Buffalo variety. The hearty rice loaded with beans brilliantly complimented the wings since the sauce works well on a number of salty foods.
As the evening wore on, we paced ourselves despite delicious tastes of distinctive rums from the likes of Appleton Estate, Mount Gay, and Cruzan, served both neat or with punches indicative to each country. The Benefit eventually turned into an all out dance party as the house DJ spun some Caribbean inspired anthems and island music to the delight of a room filled with energetic guests. Filled up from the delectable fare and truthfully, too many drinks to recall the day after, we headed back into the rainy streets of New York, reminiscing and today, yearning, for the few hours we so thoroughly enjoyed with our brief taste in the Caribbean.
- Jane Van Arsdale & Jay Rubin
Related Articles
Share
About Author
(0) Readers Comments