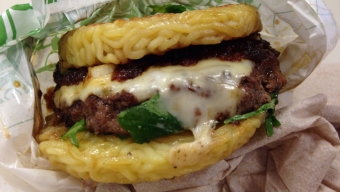 In our new series of posts called "Worth the Hype?" we'll trek across the different boroughs, tasting the staples of the New York food and beverage scene and evaluate whether or not they are worth going out of your way to check out for yourself. Let our "Worth the Hype" series be the discerning palate you only wish you had.
Ramen.Co
100 Maiden Lane at Pearl Street and Cedar Street, Financial District
No Phone Yet
Getting There: A,C,J,Z,2,3,4,5 to Fulton Street
No Website Yet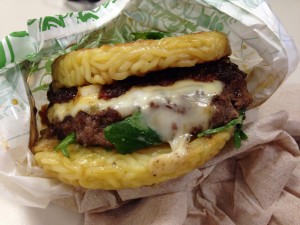 It seems like only yesterday that a hamburger patty sandwiched between two ramen noodle buns took New York City by storm with severely limited quantities and outdoor only service. It was in fact back in late August 2013 that Keizo Shimamoto's Japanese-meets-American comfort food concoction drew lengthy waits at Brooklyn's Smorgasburg while the rest of us attempted to piece together the sheer concept of the "Ramen Burger." After much ballyhoo, Shimamoto's long awaited first brick and mortar shop entitled Ramen.Co celebrated its soft opening less than a week ago. And to those eaters in the Financial District not in the know, this was just another ramen restaurant opening downtown, in between a Chipotle and a Roti Mediterranean Grill. But we know better, don't we?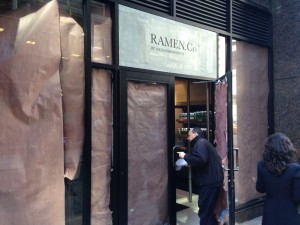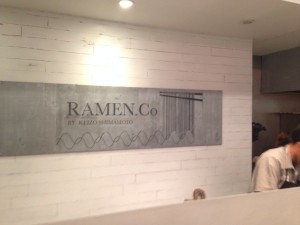 Currently, Ramen.Co is serving fare to the lunch crowd from 11am-2pm and the "Ramen Burger" itself, only as long as quantities last. Circulating rumors indicate that the place has been routinely selling out each day despite the preponderance of three types of "Ramen" ($11-$12 each), two alternate styles of "Ramen Burger" (chicken $8, shredded beef $9) and five styles of "Bento" ($10 each) served platter style. The restaurant is still just getting its footing but the line out the door that greeted us is certain to be routine, though the paper lining the doors currently are sure to be removed once the place transitions its opening from 'Soft' to 'Grand.'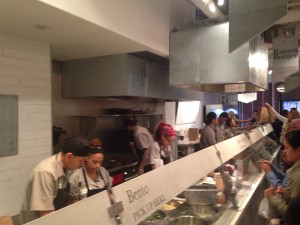 But let's shift our focus entirely to the object of desire, the 'original' "Ramen Burger." Ramen.Co allows for additions like cheese, bacon or (gulp) both at the same time, never before seen at the outdoor market along but unfortunately they do not currently offer up any side dishes just yet. Priced at $8, you might expect to see a larger burger than you're handed once it's been prepared. But while it's expensive for its size (think a Shake Shack 'Shackburger Single'), you can't help but be absolutely floored by the overall taste at first bite. There are just so many different elements working together at once. Make no mistake- the "Ramen Burger" is a sauce covered, juicy mess- and by the same token, it's irrefutably and irresistibly delicious.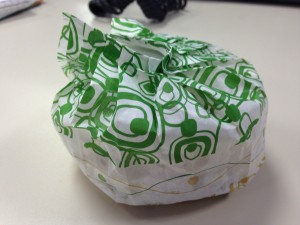 Ranking What Matters:
Value:  Generally speaking $8 for a relatively small burger, even in New York is pretty pricy. Add cheese and you're looking at $9.75, without the benefits of any sides. So based solely on cost alone, this is where the "Ramen Burger" would be appropriately downgraded.
Taste:  But on the other hand, you get what you pay for and while one of the "Burgers" is unlikely to fill you up entirely, the taste is out of control. The seasoned and savory, if not overly cooked, patty of angus beef is topped with some fresh green arugula and scallions and a sticky smear of shoyu sauce, which is the secret ingredient that links the entire "Burger" together. The succulent and juicy buns consist of soft half-hockey puck sized ramen noodles that stick together just as long as you need them to, before unraveling toward the very end. Mouthwatering and salty, the "Ramen Burger" perfectly captures the American hamburger punctuated by Shimamoto's Japanese flare.
Overall: Let's not overcomplicate things. Should you spend $8 for a diminutively sized burger every day? Probably not, Mr. Rockefeller. But on the other hand, this is your first opportunity to visit a standing restaurant that serves the signature "Ramen Burger" all year long. No two hour waits. No running out of food (we hope). No more nonsense. It's everything you've heard about and it's absolutely worth the hype to taste it at least once. Quit being a naysayer and get on board before all the Wall Street types find out about one of New York City's hardest to find delicacies.
- Jane Van Arsdale
Other 'Worth the Hype' Pieces:
The "Luger Burger" at Peter Luger Steak House: Worth the Hype
Mighty Quinn's Barbeque: Worth the Hype
Paul's Da Burger Joint: Worth the Hype
The "Ramen" at Ivan Ramen Slurp Shop: Worth the Hype 
Related Articles
Share
About Author
(1) Reader Comment