In our new series of posts called "Worth the Hype?" we'll trek across the different boroughs, tasting the staples of the New York food and beverage scene and evaluate whether or not they are worth going out of your way to check out for yourself. Let our "Worth the Hype" series be the discerning palate you only wish you had.
Ivan Ramen Slurp Shop
600 11th Avenue at 44th Street, Gotham West Market, Hell's Kitchen
212-582-7942
Getting There: A,C,E to 42nd Street
http://www.ivanramen.com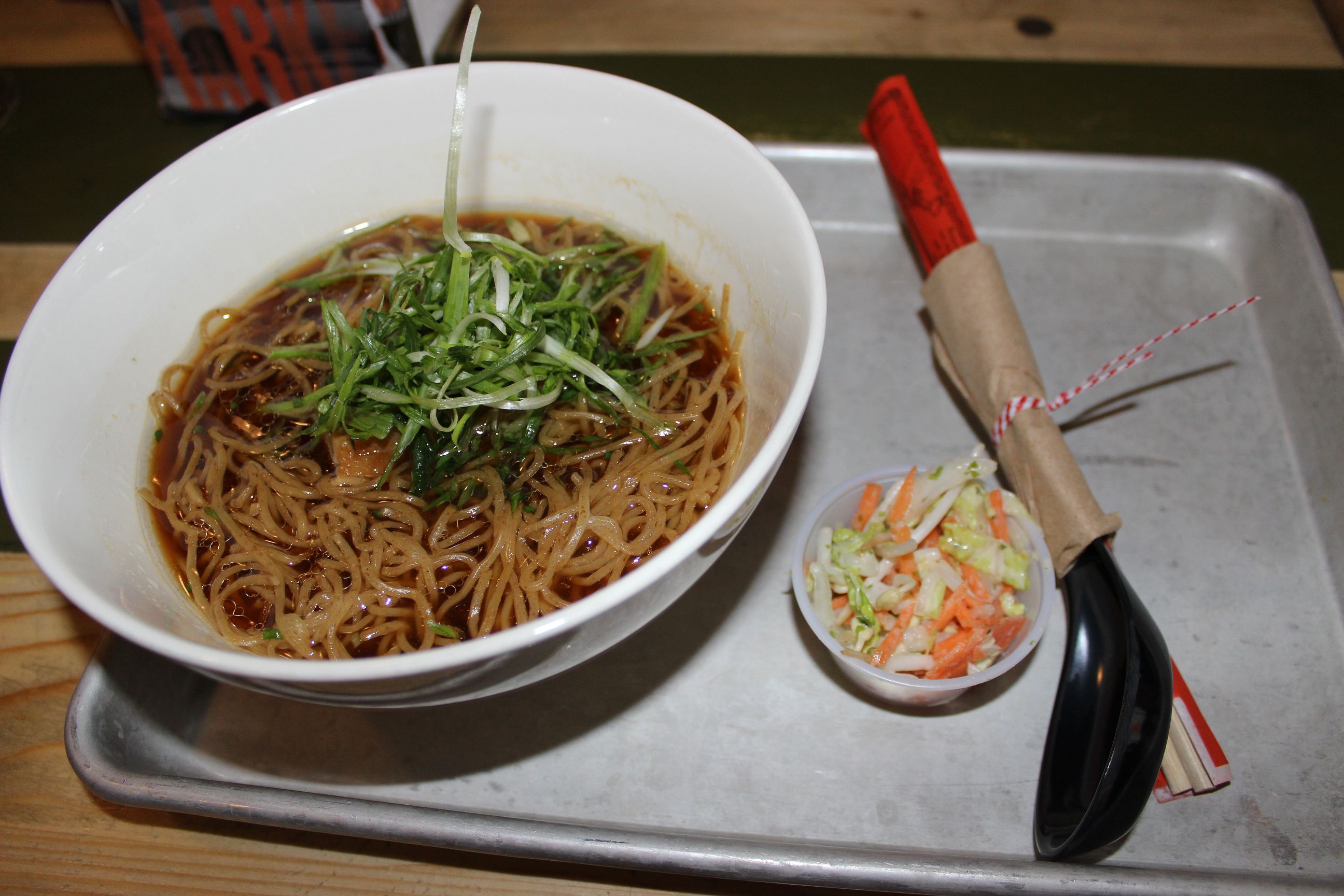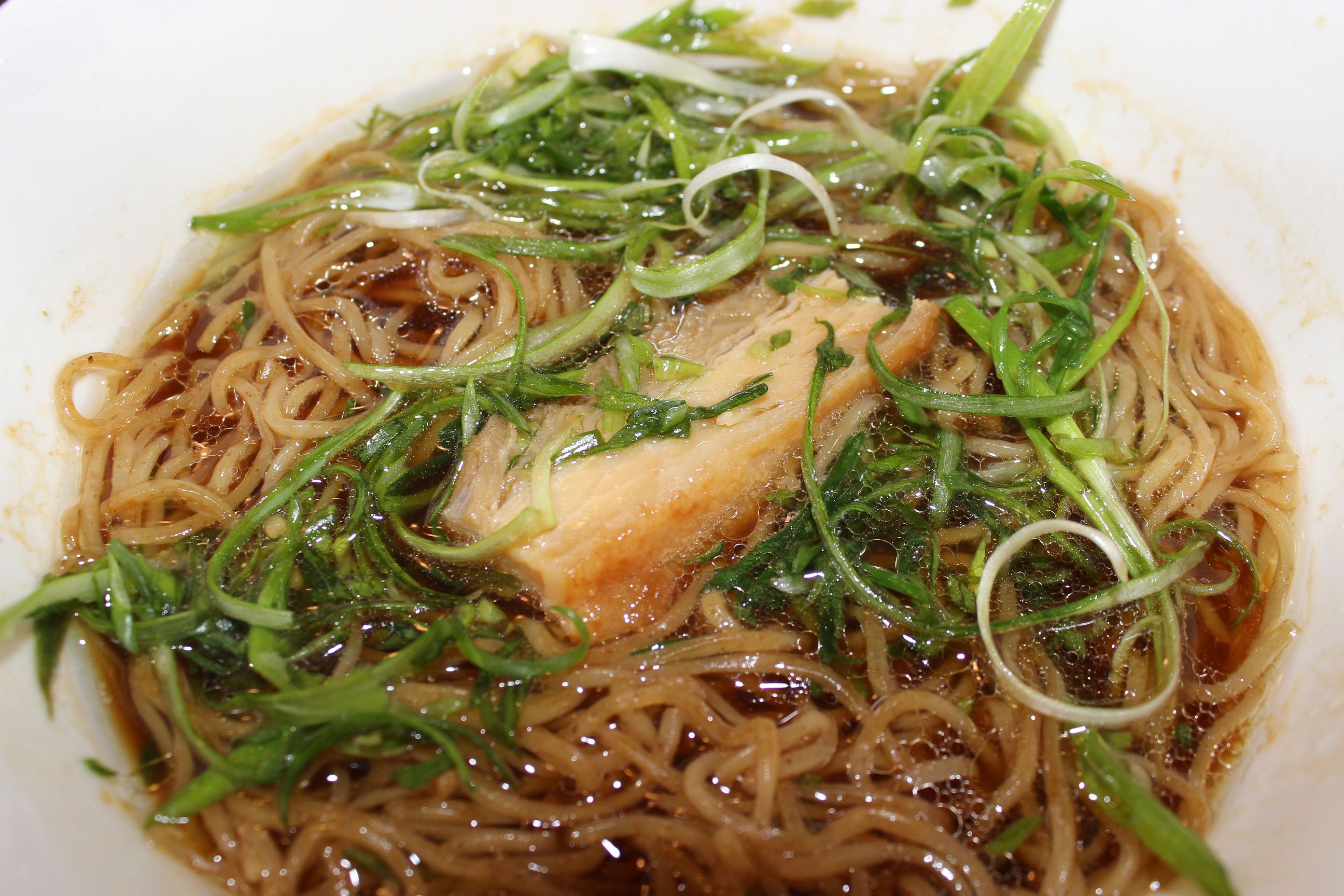 New York City food trends seemingly come and go with every gust of wind. And while there are certainly ramen shops that have existed for a number of years, only in the past year has such an unlikely resurgence taken hold of a style previously dominated by notoriously poor and hungry collegiate students, who indulge upon the most affordable of dry-packed noodles in bulk. Manhattanites have likely heard of Ivan Ramen, a style perfected by its creator Ivan Orkin, a self-described Jewish Kid from Long Island who cut his chops in culinary school and in restaurants before opening a ramen shop in Tokyo where its popularity exploded.
The November opening of the west side's food hall Gotham West Market brought eight different restaurants and purveyors to the sprawling ground floor space, none of which was more anticipated than Orkin's Ivan Ramen Slurp Shop, his first brick and mortar location in New York City. Since then, thousands of hungry (and messy) eaters have flocked to the otherwise remote 11th Avenue location, with only more to come with warmer weather to follow. The proprietor has also released his very own cookbook, "Ivan Ramen: Love, Obsession, and Recipes" and will be opening his very first fifty seat stand-alone shop in the Lower East Side at 25 Clinton Street to be his flagship in the United States by the end of March.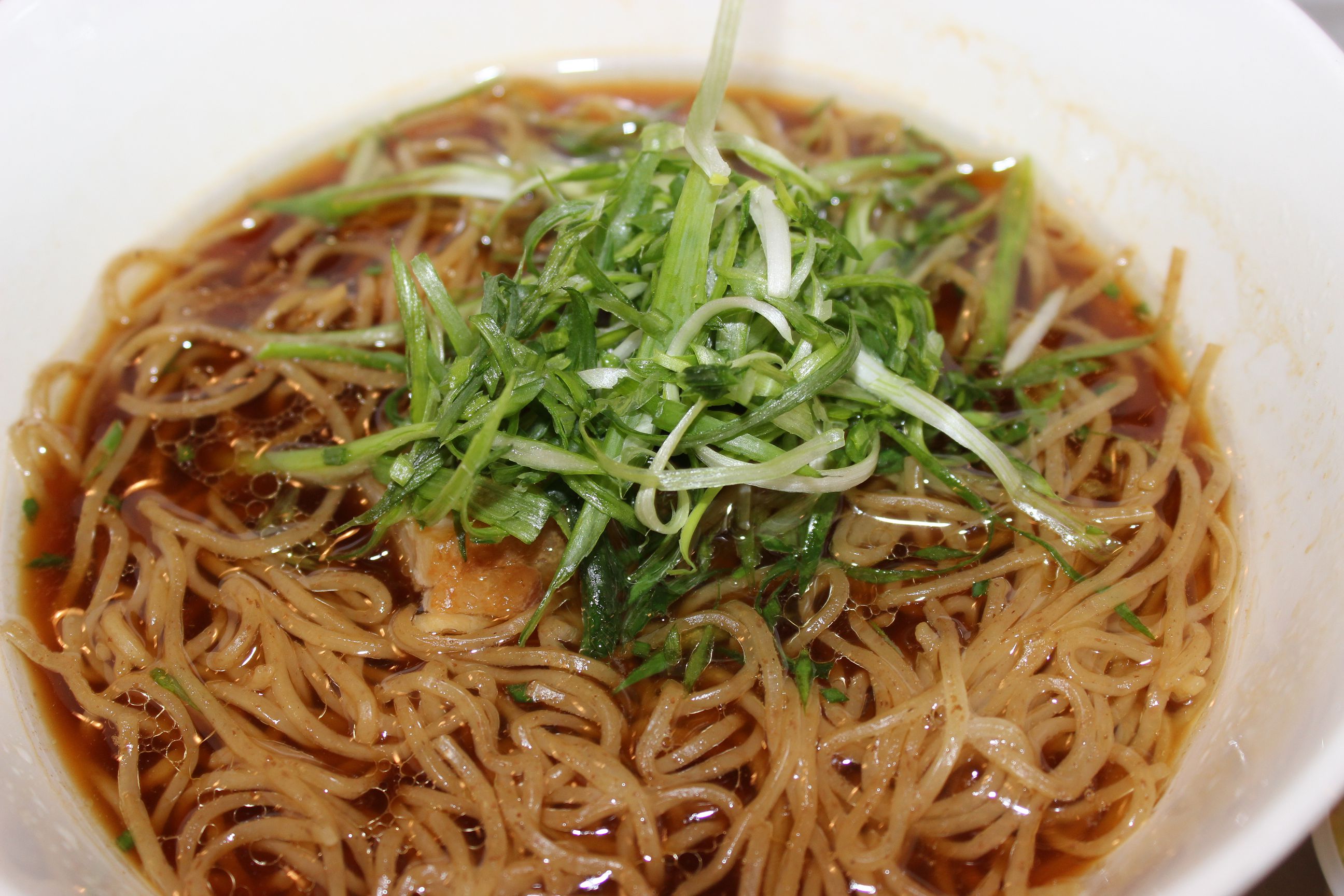 His fascinating story aside, we brush away much of the hyperbole and trek out west where the Gotham West Market is an impressive sight. Uncluttered, the space has communal tables strewn between mini-restaurants like The Cannibal, Court Street Grocers, El Comado and Blue Bottle Coffee where, like a food court, guests can grab food or beers as they please and sit amongst their friends. To no surprise, Ivan Ramen Slurp Shop was the most heavily trafficked of the vendors, but the short wait gave us ample time to peruse the menu which sits on the wall above the cash registers. The cooks meanwhile are hustling behind the L-shaped bar counter where oversized bowls and long strands of noodles sit in front of the waiting mouths of their satisfied customers, who are here more for flavor than they are for ambiance.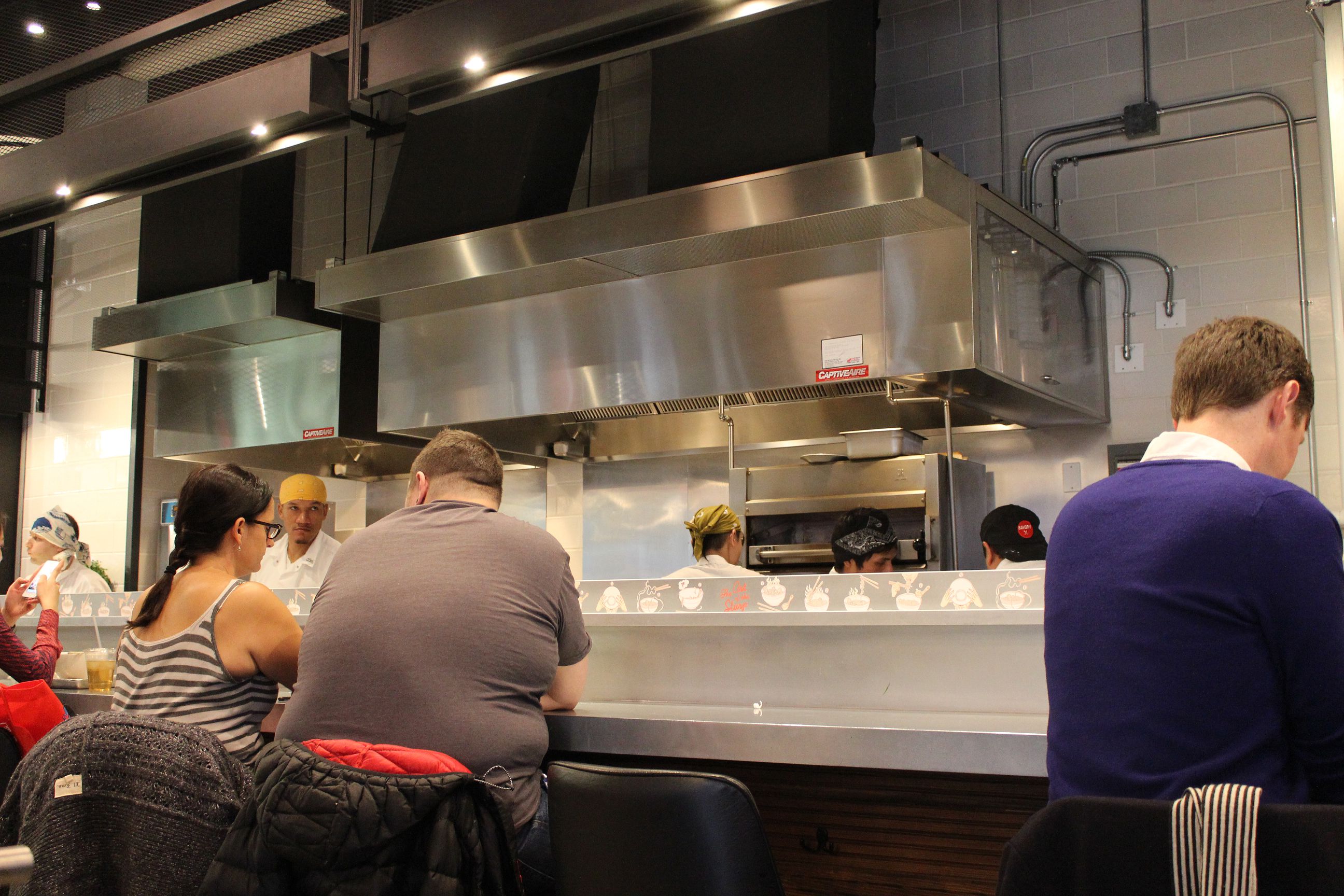 Orkin serves two classic styles of ramen and depending on your preference, it's hard to go wrong with either. We indulge in the "Tokyo Shoyu Ramen" ($13) a piping hot bowl filled with a combination of chicken broth and dashi, a hunk of pork chashu and Orkin's signature rye noodles. With the addition of soy sauce, the slightly brown shade lends a bit more complexity to a ramen taste best described as classic, decorated with some chilled scallions. The dish is served with a side 'ladle' for 'slurping' and an accompanying vegetable slaw, along with an instructional pamphlet on how to slurp your ramen. At first taste, the broth is much lighter than you'd expect, but still salty and really delicious. But the liquified base acts as the backdrop for the noodles, which are the requisite stars here. Undeniably lip-smacking, the thin long noodles brilliantly clump together, admirably working to sop up remnants of broth in each drip filled bite. The rich, slow cooked chunk of fatty pork lent an additionally decadent touch to an already hearty dish, one that despite its outrageous deliciousness, will leave you wishing that the half empty served bowl had just a little bit more for you to enjoy by the end.
Ranking What Matters:
Value: In comparison to alternate dining options, a $13 ramen is hardly egregious. That said, it's still $13 for a noodle soup. It's certainly a meal that is worth experiencing here, but make no mistake, the atmosphere of eating inside of a modernized New York City food court is likely to wear off some with each repeat visit.
Taste: It would be hard to rank this any higher, because as far as tastes go, Ivan Ramen Slurp Shop ranks at or near the top of any ramen-fueled conversation. The collaboration of flavors from the savory hot broth to the tender pork to the noodles' 'wow-factor' combine to create a bowl that would shame most other ramen purveyors in New York City. Considering his track record of success in Japan and the buzz around a place that's only been open for roughly five months even BEFORE his first true restaurant opens locally, it'd be difficult to argue with what Ivan Orkin is doing by single-handledly changing food trends here in Manhattan.
Overall: There are other vegetarian options, rice bowls and other noodle offerings on the menu at Ivan Ramen Slurp Shop and though it's relatively abbreviated, there's enough here to suit any eater's appetite. Although the word is already very much out on Orkin's excellent ramen stand at Gotham West Market, his Lower East Side opening later this month is sure to have lengthy waits amid even greater anticipation for its arrival. For under $20, you can indulge upon a resurgent trend taking our city by storm concocted by an international chef that's just getting his due here in the states and before the imitators begin popping up around him, let's appreciate Ivan Orkin's innovative take on the traditional ramen dish, which in his masterful hands, is most certainly worth the hype.
- Jane Van Arsdale
Other 'Worth the Hype' Pieces:
The "Luger Burger" at Peter Luger Steak House: Worth the Hype
Mighty Quinn's Barbeque: Worth the Hype
Paul's Da Burger Joint: Worth the Hype
The "Ramen Burger" at Ramen.co: Worth the Hype
Related Articles
Share
About Author
(0) Readers Comments